The Maldives is home to the top 5-star hotels and resorts that exemplify the ideal tropical paradise vacation for honeymooners, families, scuba divers, and celebrities.
Some of the top-rated opulent resorts are located on the islands. If anything deserves the name "paradise," it's the Maldives. Picture a string of pearly atolls strung together like a necklace of sand and palm palms, floating on a sea of turquoise. The Maldives are a group of over a thousand small coral atolls strewn across 800 km (500 mi) of the north-south axis of the Indian Ocean, to the south of India.
The archipelago is home to some of the world's most spectacular beaches, lagoons with azure waters and a plethora of sea life, and 5-star resorts that each occupy their own private island. The top hotels in the Maldives are ideal sanctuaries for rich travelers, providing world-class accommodations, great dining options, lavish facilities, and immaculate services for a memorable tropical vacation.
However, how you can book such 5 star hotel in the Maldives for that ideal beach vacation? The following are the top 10 five-star hotels that we recommend staying at while visiting the Maldives. Make sure you study how to obtain the greatest bargain at a luxury hotel because these luxury resorts are not cheap (some of them cost more than $4,000 USD per night), and you should do so in order to avoid overspending.
Price range: 880 – 1150 USD/night on breakfast basis, Beach Villa
Transfer: 30 min seaplane journey from Velana Airport,
Stunning barefoot ultra-luxury is the name of amusement at the Hilton Group's long-standing 5 star Maldivian resort. Famous throughout the country because of its unique two-island conception and Maldives' first undersea restaurant, Conrad Maldives is an excellent choice for couples and families needing to escape in style, while still having a great variety of activities, dishes, and beaches.
Located on the southwest end of Ari Atoll, the luxury resort is an environment of its own. The bigger island, ­Rangalifinolhu, has a reception area, spa and pools; beach villas (set in private gardens); most of the restaurants; and a watersports center. Rangali, the smaller island, is home to most of the water villas (on stilts); the overwater spa with a glass floor; and a few more restaurants.
Price range: 580 – 1210 USD/night on half board basis, Park Villa
Transfer: 60 min domestic flight journey from Velana Airport + 30-min speedboat transfer.
The Park Hyatt Maldives Hadahaa is located on the gorgeous, aesthetically symmetrical, southern atoll of Huvadhu, the largest atoll in the world. In Malé, the Park Hyatt Maldives Hadahaa has a representative that greets you upon landing and guides you to the Moonimaa Lounge, where you will wait for your onward connecting flight. You will be boarded by Maldivian Airlines Dash-8 300 propeller plane to Kooddoo – a local airport – approximately a one-hour flight in duration. Followed by a 30-min speedboat ride to the island.
Park Hyatt Maldives Hadahaa 5-star resort is situated on one of the most remote islands in the Maldives. So the highest level of privacy is guaranteed.
The luxury resort has in total only 50 Villas and Suites: 36 Land-based (Park Villa, Park Pool Villa, Deluxe Park Villa, 2-bedroom Park Villa with Pool), and 14 Water-based (Park Water Villa, Park Sunset Water Villa).
From the planning phase to the building and an underlying broad Environmental Impact Assessment helped the resort safeguard its common biological systems, along these lines managing the rich marine life. Today, the house reef of Hadahaa keeps on being home to inhabitant turtles, dark tip sharks, barracudas, and seen falcon beams in flourishing marine condition, taking their visitor's experience to top-notch statures comfortably.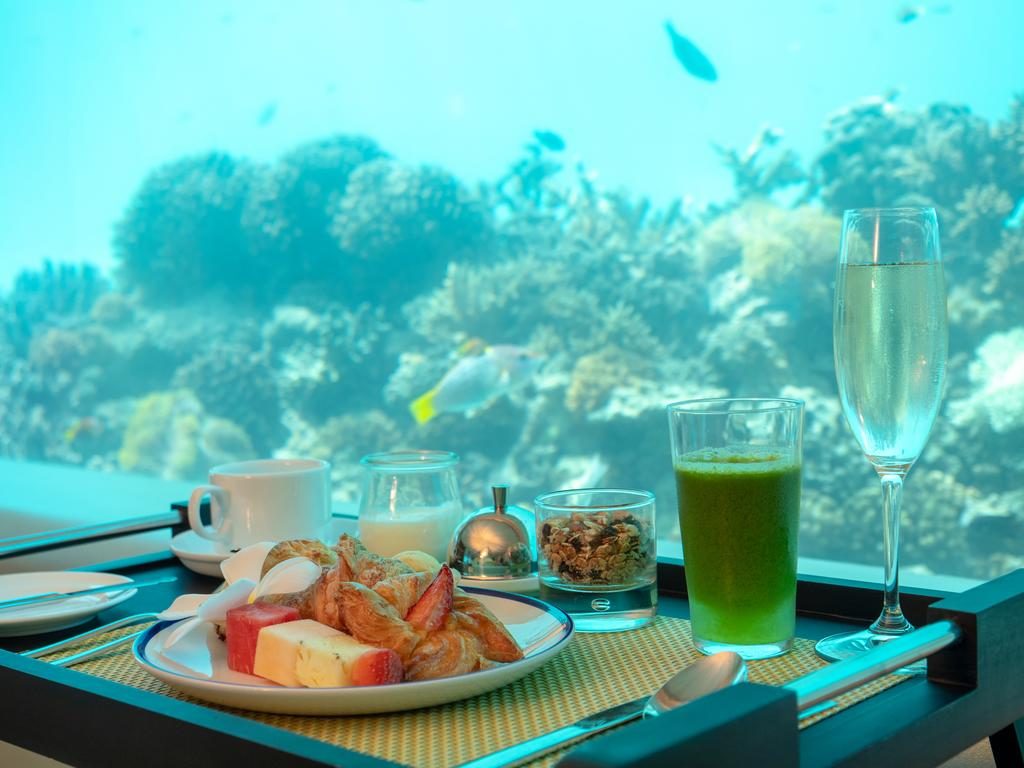 Price range: 1045 – 3600 USD/night on breakfast basis, Beach Bungalow with Pool
Transfer: 30 min speedboat journey from Velana Airport
Unlimited seascapes. Endless enticement. Surrender to the grasp of Huvafen. Stir to a universe of ageless extravagance. A mystery shelter on North Malé Atoll, only 30 minutes by speedboat from the Velana airport. A dreamscape of concealed delights, which consistently rises above time. A haven for admirers of life. Best Maldives resort for couples. Limited to Adults Only
Circled by outstanding amongst other house reefs in the Maldives, this private island heaven is home to the world's first and only underwater spa, and with just 44 rooms it is definitive in extravagant protection and closeness.
Huvafen Fushi has only 44 spacious Bungalows and Suites: Beach Bungalows with Pool, Lagoon Bungalows with Pool, Deluxe Beach Bungalows with Pool, Ocean Bungalows with Pool, 2-bedroom Ocean Pavilion with Pool, 2-bedroom Beach Pavilion with Pool, The Playpen.
Huvafen Fushi has been crowned the Most Romantic Resort at the annual Maldives Travel Awards.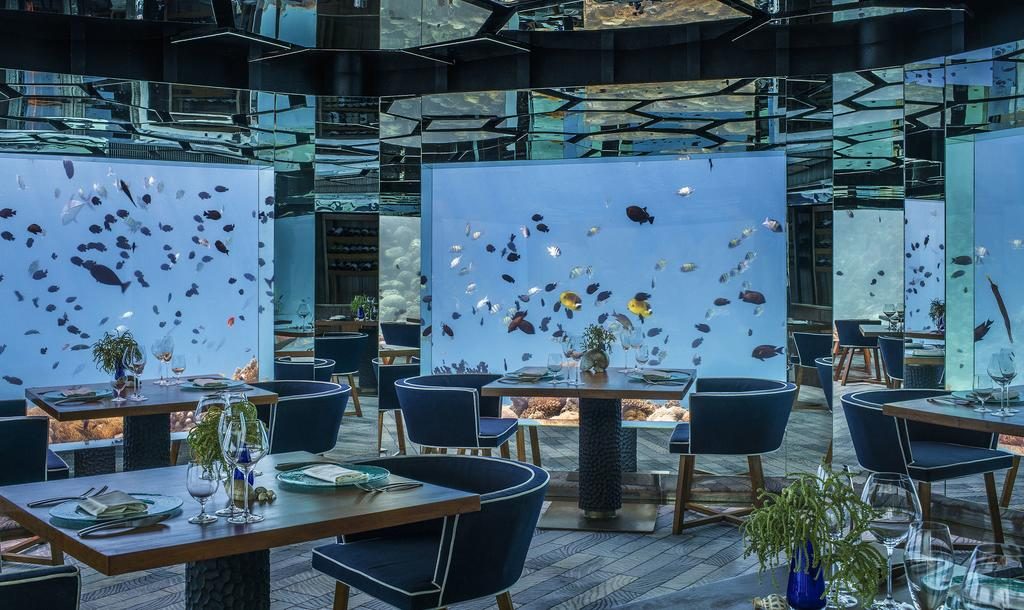 Price range: 1260 – 3800 USD/night on breakfast basis, Beach Pool Villa
Transfer: 45 min seaplane journey from Velana Airport
Appreciating a prime area in the Maldives' Baa Atoll island archipelago and on the doorstep of Hanifaru Bay, Anantara Kihavah Maldives Villas is the ideal place from which to investigate the submerged universe of the Indian Ocean. Set on Kihavah Huravalhi, a standout amongst the most flawless Maldivian islands, the resort is a 30-minute seaplane flight from Velana International Airport, a remarkable involvement in itself as the plane flies over a string of sparkling coral islands and Maldives resorts in the midst of turquoise waters.
Inside a tidal pond of gem-conditioned tints lies a shell-formed island bordered by unimaginably wide extends of shoreline. Uninhabited islets spot the skyline of the profound sapphire Indian Ocean past. Nature rules at Anantara Kihavah Maldives Villas, wearing complexity and ponder.
Rest and spa overwater. Eat beneath the sea's surface. Look at the star-filled sky from the Maldives' freshest observatory lodging the district's most capable telescope.
Journey with dolphins or snorkel with great manta beams and hawksbill turtles.
The world's most Instagrammable hotel named Anantara Kihavah Maldives Villas, which features an underwater restaurant and thatched-roof rooms in turquoise waters
80 extensive private pool villas, going from 260 to 2,730 square meters, are either poised over the water with clearing sea sees or settled along an immaculate extend of private shoreline. Snorkel a portion of the world's most cherished reefs inside a UNESCO World Biosphere Reserve, discover uninhabited islands encompassed by rich reefs home to turtles, eels, and excellent coral developments, or journey in isolation into an embroidered artwork of unbelievable hues to great Maldivian dusk.
Price range: 1150 – 2940 USD/night on breakfast basis, Ocean Reef House
Transfer: 30 min seaplane journey from Velana Airport
Whitewashed manors sit over turquoise waters at our Baa Atoll Maldives resort. The moderate lines of sun-kissed shoreline houses differentiate against the bends of influencing palms. The Maldives is dissimilar to some other places on Earth. From the undisturbed common biological community underneath the ocean to the lavish pleasantries to charming nourishments, welcome to heaven.
In the UNESCO-secured biosphere of Baa Atoll, your ideal Maldives escape travel experience is standing by. Only 30 minutes via seaplane from Malé or 10 minutes by speedboat from Dharavandhoo Airport, arrive effectively at your resort in Baa Atoll Maldives.
The pioneer white water manors here appear to be instantly unique from the more run-of-the-mill cover timber manifestations you'll see at most resorts; their cuboid shape is only one thing that this pristine resort has rehashed without any preparation. While it's earned in excess of a couple of affected responses from more customary resorts, Amilla Fushi's luxury resort ability to take a stab at something new has run down extremely well with its breathtaking customer base who are as of now returning in large numbers.
Price range: 860 – 940 USD/night on breakfast basis, Lagoon Water Villa
Transfer: 30 min seaplane journey from Velana Airport
Six Senses Laamu is the only resort in the Laamu Atoll, deep in the Indian Ocean
The island itself is ringed by a gorgeous white beach and boasts a fabulous cyan-blue lagoon where dolphins swim in great numbers all year round.
An island plane journey conveys you to heaven with 97 feasible villas set over the tidal pond and on the island. Yin Yang, the Maldives' most acclaimed surfing wave breaks simply seaward. There are adjacent fledgling waves and swimming is accessible in the house reef among fascinating marine life and dolphins.
Your beautifully designed accommodation choices here are all of the stylish villa variety, all constructed using sustainable wood sources. Each offers either beachfront or lagoon-side locations, privacy, and a range of amenities so diverse you would be hard-pushed to use them all during your holiday.
Read also: Top 10 honeymoon resorts in Maldives
The resort has a benchmark manageability program that is relatively unrivaled in the Maldives; it incorporates numerous marine life protection ventures, group outreach, instructive projects, and proficient waste-lessening designs.
4. St. Regis Vommuli
Price range: 1490 – 2400 USD/night on breakfast basis, Garden Pool Villa
Transfer: 40 min seaplane journey from Velana Airport
Tucked away, a distant private island reachable by seaplane invites guests to uncover one of the most luxurious resorts in the Maldives.
It's located in the southern Dhaalu Atoll, a spectacular 40-minute seaplane flight from Malé International Airport.
Savor epicurean delights from all over the world in any of our six restaurants and bars—each inspired by authentic Italian, Middle Eastern, and Asian flavors served in buffet, ala carte, or tapas-style, in addition to an extensive wine cellar.
The 77 villas are split into three categories: garden villas concealed in the jungle; peak-roofed beach villas hugging the blinding white shore; and vast overwater villas, the best of which face west towards the sunset and expansive ocean.
The resort has the largest 3-bedroom over-water villa in the Maldives, the John Jacob Astor Estate.
The hotel has taken its design inspiration from Maldivian lagoon life and the results are sensational.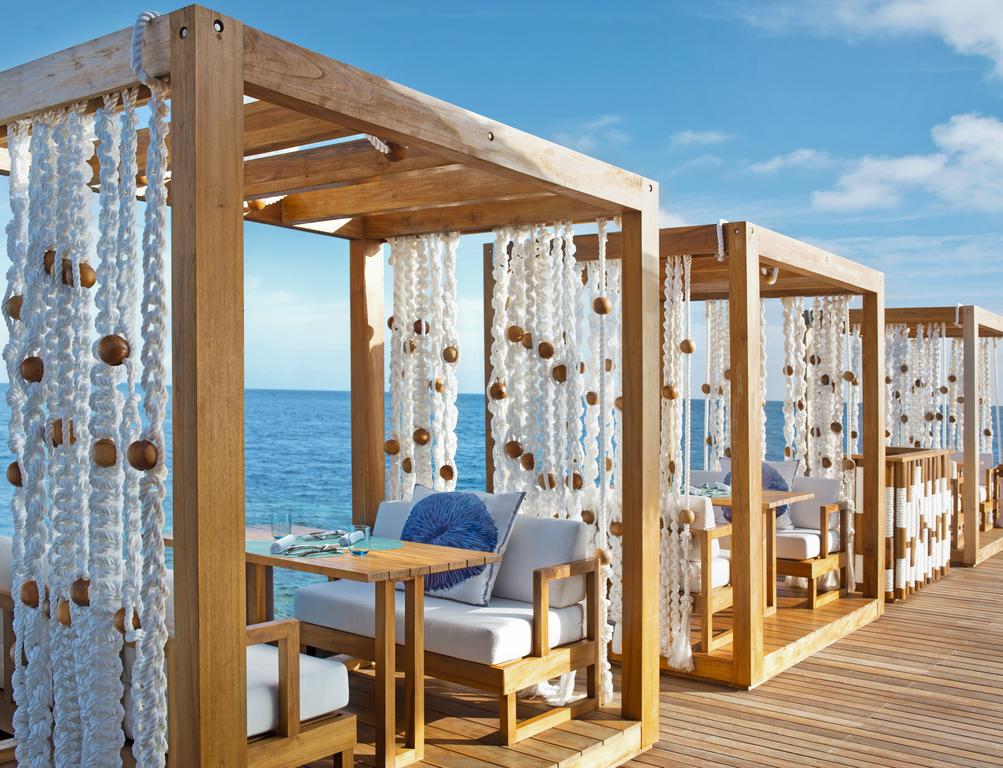 Price range: 1030 – 2500USD/night on breakfast basis, Wonderful Beach Oasis
Transfer: 25 min seaplane journey from Velana Airport
W Maldives is a luxury private island resort in a wonderland of white sand beaches, turquoise lagoons, and breathtaking house coral reefs. The resort defines itself as "A Luxury Playground" with a true "Wow Effect" at arrival. Inventive and hip, but friendly and laid-back too – W Maldives is definitely one the most glamorous resort in the Maldives.
The 5-star resort features 77 luxurious private oases – each with its own plunge pool and sundeck. Six gourmet restaurants and lounge bars aesthetically located across the island invite you in for the ultimate indulgence.
The Spa is uniquely designed and offers complete privacy with indoor and outdoor treatment areas, as well as four luxurious treatment villas. Shaped like a Dhow, the traditional Maldivian boat, Away Spa beautifully stands above the lagoon and is surrounded by an exceptional reef.
W Retreat luxury hotel is home to a unique underground Club. Located 15 feet underground, just beneath the beach it will bring you to a completely different world from above.
Price range: 1560 – 1850USD/night on breakfast basis, Beach Villa
Transfer: 35 min speedboat journey from Velana Airport
Sail into your holiday in style onboard a luxury yacht or speedboat. One&Only Reethi Rah, literally translating to 'beautiful island', is a large island with over six kilometers of spectacular coastline, bursting with white sandy beaches, blue lagoons, and private coves.
This is the first hotel that was built on artificial islands in Maldives.
128 thatched-roof villas, discretely positioned to maximize privacy, enjoy magnificent ocean views, and have direct access to the lagoon. Each beautifully-designed villa is exceptionally spacious and combines contemporary style with subtle Asian influences.
Sink into a pure sensation with a Thai massage over the sea, or breathe in richly fragrant spices of warm oil treatment, all under the expert care of therapists trained in philosophies both ancient and modern.
Price range: 1780 – 3020USD/night on breakfast basis, Water retreat
Transfer: 35 min seaplane journey from Velana Airport
Soneva Jani is located on Medhufaru island, which is part of an uninhabited five-island cluster in the Noonu Atoll. The Maldives' most exclusive hotel.
Currently, Soneva Jani features 24 water villas and one beach villa. Each one of the 24 water villas is superbly designed and has a private pool and opens to its own stretch of lagoon, with some villas featuring slides going directly from the top deck into the lagoon below.
After a 40-minute flight, the seaplane lands at Soneva Jani.
In fact, these are the most vibrant shades of the blue and most stunning lagoon you can find in the Maldives
There are plenty of things to do at Soneva Jani, but the most famous one is probably the overwater cinema, the so-called Cinema Paradiso.
The resort features the largest overwater structure in the Maldives, the so-called 'Gathering', which appears like something out of a fairytale.
This is truly the best resort in Maldives.
Contact us to get a special Maldives package.