The Maldives, perhaps one of the world's most stunning tropical destinations, fulfills all the desires of a beach-loving couple seeking the absolute best honeymoon in luxury lodgings and leisure.
All of the islands have pristine beaches with pure white sand and turquoise sea. Magnificent sunsets are always to be expected. In addition, many of these islands provide luxurious hotels and quaint retreats.
In the Maldives, you can find an idyllic and guaranteed romantic honeymoon resort, whether you want to relax with your partner at a couples-only retreat with private plunge pools, waterslides, and butler service or want to live it up in a more action-packed resort with daily water- and land-based activities and great food. In either case, you'll be able to find the perfect setting for your honeymoon.
With all the wedding planning, you already have a lot on your plate. Let us help relieve some of the pressure by helping you organize your honeymoon. Our selection of the best honeymoon resorts in the Maldives will help you choose the perfect place for your first journey together as a married couple.
Alila Kothaifaru Maldives
How to get to Alila Kothaifaru? By 45 minutes seaplane flight from Airport
Location: Raa Atoll, 136 km from Mele
Adults only: No
Honeymoon benefits: Complimentary Cake, Complimentary 60-Minute Couple SPA treatment once during the stay (min. 7 nights)
There is no need to keep hunting for a new, luxurious, five-star resort in the Maldives. The Alila Kothaifaru Maldives resort is in the beautiful Raa Atoll. It has a beautiful house reef and is a great place to find a balance between relaxation and adventure in awe-inspiring surroundings.
Alila Kothaifaru Maldives's food will end up being one of the highlights of your trip. Enjoy the best food that The Chef and the Seasalt crew, led by Justus, have made. If you have special dietary needs, like being a vegetarian, the cooks will do everything they can to meet them.
Providing stress-free opportunities for health and happiness There is a tranquil woodland area that serves as the spa and wellness center. Spa Alila is in a quiet area just above the treetops. It has four large double treatment rooms, each with its own bathroom, shower, and floor-to-ceiling window with a view of the lush surroundings.
Where to stay at Alila Kothaifaru?
Sunset Water Villa. In this private paradise over water, you can relax in the sun and dream under the stars while being pampered by the comfort and beauty of nature. The bedroom and living area of the villa are open to each other. Floor-to-ceiling sliding glass doors lead to a private pool and sun terrace, where you can watch the sunset from the front row.
Sunset Beach Villa. These large villas, each with a separate bedroom and living room, are havens of privacy and luxury. They are tucked into lush vegetation and are only a few steps from the beach. The doors lead to a private pool and sun terrace so you can see the beautiful sunsets in the Maldives and get the most out of the views.
Kuda Villingili Resort Maldives
How to get to Kuda Villingili? By 35 minutes speedboat ride from Airport
Location: North Male Atoll, 26 km from Mele
Adults only: No
Honeymoon benefits: One bottle of Champagne or a non-alcoholic option, one honeymoon cake, one flower bath, and a bed decoration await the couple in the villa – once during their stay
A private island hotel in the Maldives – Kuda Villingili Resort, redefines time and space. Make amends with family and friends and reconnect with your partner. You can cool off in the resort's swimming pool, which is one of the longest in the Maldives – 150 meters (just WOW!).
The superb culinary selection at the resort celebrates the variety of cultures and cuisines. The main beachfront restaurant, which is open for breakfast through dinner, the casual Beach Club beside the pool, and The Hawkers, a classy three-stall food market with an open kitchen that serves Indian-Arabic, Thai-Japanese, and Italian-Mediterranean street cuisine, round out the gastronomic options.
At the Kuda Villingili Spa, take a moment to lose track of time and enter a complete state of relaxation. At the resort, there are eight treatment villas that look out over the lake. This is the perfect place to relax both physically and mentally. Traditional Eastern therapeutic practices are enhanced by using organic and plant-based products.
Where to stay at Kuda Vilingili?
Beach Villa with Pool. Relax in your own pool at this beachfront bungalow. The beautiful, white sand is right outside your door. Take an aromatherapy bath and then relax on a king-sized bed with the best Egyptian cotton as you look out at the Maldives.
Water Villa with Pool. A great place to relax in the Maldives is in one of the private pool villas that float above the water. The soothing sounds of the ocean provide the ideal backdrop for some R&R or quality time with your loved ones.
You & Me Resort Maldives
How to get to the You & Me Resort? By 35 minutes seaplane transfer from Airport
Location: Raa Atoll, 181 km from Mele
Adults only: YES
Honeymoon benefits: One bottle of wine, chocolate, and special turndown service per room, per stay. H20 (the underwater restaurant) is offering a 50% discount, excluding drinks. Candlelit dinner for two (minimum of six nights). Free villa upgrade
A quiet, rustic, and romantic island called You & Me is located in a stunning, unspoiled region of the Maldives. You & Me is the perfect spot to unwind, snuggle up, and enjoy some quality "us time" away from the pressures of regular life. The resort is an adults-only island that caters to couples and honeymooners. It is a peaceful haven that is removed from other hotels.
Customers on Half Board, Full Board, and All-Inclusive packages can choose to have lunch and dinner in any of the à la carte restaurants and breakfast in the main restaurant thanks to You & Me's introduction of the Dine Around concept. H2O by Berton, a first of its kind, is the first Michelin-starred restaurant to be built underwater in the Maldives. While enjoying a delectable meal, guests can take in a 360-degree view of the stunning marine environment there.
To provide an exquisite spa experience that is intended to cure the mind, body, and soul, spa therapists offer a broad variety of therapeutic treatments from different parts of the world.
Where to stay at You & Me Resort?
Beach Suite with Pool. These expansive beachfront rooms have a king bed overlooking the sand, a couch, a balcony, and a private pool with private beach and ocean views, as well as a gorgeous bathroom with a couple's bathtub and rain shower.
Aqua Suite with Pool. These large water villas have a beautiful private infinity pool, a huge sundeck with direct access to the lagoon where you can swim in the ocean, and breath-taking views of the setting sun. The rooms include polished oak flooring, a sofa, a sizable bathroom with a couple's bathtub and a rain shower, and they have seaside views.
Soneva Fushi
How to get to Soneva Fushi? By 35 minutes seaplane transfer from Airport
Location: Baa Atoll, 115 km from Mele
Adults only: No
Honeymoon benefits: One complimentary bottle of wine or sparkling wine per stay, complimentary a 60-minutes massage at the spa for 2 persons (min 4 nights)
Soneva Fushi is a one-of-a-kind paradise that offers unrivaled levels of barefoot luxury. The resort is set in a sustainable ecosystem that has lush vegetation, clean beaches, and clear waterways. A butler will show you all the resort has to offer, from a stargazing observatory to courses in glassblowing at the only glass workshop in the Maldives. That's a little bit different, now that's something!
With renowned culinary experiences that draw repeat business from customers and a rotating roster of Michelin-starred guest chefs, exploring eleven dining places is a journey in and of itself. Enjoy the free chocolate, ice cream, cheese, and charcuterie parlors while exploring the carefully chosen collection of wines from across the world in the Bar and Wine Cellar.
Transformative therapies are available at Soneva Soul in a beautiful tropical island location. The two-story wellness center is inspired by its peaceful location and the beautiful forest that surrounds it. It invites people to relax, recover, and recharge.
Where to stay at Soneva Fushi?
Crusoe Suite with Pool. In this tranquil two-story villa suite, take a trip to your very own island experience. Swim in your own own pool while surrounded by lush tropical plants or take a nighttime soak in the outdoor bathtub.
1 Bedroom Water Retreat with Slide. This retreat is right above the clear waters of the Indian Ocean and can be reached by a curved jetty from the main island. The vast villa has a light-filled, big living space with a neighboring pantry and minibar, as well as an understated, stylish interior design that takes its cues from the sea.
InterContinental Maldives Maamunagau Resort
How to get to InterContinental Maldives? By 45 minutes seaplane transfer from Airport
Location: Raa Atoll, 147 km from Mele
Adults only: No
Honeymoon benefits: One complimentary bottle of wine or sparkling wine per stay
The InterContinental Maldives Maamunagau Resort, a five-star resort ideal for the most romantic of holidays, puts nature front and center. From the privacy of your own terrace, you can watch a huge variety of colorful fish and other sea life swim around the lagoon below.
The stunning views of the seaside and the sound of the waves enhance the well-crafted meals that combine the freshest local seafood and premium cuts with great wines chosen by the sommelier.
The award-winning AVI Spa is a quiet place that blends in with its surroundings to help people relax, heal, and feel better. It is a tranquil overwater sanctuary that draws inspiration from the Indian Ocean.
Where to stay at the InterContinental Maldives?
Overwater Pool Villa. In one of our 11 exquisite Maldives water villas with a pool, awaken your senses to the uninterrupted ocean views from your bed, bathtub, or pool. In our overwater pool villas, there is one king bed, an open bathroom, a private infinity pool with padded daybeds around it, and an outdoor dining area.
Beach Pool Villa. These villas, which face west, come equipped with a king bedroom, an open-plan bathroom with a separate shower and bathtub, an outdoor shower, a huge living space with a pantry and a powder room, two sundecks, and a private infinity pool.
Hurawalhi Island Resort
How to get to Hurawalhi Maldives? By 35 minutes seaplane transfer from Airport
Location: Lhaviyani Atoll, 149 km from Mele
Adults only: YES
Honeymoon benefits: Complimentary fruit plate, a bottle of sparkling wine, and flowers in the room
One of the most stunning resorts in the Maldives for couples on their honeymoon is Hurawalhi Island Resort. Since there are no kids around, you can enjoy the quiet, swing in a hammock, and soak up the sun in a loving, peaceful embrace.
The hotel's main attraction is "5.8 Undersea," the largest panoramic underwater restaurant in the world that lets you savor culinary delights up to a depth of 5.8 meters. Each dish is creative and modern, and the restaurant has a great setting, a large wine list, and excellent service. Each meal blends the greatest ingredients with originality and flair.
Duniye Spa, a haven of happiness in Hurawalhi, brings visitors closer to the natural world. The name of the spa, Duniye, which means "Universe" and has views of the turquoise lagoon, perfectly captures its guiding principle: a worldwide approach to health via therapeutic techniques based on traditional and cutting-edge expertise from throughout the globe.
Where to stay at Hurawalhi?
Ocean Villa with Pool. These homes, which are sleek and exquisite and hang over the sparkling Indian Ocean, are the height of Maldives luxury. From the sundeck, you can access the lagoon, and from your own villa or infinity pool, you can take in the majesty of Hurawalhi's surrounds.
Beach Sunset Pool Villa. The best option for people who want to be close to the white beach, the welcoming lagoon, and Hurawalhi's major amenities is luxurious tropical sanctuaries with private infinity pools.
Raffles Maldives Meradhoo
How to get to Raffles Maldives? By 60-minute domestic flight followed by 30 minutes speedboat ride from Airport
Location: Gaafu Alilu Atoll, 404 km from Mele
Adults only: No
Honeymoon benefits: a complimentary bottle of champagne on arrival; a complimentary welcome fruit platter; a romantic bath ceremony, once during the stay; a complimentary 60-minute couple's spa treatment once during the stay. Min. 4 nights is required
Raffles Maldives Meradhoo is a unique refuge. Given its remote location at the southernmost point of the Maldives archipelago, it is as far away from daily life as one can get. Visitors find their own rhythm here. They unwind, get back in touch with nature, and refocus.
Every meal is incredible and better than the one before, and the variety and great quality of the cuisine will definitely wow you. The restaurants and bars at Raffles Maldives Meradhoo serve a mix of local and international food. The best, freshest ceviche and private chef experiences are just two examples.
In the peaceful atmosphere of our overwater spa, you'll feel a lot more at ease than in any other place. Our therapists will make sure that you have the best, most individualized well-being experience possible, whether it's one of our wellness treatments, which harnesses the healing, nourishing, and uplifting powers of nature and ancient traditions, or one of our cutting-edge beauty treatments.
Where to stay at Raffles Maldives?
Overwater Villa with Pool. Get a one-of-a-kind experience by vacationing at a water villa without being connected to an island! The brightest stars in the night sky, the sun gleaming on the calm, clear water of the lagoon, and an array of colors beneath the surface as the fish dart across the ocean floor beneath you. It provides the ideal setting for appreciating the glories of nature.
Beach Villa with Pool. With a private garden and pool, a large verandah that opens directly onto the beach, and a variety of daybeds both inside and outside, this special place is made for relaxation so that you can fully unwind and enjoy the beautiful surroundings. Simply go outdoors and let the wind from the ocean take your cares away.
Six Senses Laamu
How to get to Six Senses Laamu? By 40 minutes seaplane transfer from Airport
Location: Laamu Atoll, 264 km from Mele
Adults only: No
Honeymoon benefits: welcome amenity, departure gift, special bed runner on arrival day, a complimentary wedding cake OR anniversary cake, a complimentary bottle of sparkling wine in villa upon arrival, either a complimentary 60-minute couples massage OR a complimentary combined sunset dolphin cruise
Would this be your picture-perfect paradise surrounded by palm trees? Six Senses Laamu is the only resort in the secluded Laamu Atoll in the southern Maldives; yet, it is only a short inter-island flight and a boat hop away from other islands.
There are a total of 6 bars and restaurants at Six Senses & Laamu, serving a variety of dishes such Japanese Omakase, gourmet food from the Mediterranean, and specialty drinks.
Before having dinner with your significant other on a themed night, you may catch a sight of dolphins at the worldwide overwater restaurant Longitude. Visit Ice & Chocolate Studio to get chocolate truffles flavored with cinnamon, green tea, lavender, and mint mojito to tempt your taste buds.
The wellness and spa treatments are given within the specially created treatment nest that is situated on the beach or at beautiful landscaping, and it was chosen for the nomination of the "Spa Design of the Year" at Asia Spa Awards 2011.
Where to stay at Six Senses Laamu?
Ocean Water Villa with Pool. Direct access to the ocean allows you to swim and snorkel there or jump into your own private pool. Relax on the terrace, take in some sun, and take in the stunning ocean hues.
Ocean Beach Villa with Pool. These utterly private pool villas in the Maldives, tucked away among the thick tropical foliage on the sunset side of the island, with breathtaking views of the Indian Ocean. The sun loungers are strategically positioned beside the pool deck for sun and shade and are only a few meters from the coastline.
Four Seasons Resort Maldives at Landaa Giraavaru
How to get to Four Seasons Resort Landaa Giraavaru? By 30 minutes seaplane transfer from Airport
Location: Baa Atoll, 131 km from Mele
Adults only: No
Honeymoon benefits: Welcome fruits, souvenir gift, champagne, and cake
A natural UNESCO Biosphere Reserve wilderness, the Four Seasons Resort Maldives in Landaa Giraavaru is a place where innovation, conservation, and wellness come together in a kaleidoscope of iridescent blues, jungle greens, and brilliant whites. In the aquarium-like seas, you can snorkel with manta rays; in our Marine Discovery Centre, you can help rehabilitate sea turtles; at AyurMa, you can enjoy world-class wellness; and at Blu Beach Club, you can dine on food that rivals Michelin-starred establishments.
Your journey to health, harmony, and happiness may begin with AyurMa's invitation to reset your consciousness. This new path places an emphasis on loving the planet as much as you love yourself. Find out about individual and group activities designed to help to care more about ourselves, other people, the environment, and the world as a whole. The four pillars of Ayurveda, Yoga Therapy, Wellness, and Planetary well-being help to make these experiences possible. The four pillars of Ayurveda, Yoga Therapy, Wellness, and Planetary well-being help to make these experiences possible.
Where to stay at Four Seasons Resort Landaa Giraavaru?
Sunset Water Villa with Pool. These homes with west-facing infinity pools provide breathtaking views of the horizon at sunset. This villa is at the end of a double jetty and has an indoor/outdoor design. It has an outdoor shower, a room on the loft level, and a private pool, all of which can be used at any time of the day or night.
Premier Oceanfront Bungalow with Pool. The brand-new Premier Oceanfront Bungalows are hidden away in lush gardens and have luxurious living areas both inside and out. Our 12-meter pool is surrounded by a sea wall that keeps the lagoon water calm all year. This makes it a great place to relax and have a meal.
Niyama Private Islands
How to get to Niyama? By 45 minutes seaplane transfer from Airport
Location: Dhaalu Atoll, 180 km from Mele
Adults only: No
Honeymoon benefits: Complimentary Sparkling Wine and fruit basket on arrival, One time USD 100 spa credit per villa, Niyama Signature room set up on arrival
Niyama Private Islands Maldives offers the luxury of choice with its twin islands of Play and Chill.
At Play: Laugh and play high among the trees. Ahead is an unlimited horizon, so hurry up and get there. Whether you're on your honeymoon, with your significant other, or with your active, stylish family, you'll feel like royalty in one of our villas on the beach.
At Chill: Relax in the soothing atmosphere of Drift Spa. The ocean is a gateway to a gastronomic paradise. Relax your mind and body in luxurious over-water villas. Recline amid a watery setting of flowing landscapes.
Where to stay at Niyama?
Beach Pool Villa. White sands are accessible from your thatched villa. Inhale. The air is filled with the greens of the jungle and the salty sea, and the lagoon's view surrounds you. At this Maldives pool villa, there is tranquility and solitude. Letting your toes teasingly touch the water, sway on your Dhoni-shaped swing.
Water Pool Villa. Lie back on your private terrace and admire it like a work of art: A canvas of sky and water was painted with brushstrokes of turquoise, azure, and lapis. An ivory sail's billow catches the wind. The light on the surface of the water was like tiny diamonds. The pinnacle of luxury vacations is a water villa in the Maldives.
Kagi Maldives Spa Island
How to get to Kagi Maldives? By 25 minutes seaplane transfer from Airport
Location: North Male Atoll, 55 km from Mele
Adults only: YES
Honeymoon benefits: Half bottle champagne or Fresh juice once during stay; Complimentary Chocolate cake or Fruit Basket once during stay
When staying at Kagi Maldives Spa Island, you're sure to find the balance between leading a healthy lifestyle and having fun. The excursions will take you on a trip that includes genuine Maldivian luxury and moments that will exceed all of your expectations.
When you visit Kagi Maldives with your loved ones, you sink into a world of understated elegance and discover the essence of Pure Life.
Located in the center of Baani Spa and is encircled by a turquoise sea. All day long, Spa Corner serves a casual menu that ranges from raw and greens to sushi and light main dishes. The calm atmosphere of The Spa Corner is the perfect addition to a day of total relaxation at Baani Spa.
Where to stay at Kagi Maldives?
Beach Pool Villa. The ideal place to connect with your true self and the rhythm of existence is where you can hear the sound of the tides washing in and out onto the coast and disappearing into the sand. These villas are situated along the island's beachfront and provide you with a private beach area where you may cool down in your own private pool.
Ocean Villa with Pool. The gentle lapping of the sea under your home will awaken your spirit. Each of the Ocean Pool Villas offered by Kagi Maldives has a large, light-filled room that opens to a private verandah and plunge pool with sweeping views of the Indian Ocean.
JOALI BEING
How to get to JOALI BEING? By 40 minutes seaplane transfer from Airport
Location: Raa Atoll, 160 km from Mele
Adults only: YES
Honeymoon benefits: Celebratory Gift from JOALI BEING; Complimentary bottle of sparkling tea or organic sparkling wine or wine upon arrival; Chef Signature Gateau Epicure on first night turndown; Couples Artisanal Experience; Bath Ceremony on first night turndown; (Minimum 5 night stay)
Join us as we write a book in which honesty and passion shine through every line. In this place, happiness is more than a phrase; it's a way of being. Through deliberate intention and compassionate care. In working together to produce experiences of awe and enlightenment.
FLOW is an open, interactive eating room with three unique kitchens where you may get lost in the vivacity of the place. Vegetarian and vegan options are available at Plantae, while pescatarian fare is served at Su, and a variety of Earth-to-Table dishes can be found on the distinctive JOALI BEING menu at B'Well. JOALI BEING is a restaurant that prides itself on its earth-to-table philosophy, which prioritizes the use of locally produced ingredients and promotes the growth of small farms while also being environmentally friendly.
All across the island, you'll find these transformative zones that lead to all sorts of cool new methods to improve your health. Feel awe and astonishment as you participate in a variety of therapeutic massages, personal training sessions, and educational courses.
Where to stay at JOALI BEING?
Beach Pool Villa. From the porch of your opulent one-bedroom beach villa, you can take in the breathtaking scenery of the surrounding tropical gardens, white sands, and the ocean. Relax in the Maldives with nature as your inspiration in a deep bathtub and rain shower.
Ocean Pool Villa. This iconic health resort in the Maldives blends awe-inspiring location with large and modern furnishings, making the most of its vantage point high above the glistening ocean below.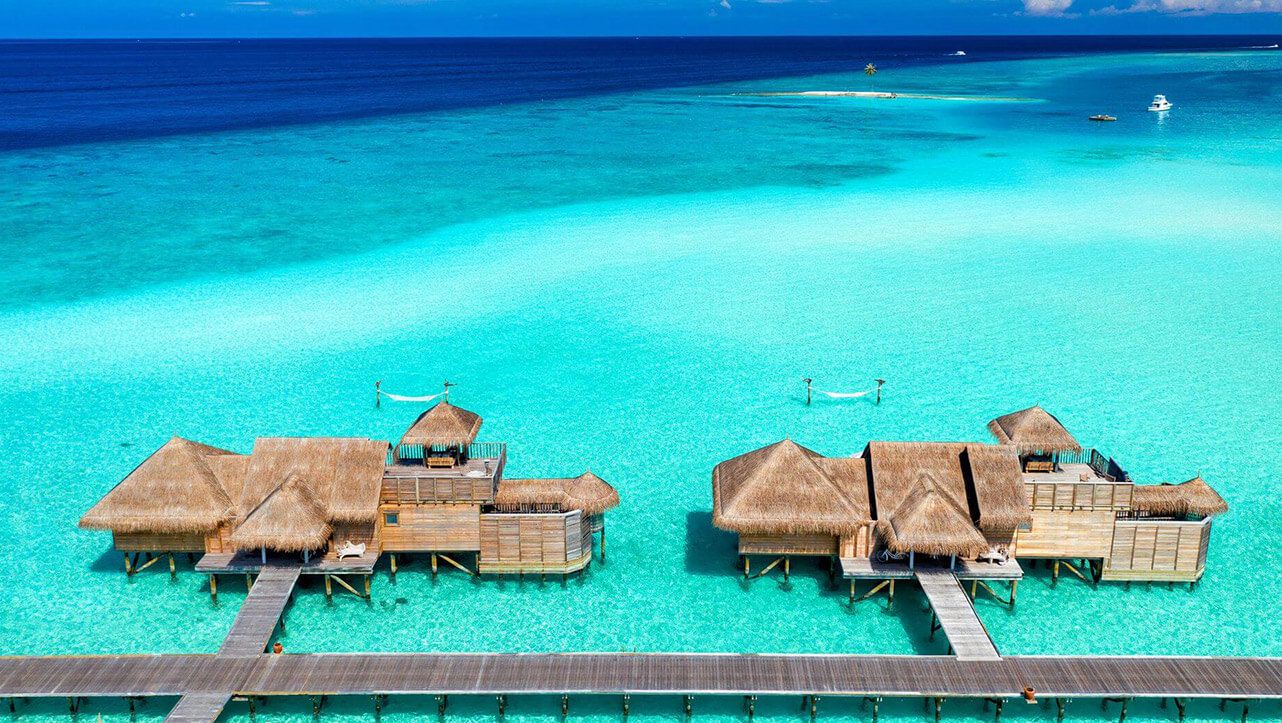 Gili Lankanfushi
How to get to Gili Lankanfushi? By 15 minutes speedboat transfer from Airport
Location: North Male Atoll, 13 km from Mele
Adults only: No
Honeymoon benefits: A private candlelit table at Kashiveli Restaurant, accompanied by 1 complimentary bottle of house wine (white, red, or rose); Sleep under the stars experience with romantic bed set-up; Complimentary honeymoon welcome amenity; Complimentary honeymoon departure gift; One 30 minutes couple's massage with 30 minutes romantic bath with Champagne and strawberries
There are just 45 overwater villas and super exclusive ocean apartments on Gili Lankanfushi in the North Malé Atoll. Spend warm days and beautiful sunset nights on the white sand beaches, followed by swimming excursions and watersports outings to the nearby sandbanks; this resort is one of the best in the Maldives for a honeymoon.
Enjoy a glass of wine and a meal at Overwater Bar, where the gentle wind from the ocean will help keep you comfortable. Fini Foni serves ice cream beside the pool. Try some Peruvian and Japanese fusion dishes at By the Sea Restaurant. Kasheveli is a restaurant right on the beach that is known for its delicious Maldivian seafood and other foods, as well as its romantically themed nights.
Visit Gili Lankafushi's Meera Spa to get energized for a night of passion. Underneath the therapy beds, glass panels provide mesmerizing views of the fish darting about in the water. Wooden flooring, a terrace, and relaxing treatments may all be found at the Meera Spa.
Where to stay at Gili Lankanfushi?
Villa Suite with Pool. When looking out from an infinity pool, it may seem as though the water simply drops down into the ocean below. You may choose from a number of outdoor seating areas, as well as a second-floor terrace, to unwind in comfort. Separate areas provide visitors the option to mingle or relax in peace and quiet.
Residence with Pool. Relax on a huge catamaran net that floats above the water's surface and enjoy the ocean wind. In addition to the breathtaking views of the Indian Ocean from your living and dining areas, your enormous pool offers unlimited options for leisure.
Anantara Veli Maldives Resort
How to get to Anantara Veli? By 35 minutes speedboat transfer from Airport
Location: South Male Atoll, 24 km from Mele
Adults only: YES
Honeymoon benefits: Complimentary transfer for the bride; Bottle of Champagne; Four pieces of selected chocolate; Bed Decoration
If you're looking for a luxurious honeymoon resort in the Maldives, go no further than Anantara Veli. As soon as your toes touch the powdery white sand at this five-star resort, you'll feel relaxed and at home. From your Maldives bungalow, you can look out at the ocean, relax during the days, and celebrate your love at a Maldives honeymoon resort with a beautiful sunset.
There are several places to eat, such as Japanese, Italian, and Thai restaurants, as well as a barbecue over the water and two bars by the pool. Spruce up your romantic getaway with a "dining by design package" that includes a candlelit beachside lunch for two. You can also opt to eat in the privacy of your villa.
This resort has a high-end spa, in-house chefs, and fitness instructors who can help you relax with massages, cooking classes, and yoga. Is a more exciting experience what you seek? Go waterskiing, kneeboarding, or wakeboarding, or go snorkeling (with nurse sharks, whale sharks, or turtles, if you choose). Also available are sunset cruises and fishing excursions.
Where to stay at Anantara Veli?
Over Water Villa. This is the Maldives as shown in postcards: a blue lagoon stretches out before you, beckoning you to explore. Stretch out on the sundeck and keep a lookout for passing manta rays and a dhoni's sails.
Ocean Pool Villa. During your honeymoon in the Maldives, watch the Indian Ocean sunsets. Villas with private pools make dream vacations. Enjoy being alone, seeing the ocean, and seeing dhonis fly into the distance from the edge of a cliff. The Maldives honeymoon suites include private pools overlooking the ocean. Take lengthy baths or outdoor rain showers.
W Maldives
How to get to W Maldives? By 35 minutes seaplane transfer from Airport
Location: North Ari Atoll, 82 km from Mele
Adults only: No
Honeymoon benefits: Welcome amenities, one-time sunset cocktail & canapés with live DJ at SIP & special bed decoration; One time AWAY Spa Bonus – Extra 30 minutes per person when taking a 60-minute massage.
The W Maldives is a high-end 5-star private island resort where people can get away from it all and get a new lease on life. Upon awakening, you hear the waves beating against the infinity pool. Discover a paradise with pristine white sand beaches, crystal clear lagoons, and the Maldives' finest house reef.
The restaurants and lounges, which are spread out across the island in a tasteful way, make it a point to bring the beauty of the Maldives into every meal. Enjoy the vibrant, fresh flavors of Maldivian cuisine for breakfast, dine barefoot under palm trees in the center of the island for lunch, and shake things up for supper at our overwater seafood restaurant.
Pay a visit to the AWAY® Spa, which has won several awards. Let our therapists take you on a trip of happiness in one of our four private overwater treatment rooms with an obscured view of the ocean. These rooms are both elegant and quiet, making them a great place to rest and refresh your senses.
Where to stay at W Maldives?
Wonderful Beach Oasis. These villas feature two stories and a spherical form. Beautiful deck with direct access to the beach, a pool, and a covered gazebo for relaxing. The spacious guest rooms include plum walls, beige floors, and red accents on the bed and bedside sofa.
Fabulous Overwater Oasis. It should be highlighted that W Maldives' overwater villas (Ocean Oasis) are really stunning. Their decks, which are poured by their private pool and have a lovely sofa and gazebo inside, are located on a startlingly blue shoal, and the glass portions in the floor allow visitors to see marine life even at night.
Read also:
The 10 budget beach villas with pool in Maldives
The most exclusive resorts in Maldives
The list of top 10 luxury resorts in Maldives
The best resorts for snorkeling in Maldives
Amazing budget water villas in Maldives
Top 10 all-inclusive resorts in Maldives
Top 10 Budget Resorts with Pool Water Villas in Maldives 2022