I have visited Thoddoo 3 times in the last 3 years. Not so regularly I visit it, unlike Rasdhoo or Ukulhas. But in recent years it has become mega-popular among tourists from Europe.
Check: Budget packages to local islands
The island is located 67 km west of the capital Male. And 20 km north of the administrative center of North Ari Atoll – Rasdhoo. Thoddoo is a fairly large island by Maldivian standards – about 2 x 1 km. Moreover, a third of the island is reserved for farms, another third is the village, and the rest is the jungle. The population of the island is about 1400 people. Thoddoo is considered one of the largest producers of agricultural products in the country and is mainly known for its sweet watermelons.
Unlike many other islands, it is located as if separately.
Table of content:
Things to do in Thoddoo
Beach and snorkeling
Due to its size, Thoddoo offers magnificent beaches for tourists. Nowadays, there are two tourist beaches on the island located on opposite sides of the island.
Interesting fact: even in spite of its size, both tourist beaches are smaller in total than the beach in Ukulhas.
The first beach is located in the southern part of the island. It takes about 15 min from the nearest hotel to reach, the path passes through fruit farms. A great option, in this case, is a bicycle. Almost every hotel provides it.
The boundaries of the beach are conventionally marked by a fence of dry palm leaves. The beach is very clean and well maintained, but small. During high season it can be crowded. Therefore, everyone lacks sun loungers and hammocks (unlike Ukulhas, where there are many more). It's very convenient to have a shower and toilet on the beach as well.
Tropical trees grow along the coast, through which numerous paths lead to the water. However, there is only one entrance to bikini beach. The sand itself is so white and you can walk on it without fear of cutting yourself on glass or dead coral. The water is clean and with almost no floating debris.
Thoddoo house reef is very long. However, there are not so many places for snorkeling. A small reef is located very close to the bikini beach. there are only a couple of corals and several species of fish. A truly beautiful reef with many fish (and even stingrays and sharks) is located off the coast – about 400 m.
I swam there without fins and don't recommend it because you get tired while you swim back and forth. And if there is also a side stream, then spend all your energy while you swim to the reef. But it worth it. At the same time, from my own experience, I'd say the outer reef is not as rich with animals and fish kingdom as Rasdhoo. But corals are in better condition.
Never swim there alone! The currents can be very strong and you will not notice how quickly you move away from the coast!
The second beach is located in the north-eastern part – behind the stadium. From some hotels, it's only 5 minutes walk. It's smaller than the south beach, but there are also not so many tourists. There are sunbeds, hammocks for a comfortable stay. The advantage of this beach is the closeness of a house reef, which is only 200 m away. At the edge of the reef, I saw turtles, eagles, and even manta rays! But not so many fish and sharks.
They say that on the beach you can see the fluorescent plankton! Unfortunately, I've never seen it, but I saw it at Rasdhoo and Adaaran Vaddhoo Resort.
Cycling
The island is quite large and it will take a time to explore it on foot. Therefore, a good way is cycling. During morning or evening time you can easily go around the island and see what it is outside of the tourist beach.
Like other local islands, wildlife on Thoddoo is not very diverse. On the shore, there are many crabs and hermit crabs of various sizes. I saw how hermit crabs used a coconut shell, glass bottom, a bottle cap. In general, what they find is used as a home.
You can find gray herons on the beach sometimes. If she likes you, she will let you step closer. When it gets dark, you can see flying foxes sweep overhead. They are not dangerous to humans and eat fruits. From reptiles – small iguanas and very small geckos.
Well, mosquitoes, which are quite a lot on Thoddoo (depending on the season), unlike the neighboring Rasdhoo. Therefore, stock up on repellents. Most of them are near plantations, and not everywhere, but only in some places.
Snorkeling safari
There are two places for safari snorkeling: near Thoddoo and at Rasdhoo Atoll. In the first case, you will snorkel with turtles on a house reef. In the second case – visit three spots in Rasdhoo Atoll. What to choose? I would recommend both options because in this case, you will see how diverse and amazing the underwater world of the Maldives is.
Manta ray snorkeling. Mantas are the largest rays on the planet. The span of their wings can reach 6m! They feed only on plankton, so you shouldn't scarry about it. There is a cleaning station near Thoddoo, where mantas come. I was snorkeling and diving there. The second option is better because mantas prefer to swim in deep water.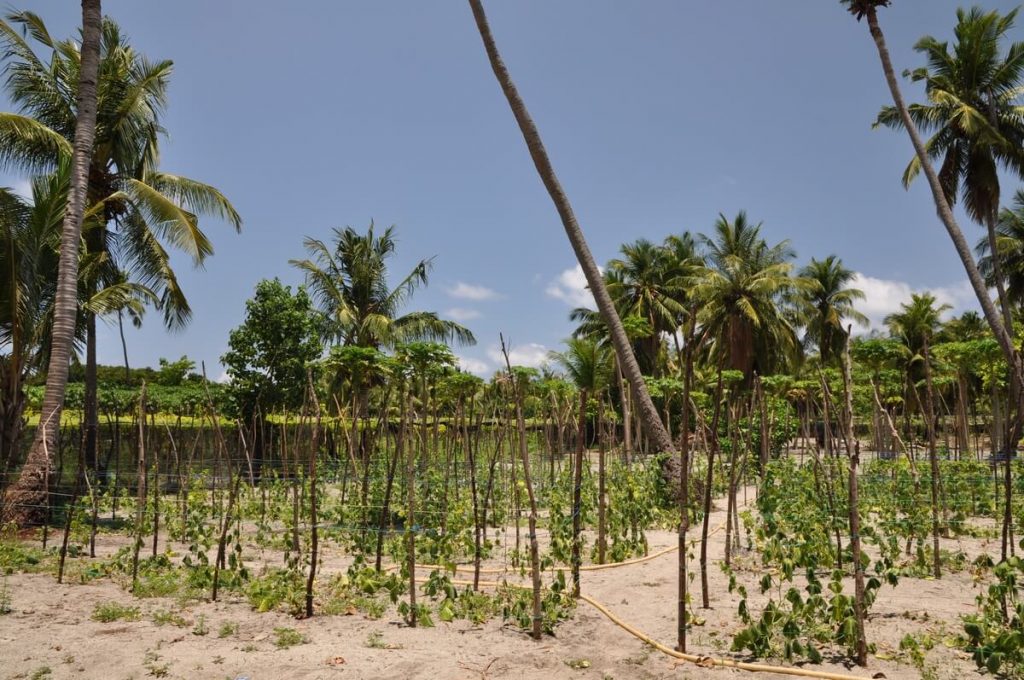 Local farm tour
Such entertainment you can provide by yourself or find a local who will tell you and show everything, or ask a manager at the hotel. A vegetable farm tour will surprise you with the possibilities of growing herbs and vegetables in the atolls, and you will stock greens and herbs for your favorite salad. Thoddoo is one of the few islands in the Maldives that export fruits and vegetables to other islands. Papaya, watermelons, bananas, coconuts, etc. are growing here. If you want to pick fruits from trees, please, firstly ask permission from the locals.
Other activities
Dolphin safari. An evening safari with a school of friendly dolphins that swim so close to the boat that you can try to touch them!
Visit uninhabited islands. They are next to Rasdhoo. Madivaru is a picnic island neighboring a white sandbank. Surrounded by the blue sea Madivaru sandbank is the best place for relaxing.
Night fishing. The Maldives is the place where everyone can try to catch fish using only the fishing line, hook, and bait. Moreover, it is often ladies and children who are more successful than gents! Fish can be grilled at the hotel.
Scuba diving
Two dive centers are now open on the island. I highly recommend everyone to try diving in the Maldives (no matter which island) because, after that, your thoughts about the underwater world will change forever! The beginner's course includes theory class, skill training in shallow water, and the dive itself with an instructor. Price is 110 USD
If you are a certified diver, then I will disappoint you – all places for diving are in Rasdhoo Atoll. Therefore, if you have plans for diving, it's better to take a few nights on Rasdhoo.
Thoddoo Infrastructure
The island has everything you need: a hospital, a school and a kindergarten, a gym and a football field. Two large mosques, one of which was built long enough.
The island has several restaurants and cafes where you can try local courses. I wouldn't say there is a huge price difference. More or less it's the same. The food on Thoddoo, as well as on other local islands, is not very diverse. Rice, tuna, fried chicken, noodles with chicken, vegetables, etc.). Tuna and coconut milk soup. Pancakes with tuna and coconut. Casserole with tuna and rice, all kinds of tuna pies. And of course, a variety of fresh. On average, dinner costs $US 10-10 pp.
Where to eat on Thoddoo
Where to eat: in a hotel or in restaurants? It depends on the hotel, if you have a good chef, then in the hotel the quality of the food will be definitely better. In this case, the cost will be the same on average.
Try these places:
Black Anchor Restaurant. You can choose between European and Maldivian food cooked perfectly. The menu includes reef fish, chicken breast, Caesar salad, summertime salad, tuna steak, pasta with chicken and mushrooms.
Sun Sky Restaurant. Cuisines Italian, Indian, European, Asian, Malaysian. This place doesn't look very cozy at the first sight but the more you interact with pleasant staff the more you want to stay here.
Seli Poeli Cafe & Restaurant. The restaurant has great food, natural fruit juice, nicely cooked fish (but can be overcooked. The service is good, but the waiting time for the food is too long.
Maracuya. The food here is nothing special, it is the same as in other budget places on the island, but the passion fruit fresh is the best!
Food Land Restaurant & Bakery. The only place on the island, where you can try a home bakery.
Thoddoo Cafe. Not for tourists, if you want to try true Maldivian cuisines – this is a perfect place.
Coco Mero Restaurant. Another local style place with a variety of Maldivian carries.
At local stores, you can buy fruits, juices, drinks, groceries, and other necessary stuff.
If you look at Thoddoo on Google Maps, you will see that some hotels are located closer to the beach – Ari Heaven Thoddoo, Thila Farm View, Summer Stay Thoddoo than others. In fact, they are not located there, but in the village. Local laws do not allow building hotels only in a certain area located in the village.
Why is that?
Unlike many local islands, where tourism is developed, Thoddoo is a bit different. Many people on the island are doing farming and sell their products both to resorts and to the capital. Therefore, they do not want to give their land for the construction of another hotel.
Where to stay on Thoddoo?
For the last 4 years, I've had an exclusive partnership (the best prices for accommodation and excursions) with Thoddoo Beach Holiday Inn. This is one of the first hotels on Thoddoo, and during this time they are constantly improving their reputation.
In addition to excellent service, Thoddoo Beach Holiday Inn is for both adults and families only.
The hotel has 2 blocks: a 3-floors building with a balcony and a one-floors block with a lounge area. Free water, tea, coffee, a snorkeling kit, and towels are provided.
Relax Residence is not the cheapest hotel on Thoddoo, but the quality of service provided is worth it.
Thoddoo Vacation Package
Accommodation at Thoddoo Beach Holiday Inn, breakfast and dinner, transfer by scheduled speedboat Airport-Thoddoo and Thoddoo-Airport. Total (for 2 adults):
| Nights | Oct – 4 Dec | 5 Dec 2022 – 30 Apr 2023 |
| --- | --- | --- |
| 4 nights | 480 USD | 520 USD |
| 5 nights | 570 USD | 610 USD |
| 6 nights | 650 USD | 690 USD |
| 7 nights | 740 USD | 780 USD |
SEND REQUEST
Transfer to Thoddoo
Public ferry
Cost: $15 one way, per person (the traveling time is about 5 hours).
Departure from Male: every day at midnight (except Thursdays and Fridays).
Departure from Thoddoo: every day at midnight (except Thursdays and Fridays).
NOTE: as it's a private ferry it can go earlier or be canceled.
Scheduled speedboat
Cost: $40 one way, per person (traveling time is approximately 1 hour).
It's available every day, except of Friday
Departure from Male to Thoddoo: at 11:00 and 16:00.
Departure from Thoddoo to Male: 07.00.
Contact us to get a personal tour to the Maldives!
Read also:
Top 16 things to do in Maldives 2021