Goidhoo is a local island in Baa Atoll. The island is 100 km northwest of Malé. Goidhoo is a rather large island, 2.2 x 1.8 km. And there is a freshwater lake – very rare for local islands in the Maldives. The whole atoll is separated from Baa Atoll by a 15km wide channel.
Check: Budget tours to local islands
From the island's history it's known that in the 19th century an African settled here, who worked for many years in the palace of the Sultan in Malé, was officially freed from slavery by the King of Maldives. After receiving freedom, a house and a well were built for her on Goidhoo. This woman was called Salaam, and today there are some families on the island that are descendants of their African ancestors.
Things to do in Goidhoo
Bikini beach and house reef
Bikini beach is located in the south part of Goidhoo, around 15 mins of walking through jungles and farm fields. So you can feel how islanders are living in remote islands.
The main issue in Goidhoo is the surrounded island seaweed. So you can swim only in the Bikini Beach area.
House reef is accessible from a speedboat only as it's too shallow near Goidhoo. Another option is Rocky Beach, but the entrance is full of dead corals and rocks. So shoes are a must-have.
Freshwater Lakes
There are two mangrove lakes with freshwater to explore. There are very shallow so you can just walk. It's very rare to see in Maldives freshwater lakes as there are no rivers or mountains to fill them with water.
Other activities
Sandbank visiting/picnic island. Enjoy your private moments surrounded by turquoise blue waters, on the private island of Innafushi and sandbanks.
Safari snorkeling. Visit the best snorkeling spots nearby and watch turtles, colorful fish, manta rays, and sharks.
Night fishing. Enjoy the peace and stillness of the night under the starry sky while you fish for snapper or grouper. And end the evening with a barbecue prepared with your very own catch.
Resort day visit. Visit nearby resort Cocoa Palm Dhunikolhu to experience your Maldives holiday to the fullest.
Island Hopping. Hot to one of the nearby local islands Feridhoo or Fulhadhoo to compare local life in different islands.
Goidhoo Infrastructure
Goidhoo is a farmer's island with a lot of vegetable and fruit farms. It's not as famous as Thoddoo, but you can take a walking trip as well.
They have a harbor to anchor speedboats and large fishing boats. From this island, you can go to Fehendhoo, Fulhadhoo, and take a scheduled speedboat to Male.
Two mosques (including Old Friday Mosque), a pharmacy, a few local shops, four cafes can be found there.
Where to eat
Local guest houses are provided with local and continental food. Places to eat outside are:
Cafe De Beach. Very comfortable for travelers as it is located near a jetty. They have tasty short eats and quick service.
Lantz Garden. Local style restaurant with good menu and coffee.
Journey cafe. Another local place with fast food and a comfortable interior and a view.
Old Coffee House. As the name says, they serve coffee at an old house.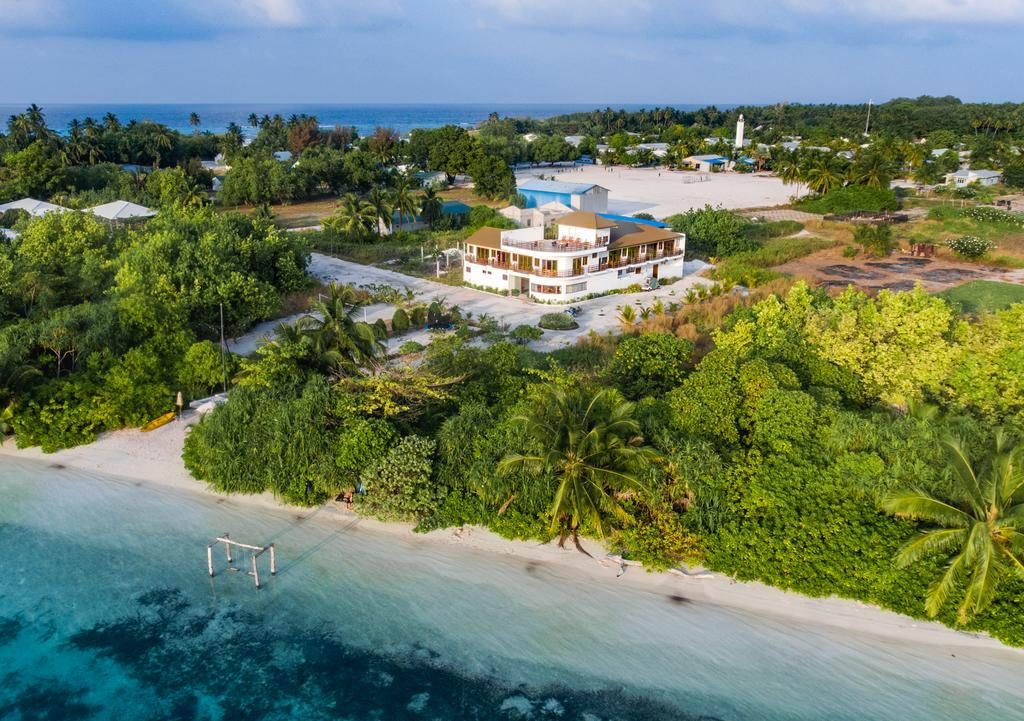 Where to stay
There are a lot of places to stay, but I advise Olive Goidhoo, and that's why.
– Seaview rooms;
– Super friendly staff;
– Amazing in-house chef that can cook a great variety of local and continental cuisine;
– Unlimited coffee and tea;
– Own 8 pax capacity speedboat for cruising and activities on nearby islands;
– Affordable room prices
– Free Airport meet and greet service;
Transfer to Goidhoo
Scheduled Speedboat
– Male-Goidhoo, Mon (9:00, 13:00), Tue (9:00, 13:00), Wed (13:00), Thu (9:00, 13:00), Sat (9:00, 13:00), Sun (9:00)
– Goidhoo-Male, Mon (8:00, 13:30), Tue (8:00, 13:30), Wed (8:00), Thu (8:00, 13:30), Sat (8:00, 13:30), Sun (13:30)
Duration is 1,5 hrs. Price is $US 50 per way per person.
Contact us to get a personal tour to the Maldives!
Read also:
Top 16 things to do in Maldives
How to book Maldives on a budget?