1. Visit Male
Male, the capital of the Maldives, is densely compressed onto an island of about two square kilometers (1.25 square miles). It's one of the world's smallest capital. Top sights to check out in the capital city include:
Republic Square. The square was constructed in 1989 and features a flagpole with the nation's largest Maldivian flag waving proudly. This area is also a popular spot for locals to meet.
The National Museum. After the Maldives became a republic, the country established the National Museum. The National Museum provides insight into the country's heritage. Its collection encompasses royal antiques, artifacts, coins, photos and other memorabilia from the days of the Sultanate. Thrones, palanquins and statues are highlights. There are even artifacts from the pre-Islamic era, almost 1,000 years ago The museum is located in Sultan Park, which was part of the Sultan's palace. The National Art Gallery is within the complex too.The museum is just a short walk south of Republic Square.
Sultan Park. Located adjacent to the National Museum, Sultan Park is an open green space for locals and visitors to enjoy. The park features sculptures, playgrounds, greenery and fountains, in addition to pathways for strolling and benches for when you need to rest. However, foreigners need to pay to enter the park.
Grand Friday Mosque. The biggest and most important mosque in the country, the Grand Friday Mosque is an excellent example of simple yet striking architecture. Opened in 1984, it has a modern plain white marble exterior and gold dome. The main prayer hall inside the mosque can accommodate up to 5000 worshippers and has beautifully carved wooden side panels and doors, a specially woven carpet and impressive chandeliers.
Old Friday Mosque. This is the oldest mosque in the country, dating from 1656. It's a beautiful structure made from coral stone into which intricate decoration and Quranic script have been chiseled. Overlooking the mosque is the solid, round, blue-and-white tower of the munnaaru – the squat minaret. Though it looks a bit neglected rather than particularly old, this minaret dates from 1675. To one side of the mosque is a cemetery with many elaborately carved tombstones.
Mulee Aage. Mulee Aage saw long service as the official residence of the president of the Maldives. Known for its colorful facade, this palace was used on and off until 2012 and now serves as a governmental office for holding meetings. Though you cannot see the interior, you can stand next to the front gates and take a few photos of the landmark building. Most walking tours around the city stop outside the palace.
Fish Market. Nothing beats a visit to the local market to feel the pulse of the city, interact with the locals, and understand their way of life. One of the most fun things to do in Malé city is heading to the local Fish Market abuzz with activities. Considered the soul of Malé, it is a fascinating place to watch an assortment of fresh fish from the adjacent harbor including yellow-fin tunas and huge octopuses.
Tsunami Monument. Close to the Villingili Ferry Terminal, this lovely memorial for the 2004 Tsunami victims is a tranquil place. With its interesting design and structure. One of the most soul-soothing things to do in Malé is to gaze at the beautiful view around & beyond and spend a few quiet moments here.
2. Go to Hanifaru Bay
Hanifaru Lagoon is located on the eastern side of the Baa Atoll and has an open channel facing west that leads into a gradually shallower dead-end bay. There are only handful of places in the world where visitors can get so close to so many manta rays, snorkeling alongside them as they barrel-rolling and 'fly' in formation through the dense plankton – a behaviour that has become known as cyclone feeding. The high plankton concentration can lead to crazy feeding aggregations with up to 200 mantas and (sometimes) whale sharks in the bay.
UNESCO declared the Baa Atoll a World Biosphere Reserve in 2011, the Maldivian government implemented strict regulation with the scientific help of the Manta Trust organization.
Nowadays Hanifaru Bay is considered to be the world's largest manta ray feeding station.
Only snorkeling and freediving is allowed in the bay, as divers and bubbles in the water column disrupt normal feeding behavior of the animals. As they mostly feed quite close to the surface, diving is not necessary for a great experience.
Between May and December, during the South West Monsoon, a lunar tide also occurs which results in a massive build up of plankton in the bay – the best time to go to Hanifaru Bay.
3. Go to see whale sharks
Unlike with many other whale sharks excursions offered around the world (like in Cebu, Philippines), finding whale sharks in the Maldives to swim with is fully natural activity without feeding them to attract. Whale sharks can actually be found in the Maldives throughout the year and they can often be found in large numbers.
Swimming with whale sharks in the Maldives takes place in the open water and not close to island, and you might need to hop on and off the boat a number of times to maximize your time with the whale sharks as they can cover incredible distances quite quickly.
Best places to go:
– South Ari Atoll (Whole year around);
– Baa Atoll (May-June, October-November);
– Addu City Atoll (Quite rare);
Scuba diving is possible as well with whale sharks, but you have to be lucky to see them as they are swimming too fast. That's why snorkelers are more flexible while sailing to search for whale sharks.
4. Visit the underwater restaurant
Dining under the sea is a growing trend in the Maldives that enables diners to enjoy great food and incredible underwater views all at once.
No matter you want to have a romantic dinner with your beloved one or take your family for a very special lunch, the handful of underwater restaurants around the Maldives are ready to provide the WOW factor!
There are 6 (!) underwater restaurants in Maldives.
The restaurant easily fits 8 tables. Its main feature is a wine cellar – the only of its kind on Maldives. The variety of wine is absolutely amazing! Watch sharks, turtles and tropical fish swim by as you savour gourmet dining at its finest.
Impeccably plated Maldivian lobster makes for a special lunch, while pan-seared Japanese wagyu completes a romantic dinner.
The international gourmet menu accompanied with a choice of wines spanning nine decades is truly world class and paired by their resident Wine Guru.
The resort itself is located in between Baa and Raa Atolls which is rather far from Male.
Sitting five meters below the surface of the Indian Ocean, Ithaa is the world's first undersea restaurant offering 180-degree panoramic views of the vibrant coral gardens surrounding it.
The set lunch and dinner menus, matched with a wine concept, showcase local flavors blended with Western influences. Our trailblazing restaurant is also open for mid-morning cocktails.
Means 'mother-of-pearl' in Dhivehi, this amazing restaurant is also open for mid-morning cocktails. Ithaa can be reserved for private dining, weddings and special occasions.
The resort is located in South Ari Atoll.
The search for the elusive gastronomical heaven appears to be over: the spectacular 5.8 dazzles and delights diners with a multi-course tasting extravaganza, garnished with a state-of-the-art location.
'5.8 Undersea' is the world's largest panoramic underwater restaurant!
Each dish combines the best ingredients with innovation and style, leading to a showcase of creative modern cuisine combined with an incredible location, wine list and exceptional service.
The prices here might seem too expensive, but believe us the experience is all worth it!
Located at Niyama Private Islands, the club is accessible by boat and the guests well shaken by speedboat are then immersed in the submarine of the three-story Subsix.
Dive into Champagne breakfasts, subaquatic lunches, gourmet dinners and glow parties illuminating the night alongside the theatre of the reef.
Set up 7m under the Indian Ocean, what makes this restaurant exclusive is not just the dining experience it offers, but also the thrill involved in reaching here.
An exclusive underwater restaurant is without a doubt the jewel in the crown of the fine dining experiences at OZEN. Open for lunch and dinner, this specialty seafood restaurant showcases beautiful underwater views whilst you enjoy exceptionally exotic Modern Seafood cuisine!
Plenty of fish go by as you dine here with an amazing degustation menu (one or two) 5 course meal and perfect wine combinations.
With its location 6m under the blue lagoon, it is ideally the most romantic and surreal place to visit with your loved ones!
OZEN Life Maadhoo is located very close to Male.
A first of its kind, You & Me by Cocoon's stand out feature is a fully submerged, underwater restaurant that gives diners a 360 degree view of the Maldives' breathtaking marine environment, as they enjoy a delicious meal.
With a capacity of 10 tables and a specialized set menu, you are given the opportunity to observe the breathtaking marine environment of Maldives while indulging in some exquisite meals. H20 is the only underwater restaurant in Raa Atoll.
5. See Bioluminescent Plankton
At the first sight, the neon blue balls washing up the shores might be confused with some alien form of life which is trying to invade the Maldives at night.
The bright blue light is the result of a natural chemical reaction that occurs when plankton is disturbed with oxygen.
One of the most popular places to see this fantastic view is Vaadhoo Island, Raa Atoll, and the high season is between June and October. Don't messed up with Adaaran Vaadhoo Island Resort in South Male Atoll. Where, actually, you can observe it as well.
You just need to stir up the water with your feet, and if plankton is there, it will immediately splash with gorgeous blue lights. However, you will rarely see such a picture on the beach, it's much more likely to happen when cruising offshore.
6. Try sailing by catamaran
Enjoy a simple sail into the turquoise lagoon, with magical views of the ocean – one of the best ways to cruise along Maldives warm waters.
A cruise in the Maldives ensures a truly memorable holiday!
Catamaran sailing in the Maldives is a relaxing and tranquil sport that provides ample leisure time, combined with an unforgettable adventure at sea.
Whether you are a beginner or experienced sailor, gliding through the warm waters is an experience like no other – the ideal sport to add to your holiday in tropical paradise.
Catamarans, with their shallow draught, allow you to explore the numerous islands and reefs that are set in this abundant and vibrant crystal blue Maldives in total comfort.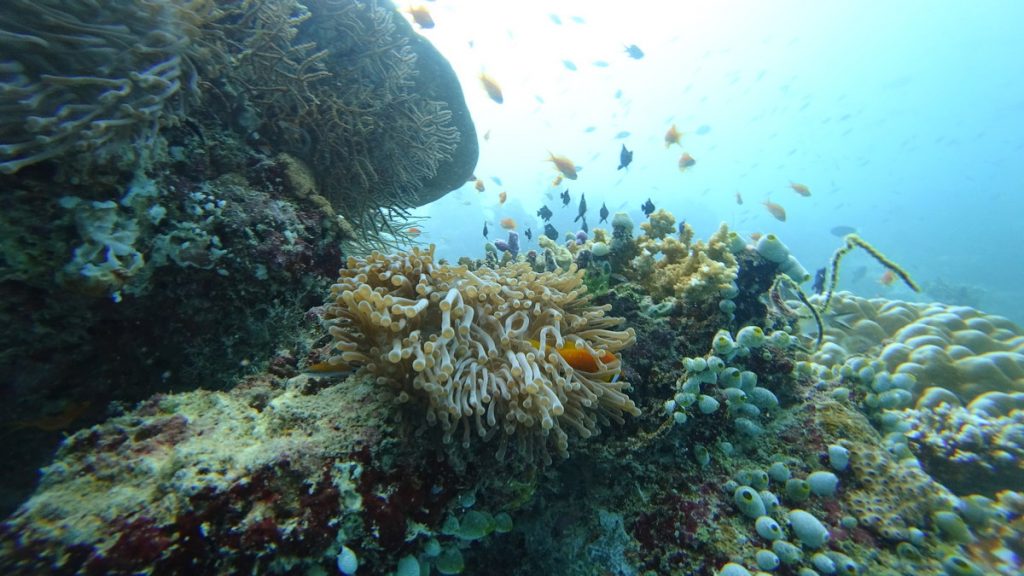 7. Try scuba diving
The Republic of Maldives is a coral archipelago located in the hub of the Indian Ocean to the South-West of India and Sri Lanka. It consists of 26 individual atolls and stretches for about 900 kilometers from north to south. The equator divides Maldives near the Addu Atoll.
Maldives is a chain of almost 1200 islands most of which are uninhabited. Approximately 200 islands are inhabited by the local people and another 150 islands are fashionable resorts.
Scuba diving in Maldives is one of the truly unforgettable impressions that you can enjoy on these Paradise Islands.
Maldives is a unique place where everyone can find the best conditions of diving according to his abilities. The beginners may try to dive in special sites with gently sloping hills inhabited by colorful corals, tropical fish, manta rays, sea turtles, and sharks.
Scuba diving in Maldives is open for any level, no matter whether you are a beginner or a high-end professional.
Visibility varies from 15 to 50+ meters. The turbid waters attract manta rays, big shoals of fish and in some cases whale sharks.
The water temperature is 26-30°C all year round.
The climate is tropical and hot with plenty of sunny days with an average temperature of 25-33 around the year. You can dive at any season of the year but from April to October the monsoon brings a large amount of precipitation. (from April till June it rains the most) However heavy storms are unusual here.
The marine life. Maldives house about 1100 fish species, 400 muscles and 83 varieties of echinoderms including manta rays, grey reef sharks, snipers, parrot fish and etc.
The average diving depth is 15-30 m.
8. Try big game fishing
For the big game savvy lovers, the options for a good catch are limitless. There's no better way to experience the thrills of deep sea big game fishing than from on board the completely equipped fishing boat. Catering for novice and expert trawlers, the Big Game Fishing excursion allows you to catch a sight of the Maldives' picturesque landscape, and with some luck, your triumphant big fish too.
Maldives Big game fishing includes heavy duty trolling, jigging, and popping.
Popping. There is no better site for a fisherman than to see a sudden explosion on the surface and the popper or swimbait being smashed while the reel starts to loose line rather rapidly. Be it a GT, Dogtooth, Red Bass, Coral Trout or Barracuda they simply cannot resist a surface lure that is properly displayed.
Jigging. With plenty of dropoffs and channels all across the Maldives, Jigging always land you plenty of fish and quite often fish that can give you a real fight. Big Dogtooths, GT's, Barracudas and if at the right location Yellowfin Tuna take the properly worked jig with surprising regularity. Many potentially great spots remain to be explored where as per our findings big fish will surely be hunting for potential prey.
Trolling. Every angler has their sights set on a successful day of fishing, but it's more than just throwing some bait on a line and hoping for the best. There are different techniques used for every type of fishing, whether it's inshore or offshore. Anglers troll for Sailfish, Marlin, Mahi Mahi, Tuna, and Wahoo.
9. Participate in boduberu show
The Boduberu is a traditional Maldivian performance, consisting of rhythmic drumming, singing and dancing.
Boduberu is performed by about 20 people, including three drummers and a lead singer. They are accompanied by a small bell, a set of drums also known as a bodu beru, and an onugandu – a small piece of bamboo with horizontal grooves, from which raspy sounds are produced by scraping.
It is presumed that boduberu took part in the Maldivian culture in the eleventh century through African regions.
The song could be of any chosen type such as romantic, patriotic or satire. When the beat upsurges and the song reaches a crescendo, the dancers from the group make wild, frantic movements. The traditional costume of Boduberu is a sarong and a white shirt.
10. Enjoy the white sandy beach
The Maldives are known for their white sand beaches that stretch along with the atolls. The sand is smooth, not hot and easy to walk on.
The sugar-white sand and striking blue water make for the perfect beach vacation backdrop. Most island resorts and local islands offer their own private beach, complete with lounge chairs and umbrellas.
In addition to lounging on the beach, travelers can enjoy various water sports activities in the Maldives: Windsurfing, canoeing, kayaking, stand-up paddleboarding and surfing.
The longest beaches in Maldives:
Island resorts. Hideaway Island Resort, Kuramathi Island Resort, Sun Island Resort, One&Only Reethi Rah, Niyama Private Resort
Inhabited islands. Ukulhas, Dhigurah, Hanimaadhoo, Fulhadoo, Feridhoo, Gan.
11. Try snorkeling
The Maldives is made up of more than 1,100 coral islands. Therefore, snorkeling is naturally spectacular! All resorts and inhabited islands in the Maldives offer this activity. However, you'll want to choose an island with an in-house reef where you can go snorkeling directly from the beach instead of on a prearranged boat trip.
Some of the most beautiful fish you may see in the Maldives include butterflyfish, clownfish, angelfish and parrotfish, in addition to sea turtles, manta rays, eagle rayes, stingrays, whale sharks, reef sharks and eels. Keep in mind, there are several dangerous types of fish: lionfish, triggerfish, moray eels, stingrays, as stings or bites from these animals can be harmful.
12. Try Surfing
The Maldives has a great array of left and right reef breaks suiting most intermediate to advanced surfers. You can still pick up some small clean waves in the dry season of November to February but it is not regarded as part of the main swell period. It would still be worth packing your board.
Surfing in the Maldives is tempered by the North-East and South-West monsoons. During the North-East monsoon (from March until April), conditions are optimal in the Southern Atolls. From May to October, during the South-West monsoon, the best surfing area is in the Northern atolls or the Central atolls.
Location: North Male Atoll
Best time to go. February-October. Peaking between March and August. The months of June, July and August are potentially the best months for the biggest swells but tropical storms are more prevalent.
Best spots. Pasta Point, Chickens, Coke's, Jailbreaks, Sultans, Ninjas and Lohi's
Where to stay. Resorts: Meeru Island Resort, Adaraan Hudhuranfushi; Local islands: Thulushoo, Huraa, Himmafushi
Location: South Male Atoll
Best time to go. February-October. Peaking between March and August. The months of June, July and August are potentially the best months for the biggest swells but tropical storms are more prevalent.
Best spots. Foxy's, Guru's, and Riptides
Where to stay. Resorts: Holiday Inn Kandooma, Olhuveli Island Resort, Anantara Veli; Local islands: Maafushi, Guraidhoo
Location: Thaa, Laamu, Meemu Atolls
Best time to go: March through to mid May and mid August through to November
Best spots: Malik's, Finnimas, Outside Mikado, and Inside Mikado (Thaa); Ying Yang, Refugee's Lefts, and Refugee's Rights (Laamu); Veyvah, Muli (Meemu)
Where to stay: Niyama Private Island, Gan
Location: Huvadhoo Atoll
Best time to go: March through to mid May and mid August through to November
Best spots: Beacons, Castaways, and Tiger Stripes
Where to stay: Ayada Maldives
13. Cruising around Maldives
This blissful Indian Ocean archipelago dazzles the eye with crystal-clear waters, cobalt-blue skies, and coral reefs teeming with tropical fish of every hue. Sailing tours, which include all meals on board, let you experience the Maldives for less than the price of an all-inclusive floating villa resort. There are both private and scheduled (3,5,7,10 and 14 days itinerary) trips.
Available boat types:
Dhoni. Today, many dhonis are made out of fiberglass, although you will still see some wooden ones floating around the Maldives islands. These vessels are fitted with diesel engines, though in the past they were sail boats.
Sailing catamaran. Catamarans have become the sailboat of choice because they are nearly perfect for exploring coral reefs. Their low draft and easy access to the water making them well suited for hopping around the Maldives and going ashore to relax on the beach.
Private Yachts. Private motor yacht is an elegant and stylish yacht charter available for overnight voyages from Male in the Maldives. It is fast, agile, and comfortable, making it perfect for beach hopping, island hopping, and snorkeling.
Luxury Superyachts. These are larger than other mentioned above boats, carrying anywhere from 18 to 22 guests. There are two or three decks on yachts, with rooms often being spread out on two of them. Yachts have a few added features that you often won't find on small yachts, like a jacuzzi, chill out room with a library, a chic bar, SPA.
14. Try water sports
Ninety-nine percent of the Maldives is water and it goes without saying that life at resort revolves around it. The inviting Indian Ocean on your villa doorstep sets an amazing scene for an action-packed holiday and offers a beautiful playground where you can while away a few hours taking on some of the fun-filled activities at the Watersports Center.
Available water sports:
– Kayak
– Small Catamaran Sailing
– Water Skiing
– Fun Tube
– Wakeboarding
– Jet Ski
– Parasailing
– Banana Boat
– Windsurfing
– Flyboarding
– Kitesurfing
– Surfing
– Stand up paddling
15. Visit uninhabited island/sand bank
Uninhabited island. Maldives is a chain of about 1100 islands scattered on both sides of the equator. The local people inhabit only about 100 of them. Resorts and private islands occupy another 130-180 islands. And the rest are wild uninhabited islands of all possible shapes and sizes: from 20 meters to 1-2 km long!
Located not so far from resorts they are easy to reach. The locals usually call them picnic islands. Some of them remain private.
You can stay overnight on an uninhabited island as well. Great opportunity to feel how Robinson Crusoe was living like that.
You can still find some atolls that are not as crowded with tourists. Among of these are Gaafu Alifu Atoll, Laamu Atoll, Lhaviyani Atoll, Raa Atoll and Baa Atoll.
Sandbank. Compared to an island covered with greenery and lush vegetation – a sandbank is just a piece of land without any plants. The average length is from 6 to 100-120 m. Some of the sandbanks are allocated near the local islands and some could be found just in the middle of the ocean!
However, this is an incredible opportunity to sneak away from civilization and enjoy the scenery of the Indian Ocean.
16. Local island visiting
An excursion to a local island is a true way to experience the everyday life of the native people of Maldives.
As usual the resorts offer such trips to the local islands. Walking around the island don't forget to drop at a gift shop where you may buy handmade staff of the local craftsmen.
Several islands like Thoddoo offer an opportunity to visit farms and to try freshly grown fruits and vegetables.
Sometimes, some of the islanders will prepare entertainment and food for you. So, this is your chance to sample real Maldivian food and culture. You can see them dry fish, or build boats, which makes for a very special experience.
Contact us to get a personal tour to the Maldives!
Read also:
Travel guide to Omadhoo: prices, things-to-do