Mathiveri is one of the westernmost islands in the Maldives; it's another inhabited island located in Alif Alif Atoll. The island is 84 km away from Male.
The population is rather small: about 900 people. The island itself is also not so large; it's about 480×300 m. The entire island is a village. Bodufolhudhoo is another inhabited island, which is located nearby. It's a tiny island, where you can find a few guesthouses. You can get there by local ferry.
Check: Budget tours to local islands
A small resort of Nika Island is situated between these two islands. To the north of Mathiveri (about 4 km away from it), Gangehi resort can be found.
Things to do in Mathiveri
Local Beaches
There are 3 beaches on Mathiveri:
– Stingray beach
– Local beach
– Tourist beach, or bikini beach
Stingray beach
This beach got its name because of the stingrays, which can be seen here throughout the daylight hours. But the best time is in the early morning because they come very close to shore. In this case, you don't need to go into the water.
These stingrays are dangerous to humans because they can sting! This is usually due to being stepped on. They have a habit of burrowing in the sand, so they are not visible. But generally, they are fearful. In addition to the rays, there are young sharks.
Local Beach
A picnic island is located near the beach. You can get there by swimming. But you should be careful! Well on the way to the island there is a strong current that changes every hour.
The strongest current is in the afternoon; it's getting lower in the morning and in the evening. Some time ago this part of the beach was bigger, but because of the activity of locals the shores began to get washed away, and the sand was washed into the channel.
The sand is white there without dead corals as it washed away into the channel. In the evening you can swim there and enjoy the sunset.
Bikini Beach
The island has a private beach for tourists where you can swim in a bikini. The water is not very deep, so the island is suitable for families with children.
Along the entire zone, you can take one of the lounges, which are "reserved" guest houses. The beach is clean, and it is clearly visible along the entire line. Part of it is located on the territory of the guesthouse Casa Mia, but anyone can visit it, because the beach is not private property.
House reef
House reef, which is near the island, is not very good with corals and fish. Large animals do not swim here – very shallow. Therefore, as an option, you can go on a kayak to a neighboring uninhabited island and snorkel there.
It cannot be said that Mativeri and its coastal waters can offer something truly unique and unusual, however, there are several advantages to this place.
Picnic Island
Opposite the local island, across the strait, stretched a desert island. Its length is about 300 m. The island itself is not very well cleaned. But at the same time on the island, there are several bins. There is a small reef where you can snorkel. But be careful with the passage.
Snorkeling near Mathiveri
The main snorkeling points are located not far from Casa Mia and near to the picnic island. It's better to snorkel during high tide.
Near Mathiveri there are several points to see manta rays. They are very curious and friendly creatures. Don't panic, and they'll touch you with their fins. An unforgettable feeling!
But still don't try to touch them yourselves, because mantas can feel it and can just swim away. It's important to keep calm while snorkeling with these giants.
Fishing on Mathiveri
Like any other Maldives island, Mativeri is rich in reef fishes. The main type of fishing – reel, cargo, fishing line with a hook. You can catch fish up to 2 kg. However, there is not so simple. After the fish got hooked, it can swim in corals, and pull it out will be difficult, so the fishing line is torn and you are left with nothing. The thicker fishing line option will not work for the same reason. But if you are lucky, you can cook your catch in the guest house for free!
Visiting Resort
There are some resorts that are open for day visitors. For example, a trip to the resort of Nika will cost you $ 65 per person ($ 25 per entrance and $ 40 for transfer). Other islands are Gangehi, W Maldives, Constance Moofushi, and others.
Mathiveri Infrastructure
There are 8 guest houses on the island. Not so many tourists comparing to other islands.
The main sources of the economy of the island are fishing and tourism. The island has Fishing Boats which mainly involved in the yellow fin tuna fishing industry. All the fishing boats are registered and licenses under the fish processing and exporting company. these companies export raw fish products to European countries.
There is no ATM on Mathiveri, so get your cash in Malé. Or bring USD/EUR, it's widely accepted on Mathiveri.
Unfortunately, there are only a few cafes on Mathiveri.
Cafe' Palato. The cafe very good and it was very important to have a safe meal and a clean place. The only disadvantage they have is slow service. They mainly serving local and Asian-style food.
Second Home Restaurant. The food and pricing are alright, a bit more expensive than the other restaurant on the island. Service is good but it will take easily at least 30-45mim before the dishes will come.
King's Bistro. Tasty ice-cream and fresh juice/ coffee.best place to enjoy the view and take a rest during the day (especially in "hot-hours" – from 1-3 p.m)
Also, there there are 3 dive centers on the island, but diving prices are quite high.
A few groceries can be found as well. There are no souvenir shops on the island.
There are no banks and an ATM, so you should take care of cash in advance. However, the store has special devices that allow you to withdraw cash from cards, but only in local currency.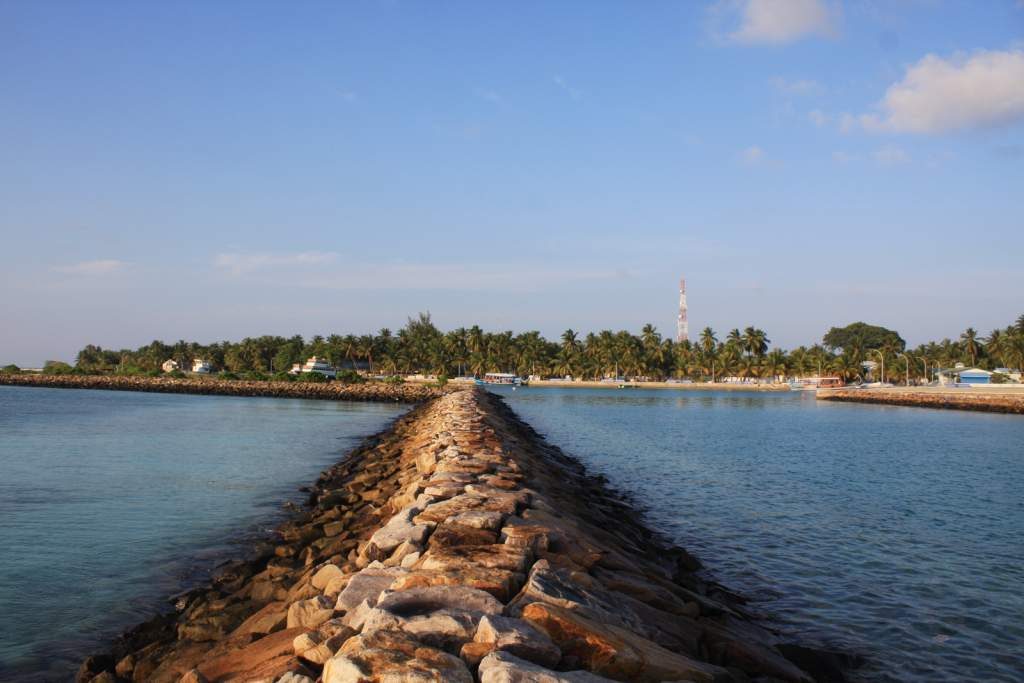 Transfer to Mathiveri
Public ferry
Cost is 4$ one way, per person; 9.00, Vilingili Terminal (it takes about 6 hours).
Departure from Male: Sunday, Tuesday at 9:00.
Departure from Mathiveri: Saturday, Monday, at 8:40.
Public speedboat
Every day.
Male-Mathiveri at 11:00 and at 15:00-16.00, on Friday at 9:30, cost – $60, the duration is 2,5 hours.
Mathiveri-Male at 6:30 and at 15:30, on Friday only in the morning, cost – $60, the duration is 2,5 hours.
Charter speedboat
A trip from the airport to Mathiveri on a private speedboat takes 1.5 hours. The transfer is organized every day upon request. The transfer cost is $878 one way (per boat, not per person).
Seaplane
A seaplane flight to Mathiveri takes 15 minutes and costs approximately $268 one way per person. Seaplane transfer is to be booked in advance (5 days before arrival). Seaplanes fly only during daylight hours from 06:00 till 16:00.
Ferries between Mathiveri, Bodufolhudhoo, and Ukulhas are available every day.
Contact us to get a personal tour to the Maldives!
Read also:
Top 16 things to do in Maldives
How to choose a local island in Maldives?
How to book the Maldives on a budget