Diving in the maldives is the most popular way to see the underwater world. Here, every dive tourist can find something suitable for each level of diving abilities.
If you love diving, you will surely be thrilled by the gentle slopes of these sea gardens where you can observe endemic species: barracudas, moray eels, turtles and large schools of tropical fish. You will also be surprised by the many species of sharks or even tuna.
Table of consent:
How to get to the Maldives
The Maldives archipelago in the southern Indian Ocean consists of 1,192 coral islands grouped into 26 natural atolls and stretches for about 900 kilometers from north to south. The country's official language is Dhivehi, with the lingua franca English widely spoken in the tourism sector.
The equator divides the Maldives near the Addu Atoll.
Approximately 200 islands are inhabited by the local people and another 150 islands are fashionable private hotels.
Velana International Airport is located on Hulhule Island to the north of the capital Male. It serves international flights from Europe, the Middle East, Singapore and other regions. On arrival, you will be met at the airport by a representative from your hotel or guest house and escorted to either a seaplane, domestic flight, or speed boat which will take you to your island.
Check: Budget diving packages
If you are diving from a liveaboard, and your itinerary starts from the Male – no need to go anywhere. The boat representative will assist you directly to your liveaboard.
Best time to dive in the Maldives
Dec-Apr. During the northeast monsoon (known as the dry season which takes place between December till the end of April) trade winds originating in the subcontinent of India carry dry air towards the Maldives archipelago. It's mostly sunny these days and no clouds. The ocean is calm and there's almost no wind.
The visibility is up to 50 m in the eastern part of the Maldives and up to 25 m. in the western part.
Most certainly water visibility is also going to be dependent on both the weather, location, tides and the time of year. On any given dive, you can go from pretty clear water (up to 50m) to only up to 15-20m.
NOTE: The prices at this time of the year are significantly higher compared to the May-Nov season.
May-Nov. The southwest monsoon season from May to November brings with it a lot of rain. During this time the current is stronger. Also, marine life is more active in the west part of Maldives.
The visibility is going down during May-July due to the plankton brought by the current.
The manta rays and whale sharks will be found off the Eastern edge of the Maldives atolls.
The rates for accommodation or liveaboard trips are the lowest. Also, the majority of boats are doing yearly maintenance at docs.
Aug-Nov is considered the best time to go to Hanifaru Bay to see hundreds of manta rays gathering for feeding. Sometimes, whale sharks are coming as well, but not as regularly, like 10 years ago. Also, it's the best time to go to the far Southern part of Maldives (Fuvahmulah) to observe tiger sharks.
Discover diving in the Maldives
The Maldives is a dreamy dive location which makes it the ultimate place for divers who want to experience something more challenging. Due to the medium to strong currents, you will have to do certain things before you start your dive.
These include a negative entry, where you will have to descend immediately after entering the water and experiencing a weightless moment. Drift diving is very common in the Maldives, so make sure you don't run low on air during your long drives!
The depth is 20m to 40m (66-131 feet) which any diver from an entry-level diver to an advanced diver can enjoy.
Diving conditions in the Maldives
The temperature of water: 25-30 C
Visibility: 20-50m (depends on dive site, current, time of year, etc.)
Depth: 10 – 35m
Current: no current – strong current, most dives are drifted dives. The current may vary within a day/time of year/moon phase
Dive environment in the Maldives
In the Maldives, you can dive in calm, safe waters, or you can feel a true sense of adventure by diving with sharks and manta rays. Below are some of the dive environments offered:
Channels (Kandu)
The Maldivian channels are effectively natural canals connecting the ocean and the interior waterways of the atolls. The width of such channels usually varies from 100 to 400 meters and they're 30-40 meters in depth. This type of formation is typical for islands located on the perimeter of lagoons, where the water flow does not nearly move in a circular motion. Moreover, you can find several special types of diving spots in channels, which are quite similar to permanently open coral passages. It should be better to hang with a diving hook on the bottom of Kandu.
It happens that a very strong current can even pull out the regulator from your mouth. One of the best channels is Fotteo and Golden Wall, Vaavu Atoll. You can read more here – Azalea Cruise diving trip.
Faru
The Faru is situated in the water surrounding the atolls, deep and shallow, hard and soft corals. You drift with the current and constantly find new creatures that are hiding in the crevices of the reef.
Giri
A giri, also known as a reef tombolo or an atoll lagoon, is a type of mostly submerged coastal landform. Giri is separate from the island reef the top of which can be seen from the surface. Giri pinnacles are accessible to all divers.
Thila
Thila: a big coral rock usually found in deep water (20m – 40m ) under the ocean surface. Thilas are similar to giris, but are larger, deeper and more with far-reaching ridges and corners. They produce many interesting dive features along their length and breadth, including arches, swim-throughs and huge overhangs in places. They are the most fascinating of all sites wherever they exist.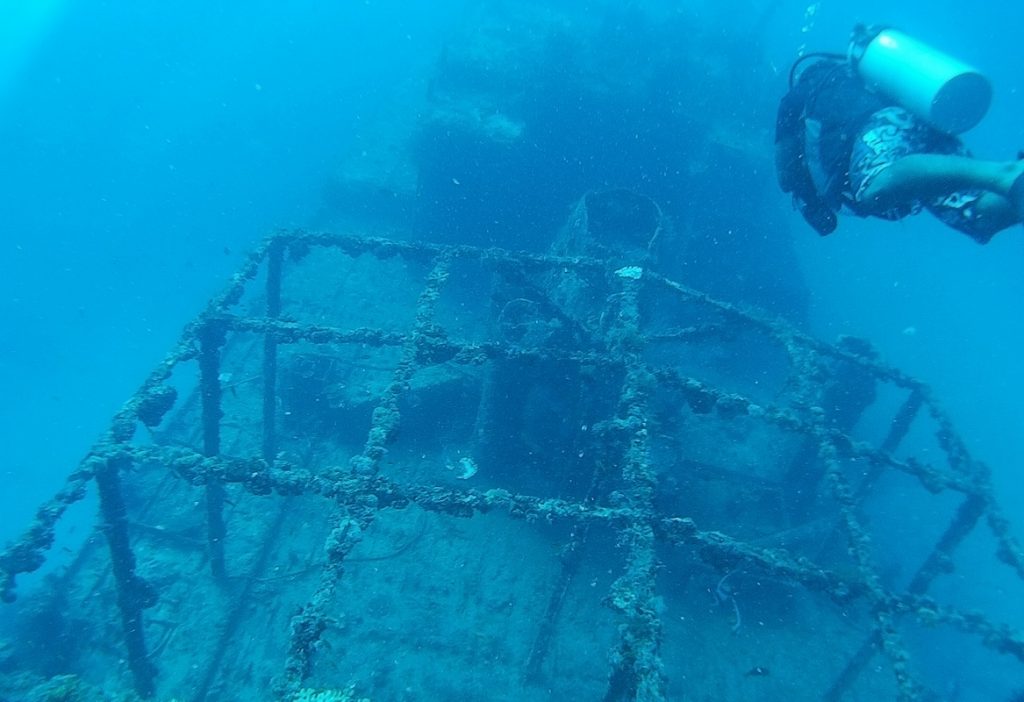 Wrecks
Have you ever dreamed of exploring a wreck underwater? Now you can. There are not so many wrecks in Maldives, but they are fascinating! This is a very well-kept secret and you won't find much information about them on the web. Although wreck diving isn't popular with casual divers. All instructors of dive centers know the locations. The most popular wrecks are:
Kuda Giri (near Anantara Dhigu)
Halaveli Wreck (near Constance Halaveli Maldives)
Fesdu wreck (near W Maldives Resort)
British loyalty (Addu City Atoll)
The Liffey and The Utheemu (near Kudahuvadhoo)
Khuda Maa (near Centara Grand Island Resort & Spa)
Marine life in the Maldives
Mantas and whale sharks are year-round residents in Maldives, drawing divers and snorkelers to the country. These gentle giants are among the most spectacular marine animals in the world; they are truly remarkable animals to see.
Manta Rays
The Maldives is home to the largest population of manta rays (Manta alfredi) in the world with an estimated 5000 to 7000 species! It is equally possible to come across Manta alfredi and Manta birostris in exactly the same place. Anyway, they are slightly different.
You may see manta rays almost everywhere in any atoll. They even come almost every day (especially during the monsoon) to the clearing station which is just next to the capital Malé, near Paradise Island Resort.
Sharks
Besides manta rays, it is possible to see the biggest fish in the world – whale sharks (Rhincodon typus). In Maldives, the average size is 6-8 m. So far more than 200 whale sharks have been identified and are regularly seen according to the data provided by Maldives Whale Shark Research Programme.
They will generally be observed to the south of the Ari Atoll ( the islands of Sun Island Resort and Spa, Holiday Island Resort and Spa) and Addu City Atoll. Till 2013 it was possible to see these sharks in Hanifaru Bay but since then it's quite a rare thing (1-2 times a season). But for sure you'll witness these sharks only in South Ari Atoll. And it is possible to go snorkeling and diving there.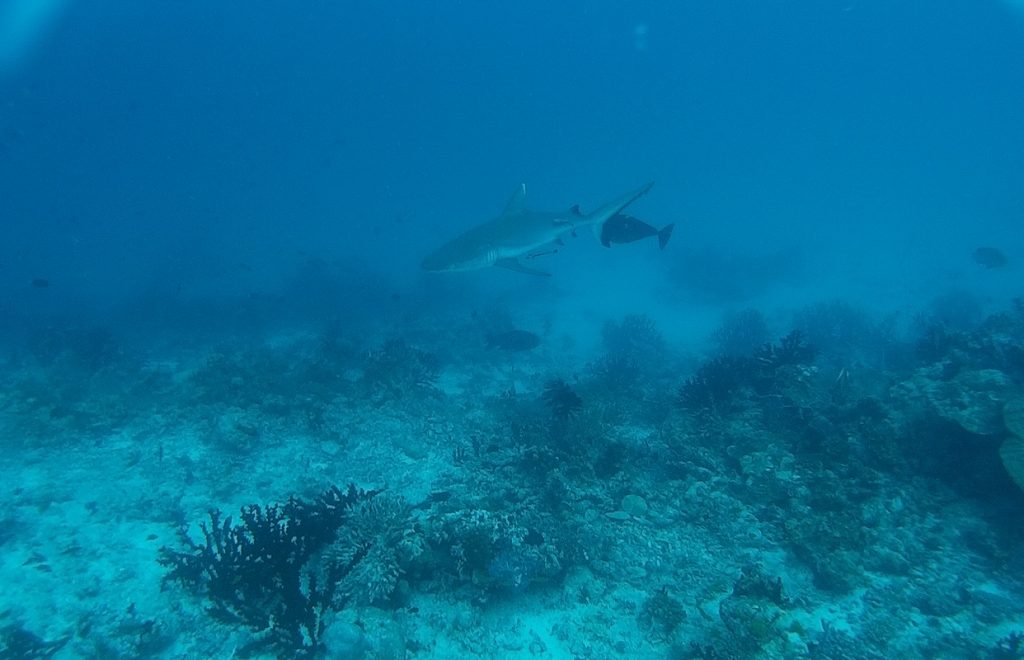 Apart from seeing whale sharks and manta rays diving on the Maldives is a veritable feast of many different species such as gray reef, whitetip, nurse, thresher, hammerhead, and even tiger sharks. Though the former is the second-largest predator after the white sharks, nobody is reported to be hurt in the Maldives. Mostly sharks appear in the kandu channels. But you may see baby sharks even from the shore.
Hammerhead sharks. They're hard to meet as you need to dive 5-10 minutes before the sunrise in the deepest part of the ocean. If you're quite lucky you'll see from 1 to 3 of them. The most popular site to see these sharks is near Rasdhoo. But it depends on the season because locals tell quite controversial things about this site.
Here's a list of the sites where hammerhead sharks were seen lately:
Fotteyo, Vaavu Atoll;
Dhiyamingili, Thaa Atoll
Rasdhoo, North Ari Atoll
Miyaru kandu, Vaavu Atoll
Gemanafushi Beyru, Gaafu Alif
Huvadhoo Atoll
Fuvahmulah
Most of these sites are available from liveaboards only.
Night diving with sharks. The most popular site for this is Alimatha Jetty, Vaavu Atoll. It's located near Alimatha Aquatic Resort. Here you may meet a lot of nurse sharks that swim so close that you can even touch them! But the biggest disadvantage of this place is that it is too popular and attracts a lot of divers. So there could be up to 50 divers at a time!
Fishes
There are more than 600 species of exotic fishes in the Maldives, many of them are found only here. The list includes the barracuda that is usually coming up in shoals, tuna, napoleon fish, parrotfish, variety of moray eels, lionfish and so on.
There is also no lack of smaller marine life and those who delight in the smaller species will find many creatures that you would normally expect to find elsewhere in the world. Ghost pipefish, harlequin rasbora, and halimeda hide discretely amongst the corral waiting for divers to discover them; the same goes for leaf fish and frogfish.
Besides manta rays, you may also see Mobula rays, eagle rays, stingrays, etc. Stingrays are usually fed near resorts and even on the local islands sometimes (for example near Thinadhoo). You may dive with a great number of stingrays at a site between Hulhumale (the airport island) and Sheraton Full Moon. Although it's obvious that they come to be fed, it's still an impressive experience!
Maldives atolls and areas for diving
In the Maldives, your eyes will be opened to a diver's paradise of endless aquatic life. The area is home to over 1200 types of fish, 300 species of coral and 600 different types of crustaceans—giving you a seemingly endless list of marine life to explore. Most itineraries will visit the atolls in North Male', Central Male' or South Male', but there are several other Maldives itineraries that a good travel manager can advise you.
Whatever type of diving you're doing and whatever your budget, there's a Maldives itinerary for you. Some of the best dive sites in the Maldives are in the Deep South, however, they cover such a large area that not all of them can be visited on a single trip. Ari Atoll and Male Atoll in the central islands are some of the more popular itineraries and some of the key pelagic spots.
Maldives atolls for diving (from north to south):
Ihavandhippolhu Atoll;
Noonu Atoll;
Raa Atoll;
Lhaviyani Atoll;
Baa Atoll;
North Male Atoll;
South Male Atoll;
Ari Atoll;
Vaavu Atoll;
Faafu Atoll;
Meemu Atoll;
Dhaalu Atoll;
Thaa Atoll;
Laamu Atoll;
Huvadhu Atoll;
Fuvahmulah Atoll;
Addu Atoll;
Dive types in the Maldives
If you would like to dive in the Maldives, there are several options available for you: the liveaboard, from a resort, or the cheapest option is from a local island (stay in a guest house and dive from a local dive center). Let's take a look at the advantages and disadvantages of each of them.
Liveaboard diving in Maldives
If diving is the main reason for your trip to the Maldives then liveaboard is your perfect choice.
Today liveaboards are very comfortable and some of them, like Scubaspa, positioned themselves as a floating resort with all facilities.
With so many sites in one area, you are sure to see an amazing number and variety of sea creatures each time you dive. You will be able to explore wrecks, plane wrecks and underground caves, visit the perfect dive site at the ideal time for the given sea conditions and seasonal variation. Usually, you will have 3 dives per day plus one night dive per trip.
You may choose from 20+ different routes which go mostly through the central atolls: North Malé, South Malé, Vaavu, Ari Atoll. But several routes lie to the south (Thaa Atoll, Gaafu atoll and further) and to the north (usually Baa и Raa Atolls).
Usually, a liveaboard trip lasts for 7 nights, but also you may do a longer trip for 10 days and the longest one is up to 14 days. The longest trip starts in в Hanimaadhoo (north) and finishes in Addu City (deep south).
In addition to a great diving experience, you will also get to visit some of the resort islands and dine on a sandbank or an uninhabited island somewhere in the middle of the ocean. It's an excellent way to see both underwater and topside life in the Maldives.
If you choose liveaboard diving, it's better to have at least 30 logged dives and have a certificate not lower than PADI AOW before you come. That is because many of the dives will take place in currents and in 25-30 m deep.
The starting price for a 7-days trip starts from 1800-2200 $US per person (low season). And around 2400-2600 $US during high season.
Diving from Island Resorts
For a fun-filled holiday in the Maldives where diving is not the main focus but rather a small part of your holiday, you would be best be placed at an island resort. This way there will be a large variety of activities to choose from and will keep you entertained during your surface intervals such as water sports activities, fishing, visiting local or uninhabited islands, etc.
Diving from a private island resort is probably the most comfortable and convenient way to dive.
The resort dive guides are doing diving every day, so they know the area very well.
Each resort will have its own rules and restrictions on who can access their local dive sites — these are in place for good reason and it is highly recommended that anyone who wants to scuba dive at these sites be fully capable and certified.
The obvious disadvantage of diving from these island hotels is the limited number of dive sites that you will be able to dive to.
The second drawback is the price. If you compare it with the price for diving at a local island or a liveaboard it will be 1,5-2 times higher while you also may visit the same site staying at the local island or from a liveaboard.
Diving from inhabited islands
Diving from a local island in the Maldives is the cheapest option. Over the past few years, a new market has developed offering visitors an alternative low-budget holiday. Guesthouses and small local hotels with modern dive centers started to appear.
Now diving is much more affordable. Guesthouses offer the activities and infrastructure that a luxury resort provides and at more considerable prices. So it's important to plan your trip beforehand if you're eager to save plenty a lot.
The obvious advantage of local island diving is that it's cheap and affordable.
What is more, you are given the opportunity to see the life of the local people? Of course, you should be ready to respect their laws and traditions. The Maldivian people are very open-minded and friendly with tourists, they're eager to help and tell their guests about their island.
You'll be limited with the choice of diving sites while visiting a local island as well as staying at a resort. However, you may choose from a variety of different dive centers where usually international instructors are working.
Every local island has its tourist infrastructure and a hospital where you can receive first aid. When more serious accidents happen the patient is sent to Malé.
Contact us to get a personal tour to the Maldives!
Read also:
Top 16 things to do in Maldives 2022
Top dive sites in the Maldives