Feridhoo is a local island in the Maldives, located 88 km west from the capital Male. It belongs to Alif Alif Atoll and has a population of 700 people.
Check: Budget packages to local islands
In centuries past, two male African slaves who had been bought by the kings on their Hajj trips to Mecca were formally released from slavery and were settled on this island. One of them was called Sangoru. He had been working for years at the palace in Malé before the ailing king released him in order to gain merit in the afterlife.
The freeing of slaves before the death of the owner was traditionally a common practice among the very high nobility in the Maldives. Now there are many families on Feridhoo and in neighboring Maalhos who can trace their descendency to those two African ancestors.
The island is still very wild with an almost untouched beach and vegetation that occupies 2/3 of the island.
Things to do on Feridhoo
Bikini beach
The white sandy beaches with their crystal clear waters are one of the features that make Feridhoo a unique island. Feridhoo has beautiful beaches, with a total length of around 1km! Here you can experience serenity at its best. There are umbrellas and sunbeds on the beach. Not many tourists are coming to Feridhoo, so you'll have enough space for privacy.
Feridhoo has one of the best bikini beaches among inhabited islands.
Snorkeling
The reefs all over the Maldives are inhabited by various kinds of aquatic flora and fauna and are great for a relaxing day watching fish on the reef.
Looking for the BEST alive coral reef? Welcome to Feridhoo. This is the only inhabited island (at least in Central Atolls) with 80% living corals. Be ready to spend days exploring the house reef as it's extremely large.
Reef fish, jackfish patrolling the reef, eagle rays, and occasional, but not unusual, sightings of white tip reef sharks and turtles make the house reef of Feridhoo a perfect site for first-timers. But comparing to Ukulhas, Rasdhoo or Omadhoo – there is very few schools of fishes and almost no animals.
You can join manta ray snorkeling and safari snorkeling to see much more as well.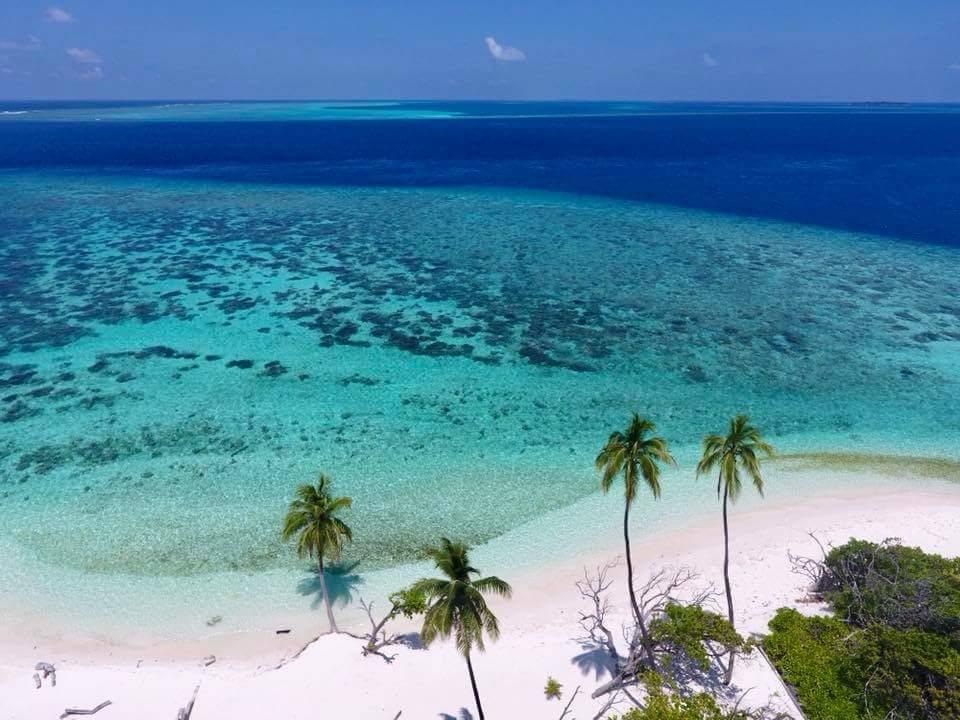 Scuba diving
There is only one dive center on the island – Noohiri. Their service includes not only diving but snorkeling and even sailing.
The location of the island allows to offer you the most beautiful and famous diving spots; Most dives will be in "thila" and "kandu".
There is the famous "Maalhos Thila" near Feridhoo, considered by many one of the most beautiful diving spots in the area. Many Manta Points are reachable in a short time (including for snorkeling as well.
From the beach of Feridhoo, you can do a discover scuba dive along the island's house reef; a depth of 8-12 meters. This dive site is perfect for those who want to try the first-time underwater experience.
There are 16 dive points nearby that are reachable by dhoni for experienced divers.
Night fishing
Fishing is another great activity if you want to experience traditional fishing on local Dhoni Boats, game fishing, and spend time with the locals exploring uninhabited Islands. You can even bring your catch back and ask the hotel's chef to cook it for you as a barbeque dinner.
Other activities
Sandbank visiting. Enjoy the beauty of the white sands, let the sun kiss your skin, BBQ some, snorkel through the reef, and have a barbecue lunch.
Octopus hunting. Octopus hunting is a very popular pastime among Maldivian you for it's an adventure as well as the octopus' meat which is a highly valued delicacy.
Dolphin safari. Set out in an afternoon out to the sea on this activity to watch a group of dolphins cruising through the ocean.
Feridhoo Infrastructure
There is a school, a mosque, a local medical center, and a football field. You can walk around local grocery shops, cafes, and souvenir shops in the island. The whole tour to explore the island will take no more than 40 minutes.
In Maldives inhabited islands, alcohol is prohibited and women's clothing should cover shoulders and legs in areas not dedicated to tourism. It's not a very strict rule, but it's better to respect local laws. On tourists, a beach bikini is allowed.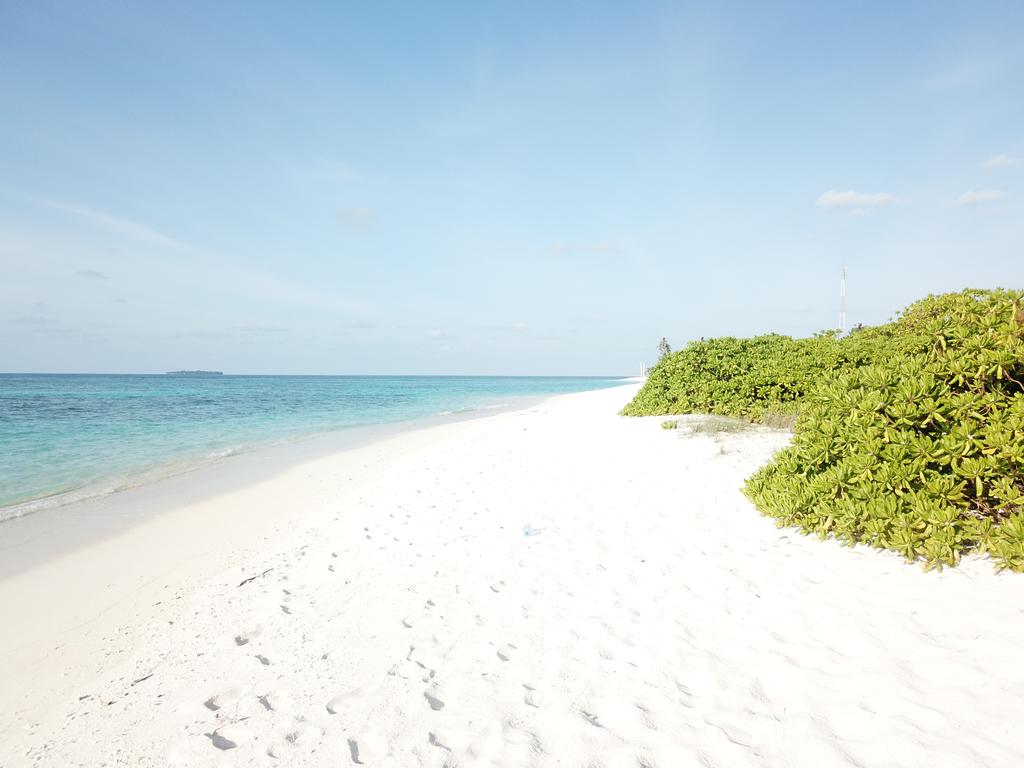 Where to eat on Feridhoo
Each guesthouse provides Maldivian/Continental breakfast, lunch, and dinner on-demand and unlimited bottled drinking water free of charge. Tea and coffee are available the whole day and for free as well. As for drinks expect fresh juices made of e.g. mango, papaya, or passion fruit (surcharge)
Local restaurants on Feridhoo:
Fun Relish. Delicious smoothies and incredible grilled fish. Friendly cook and cozy place with local taste. Calm and spacious environment. This is the only restaurant in Feridhoo.
N6 Beach Cafe. It's been always a remarkable dining place on Feridhoo.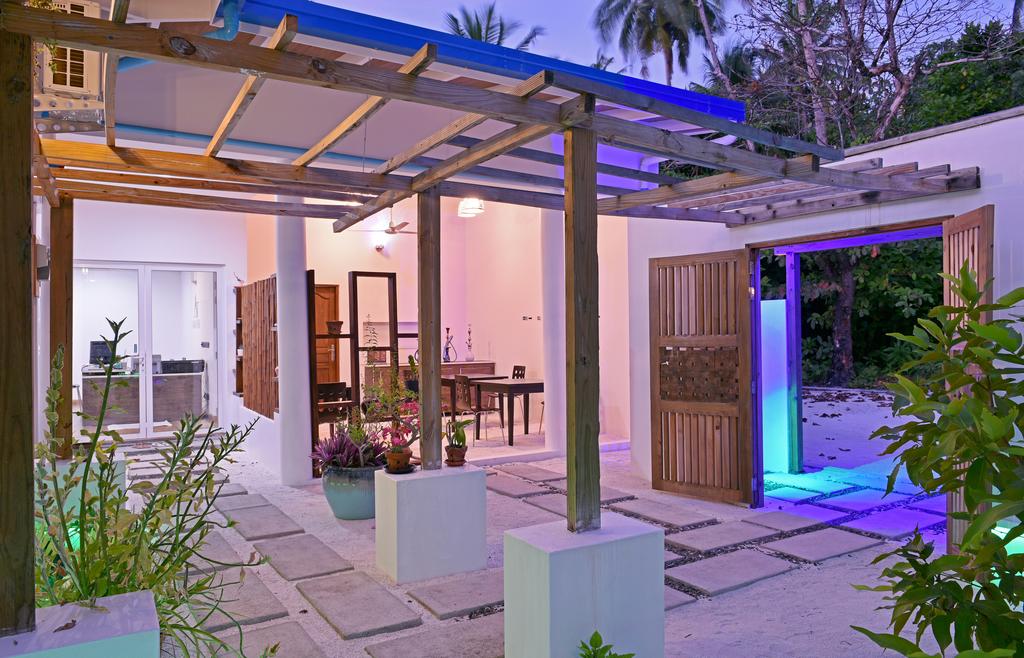 Where to stay on Feridhoo
I'd advise Asaa View and that's why:
– One of the first guest house in Feridhoo;
– Great price/quality;
– Super friendly staff and owners with experience working in resorts;
– Amazing in-house restaurant with a great variety of local and continental cuisine;
– Unlimited coffee and tea;
– Free Airport meet and greet service;
– Availability to arrange a great variety of trips;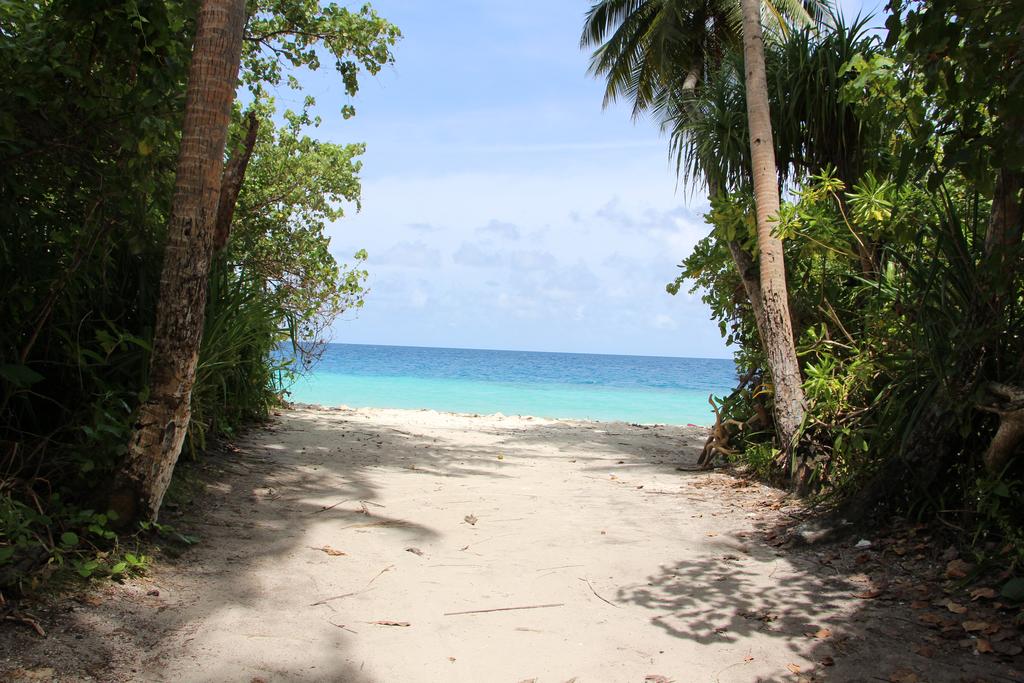 Transfer to Feridhoo
Shared speedboat
Male-Feridhoo (direct), daily except Friday, 16:00, US$ 50 per person
Feridhoo-Male (direct), daily except Friday, 7:00, US$ 50 per person
Male-Feridhoo (Rasdhoo-Ukulhas-Mathiveri + private speedboat to Feridhoo), daily, 10:30 (on Friday 9:30) and 16:00, US$ 65 per person
Feridhoo-Male (Rasdhoo-Ukulhas-Mathiveri + private speedboat to Feridhoo), daily, 6:30 (on Friday only one) and 12:00, US$ 65 per person
Speedboat below 2 years free of charge, below 8 years $25/kid above 8 years adult price
Private speedboat
From 600 USD per way, 10 pax max
Slow ferry
Traveling Time: 7 hrs one way
Male' Harbor: Villingili Ferry Terminal
Male to Feridhoo: Sunday, Wednesday, Saturday (depart at 7:30 am)
Feridhoo to Male: Monday, Thursday (depart at 09:00 am)
Price is 4 USD per way per person
Contact us to get a personal tour to the Maldives!
Read also:
Top 16 things to do in Maldives