Falcon 60 Yacht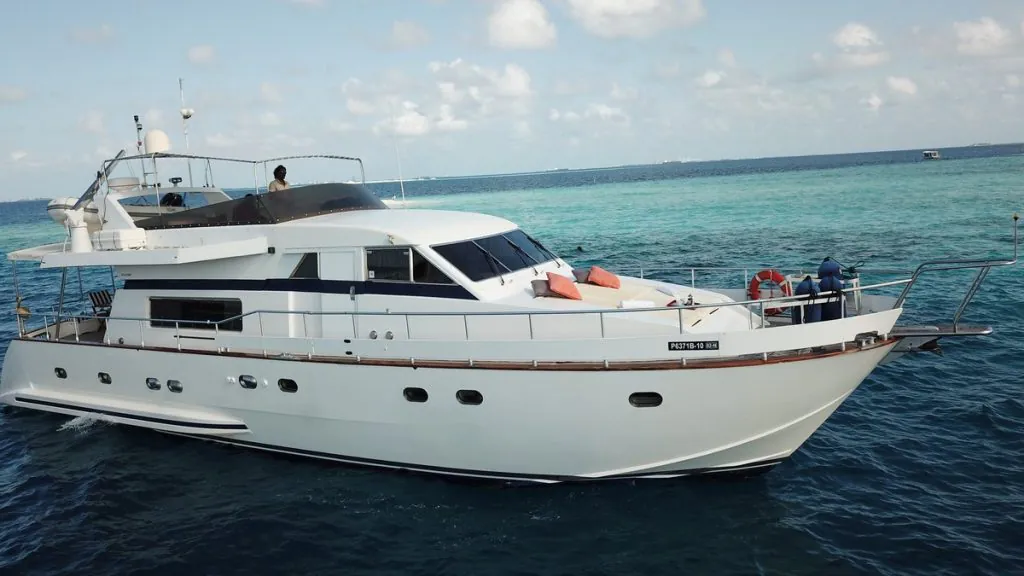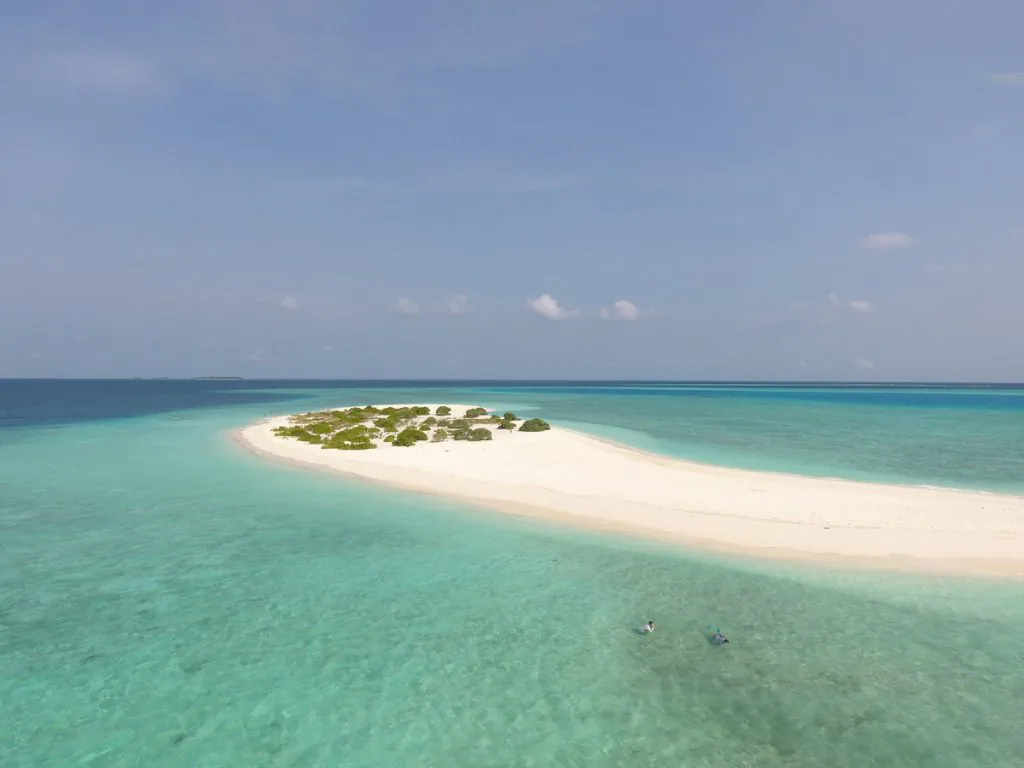 The yacht is a Falcon 60 Italian luxury brand, motor yacht 20 meters, 2 engines 2 x 820 hp, 3 luxurious cabins. It used to be chartered in the Mediterranean in Cannes, during the Cannes Film Festival to celebrities. And now it's out in the Maldives all year round and under Maldives flag since June 2018.
The yacht is luxurious with a master cabin and bathroom, 2 double cabins and bathrooms, saloon, outdoor dining.
It has qualified staff Captain, deckhand, and an excellent chef cook.
Rates
AVAILABLE DISCOUNTS
5 nights Male Atoll
2 people – 7,150 USD
4 people – 7,700 USD
6 people – 8,845 USD
7 nights Male/Vaavu Atoll
2 people – 8,800 USD
4 people – 9,900 USD
6 people – 11,550 USD
10 nights Male-Vaavu-Ari Atoll
2 people – 11,000 USD
4 people – 12,100 USD
6 people – 13,860 USD
10 nights Male-Baa-Raa Atoll
2 people – 12,100 USD
4 people – 13,200 USD
6 people – 14,685 USD
Children under 5 years are free , children 5 to 11 y.o pay 50% and over 11 years they pay full price same as adults
BOOK NOW!
Inclusives
Airport transfer to the yacht.
All transfers in the dingy to the surf breaks.
All taxes (except of Green Tax)
Full board meals / water / coffee /tea.
surfing / snorkeling / fishing.
Local island visit and culture
Exclusives
Soft and alcohol drinks
6 $ per person per day Green Tax
Tips at end of the trip for the crew ( 5% to 10%)
Wakeboard and water ski activities
Itinerary (sample)
Day 1
Welcome at the airport and transfer on board to "Yacht Fascination". After the installation in your cabins, the captain will give you the instructions of life on the Yacht "Fascination", and the traditional security briefing.
After lunch set sail for Snorkeling at "fish tank" in North Male' Atoll, a snorkeling site where visitors often see Stingrays, multicolored fish life and morays. Sail towards the south Male' Atoll and anchor in front of Lagoon Beach Resort for the night, Dinner will be served and night fishing behind the yacht will be proposed.
Day 2
After breakfast in front of the turquoise resort lagoon we will sail towards "Sexy sandbank" it's surrounded by a reef with an abundance of marine life, all day relax on the beach, swimming, snorkeling. At the end of the afternoon you can visit Gulhi Island, it is a local island, you can indulge yourself into the Maldivian lifestyle. The island is a peaceful little fishing village, Visit the mosques, you can also visit a small shipyard, building local wooden boats. Dinner served on the Yacht, night at anchor.
Day 3
After breakfast served on the deck, we will cross the channel and sail towards Vaavu Atoll, stop off on the way for snorkeling on an amazing corals reef with anemones and clownfish, you can see often turtles, a great snorkeling and diving point. Sail towards Dhigiri resort, were you can night snorkel, don't miss it !! this site visitors often see nurse sharks and rays. Dinner served onboard anchored in front of the resort for a safe night.
Day 4
After breakfast we will sail towards another desert sand bank, relax, sunbath, more snorkeling with colorful corals, multicolor schools of fishes, often you can see turtles. After lunch sail towards Rakeedhoo, visit of the local island, it is quite a developed island, walk around the sandy streets, some souvenir shops. Dinner and anchor for the night
Day 5
After breakfast cruise to snorkel at the only "snorkeling wreck" possible in the Maldives. You will see thousands of fish, pufferfish, boxfish, surgeons, parrotfish, gorgons, starfish. The wreck is half-submerged out of the water. After lunch sail to a nearby sandbank for the night anchor, dinner served on the Yacht
Day 6
Breakfast in front of the sandbank, what a view to wake up to !! Swim to the sandbank, sunbath, play with our floating blow up sunbeds, it's again a fantastic snorkeling site colorful corals often see a school of fishes. After lunchtime Sail towards the Male Atoll north, stop off on another nice sandbank, enjoying the sunset on the beach and drinks. BBQ dinner at the sandbank.
Day 7
After breakfast we sail towards Biyadhoo beach, sunbath, swim, snorkel and see colorful corals, you can often see turtle and rays. In the late afternoon the yacht will sail to Guraidho Island, visit of the island, newly built port, souvenir shops, walk around, it has on the other side of the island a lagoon with attached a very small island crossed by a small wood bridge, feel the serenity of the island. Night and dinner at the anchor.
Day 8
Breakfast in front of Guraidhoo local island, then cruise to Kuda Giri a very famous dive site where you can can see turtle, octopus, schools of squirrelfish, parrotfish, surgeonfish, sweetlips, gropers and large Maori. After lunch in the afternoon sail towards close to Malé and to Hulhumalé harbor to anchor for the night.
Day 9
Hulhumale Lagoon end of trip, we hope you will be back, kisses and hugs, transfer to the jetty or the airport
Your itinerary is built day by day according on the advice of the Captain as well as weather conditions. Attention this
itinerary can be changed due to weather conditions and safety.
Yacht Amenities
1 master cabin with king-size bed and 2 bathrooms, 2 cupboards, music system, interphone, air condition, 2 porthole, quality bed linen and towels, hairdryer.
1 cabin with double bed, bathroom, cupboard, music system, interphone, air condition, 1 porthole, quality bed linen and towels, hairdryer.
1 cabin with twin bed or double bed, bathroom, cupboard, music system, interphone, air condition, 1 porthole, quality bed linen and towels, hairdryer.
3 staff, Captain, Deckhand and Chef cook
Outdoor eating, sunbathing front area, sundeck flybridge sun lounge, indoor comfortable lounge with TV, DVD, CD, films, music system and indoors eating, kitchen, little office area next to the cockpit. Toys, wakeboard and water ski, snorkeling equipment and dive Dhoni when for the diving.