An island hotel in Maldives or resort is a hotel that occupies the entire area of the island. In addition to luxurious villas, the resort has restaurants/bars, spas, a water sports center, a diving center, a fitness center, a swimming pool, and many more.
Nowadays, more than 130 island resorts are open in the Maldives, and 3-5 new ones are open every year. Therefore, the questions arise: Which resort in the Maldives to book? What meal plan to choose? Where to book? How to get to your resort?
These and many other important things will be described in our blog post.
Table of consent: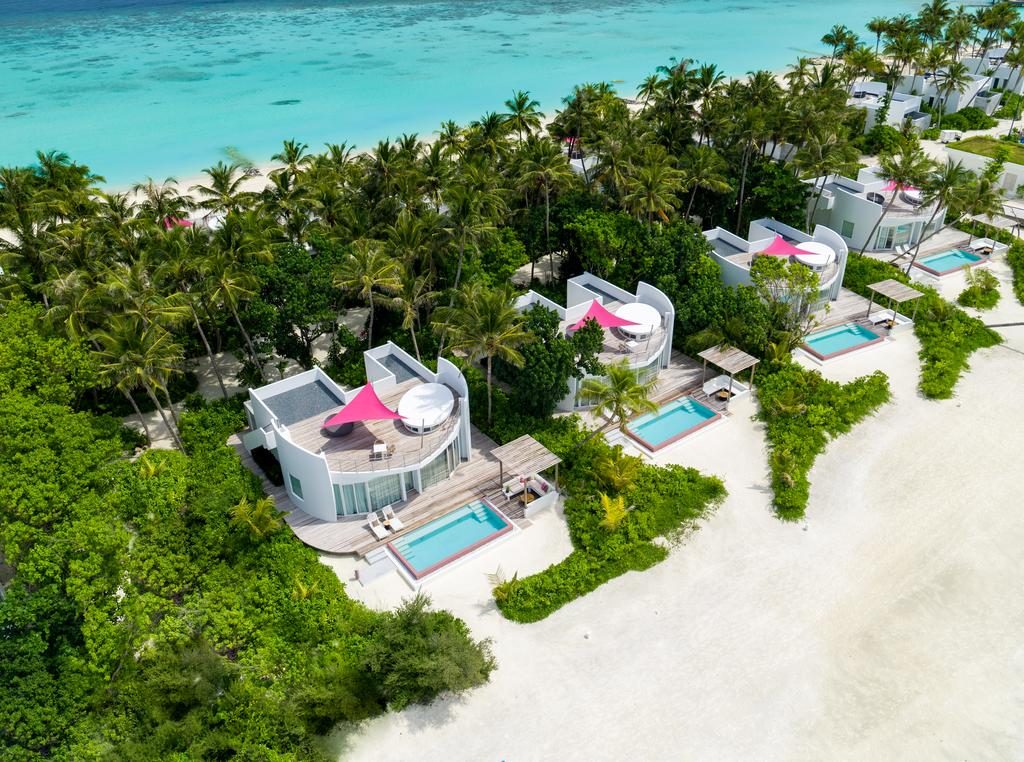 Maldives hotel types
Most hotels in the Maldives are 5* or 5+*. There are much fewer 4* or 3* hotels.
Examples of 3* hotels: Biyadhoo Island Resort, Embudu Village, Thulhagiri Island Resort
Examples of 4* hotels: Reethi Beach Resort, Sun Island Resort, Sun Siyam Olhuveli
Examples of 5* hotels: Lily Beach Resort and Spa, Coco Palm Dhuni Kolhu, Cocoon Maldives
Examples of 5+* hotels: Anantara Kihavah, JA Manafaru, Constance Moofushi, Conrad Maldives Rangali Island
Therefore, let's consider the main differences between 4* and 5* hotels:
– Accommodation. In the vast majority of 4* hotels, the most budget accommodation are rooms/bungalows (blocks for 2-4 rooms). Individual villas will cost more. However, the rooms are quite spacious and have everything you need. In 5 * hotels, the choice of villas is usually more than in 4 * (for example, there are 11 types of rooms/villas at Kuramathi Island Resort 4*). They are more spacious and have more personal space.
– Meal plans. Maldives 4 * hotels offer a minimum half board (breakfasts and dinners), full board (breakfasts, lunches, and dinners) or all-inclusive meals (this will be discussed in more detail below). Please, note, that water and drinks are not included in the half/full board. In 5 * hotels, this is less common. Also in 5 * hotels, there are more specialized restaurants of Thai, Indian and other cuisines.
– Hotel services. In 5* hotels, the service is more personal and generally higher than in 4* hotels. All 5+* hotels provide you with a personal butler who will help you with everything. These hotels usually do not offer half board or full board as the default meal plan.
– Villa price. The price of the basic villa type in a 4* hotel is, on average, 20-30% lower than in a 5* hotel.
To make the right choice of hotel, read reviews, check photos and watch videos.
Maldives hotel price
3* hotels price start from 250-300 USD/night, 4* hotels – from 350-450 USD/night, 5* hotels – from 500-600 USD/night, 5+ hotels – from 700 USD/night.
The price directly depends on the villa type and meal plan. The lowest prices for hotels are May-July, and the highest is for the New Year. And also during the high season from January to April.
The full hotel in the Maldives includes accommodation in the selected villa category, meal plan, transfer from/to the island, taxes, and fees. This is a critical point while choosing a hotel in the Maldives, as the meal plan and transfer can significantly increase the cost of the entire tour.
In addition, each hotel offers its own discounts and special offers. They can be valid for all countries, or only for a particular region (for example, only Europe). In addition, such special offers have additional conditions:
— Period of validity of discounts;
– The booking period;
— Minimum number of nights;
Tour operators and travel agents regularly receive such special offers.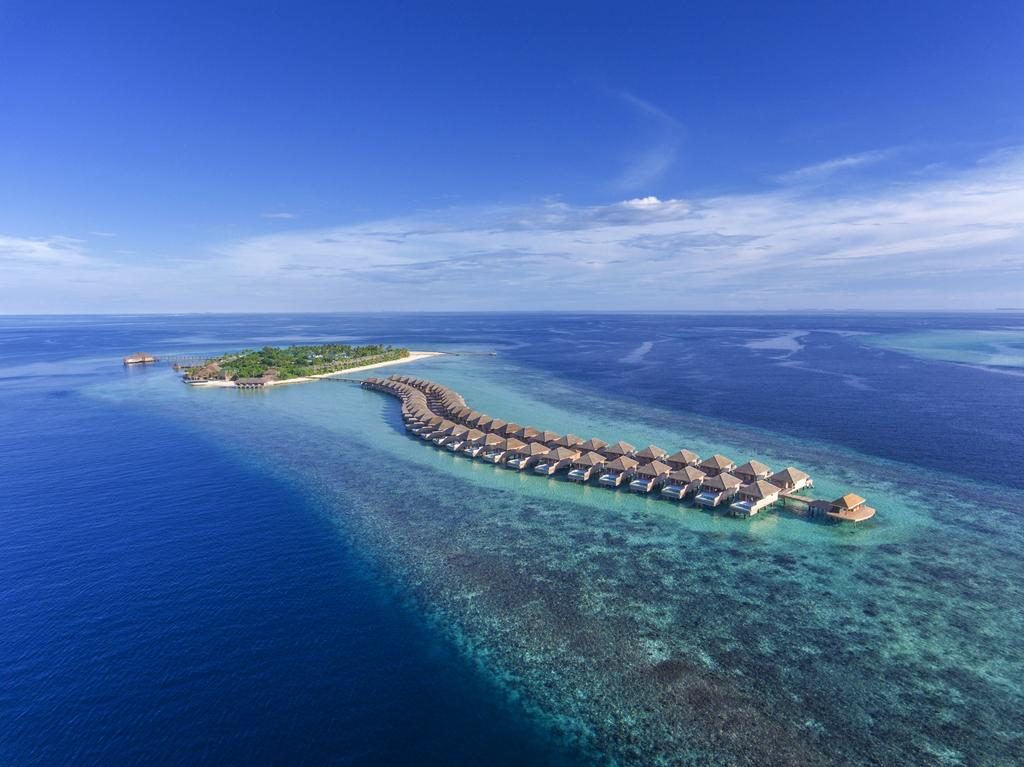 Maldives villa types
All villas in the Maldives hotel can be divided into 2 types: villas on the island and villas on the water.
At the same time, villas located on the island can be located directly on the beach or in the depths of the island (with a garden view). Beach villas can have a sunset, sunrise, water villas, jetty boats, and blocks in the water view. Therefore, when choosing your villa, be sure to check the hotel plan, Google Maps, and YouTube videos.
Amilla Fushi offers a unique villa with a private pool, which is located right in the crowns of the trees!
Almost every hotel has water villas, as this is the hallmark of hotels in the Maldives. Some water villas even have their own water slides (Soneva Jani, OZEN Life Maadhoo).
But some hotels have gone even further and offer accommodation in water villas that have no connection to the island (Raffles Maldives, Angsana Velaravu, Gili Lankanfushi). However, if you want a truly unique Maldivian experience, then you need to choose underwater Murakka Underwater Villa on Conrad Maldives Ranngali Island or Aqua Villa at Pullman Maldives Maamutaa.
Water villas, in 99% of cases, will be more expensive than beach villas. On average, by 20-30%.
In many hotels, in addition to standard villas, there are superior bungalows with a private pool or jacuzzi.
NOTE: in the Maldives, ALL beaches are public. Including those located on private islands hotels. That is, any hotel guest can walk along the beach opposite your villa.
Meal plans in the Maldives hotels
Meal plans in the hotels can be divided into 4 categories:
Breakfast only
This type of food is offered mainly by 5* and 5+* hotels. At the same time, the resort offers several specialized restaurants of Italian, Indian and other cuisines.
Half board
Half board includes breakfast and dinner (drinks not included). Serving type – buffet. In very rare cases, this can be a la carte (usually, only for 5+* hotels).
Some hotels offer the so-called "half board +" type of food, which includes, in addition to breakfast and dinner, also alcoholic and non-alcoholic drinks.
Full board
In a full board meal plan, besides breakfast and dinner, they also add lunches, but without drinks. Sometimes steel water is included as well.
"All-Inclusive"
In addition to food, the All-Inclusive package includes not only drinks but also discounts on excursions or spa treatments, water sports equipment usage, etc.
However, every hotel is different.
Some hotels offer Premium All Inclusive/Gold All-Inclusive. Usually, the main difference is alcohol drinks – in the upgraded All Inclusive you'll have premium brands.
If you want exactly the All-Inclusive plan, then it is better to book the hotel with the All-Inclusive concept. For example RIU Atoll Maldives, OBLU at Sangeli, Atmosphere Kanifushi, Sun Siyam Iru Veli. These hotels offer the most complete All Inclusive meal plans.
NOTE: All-inclusive hotels do not offer many excursions/activities in their plan. Usually, only one excursion is included.
By and large, you need to choose "All Inclusive" only if you like cocktails. Otherwise, it is better to choose the regular full board meal plan.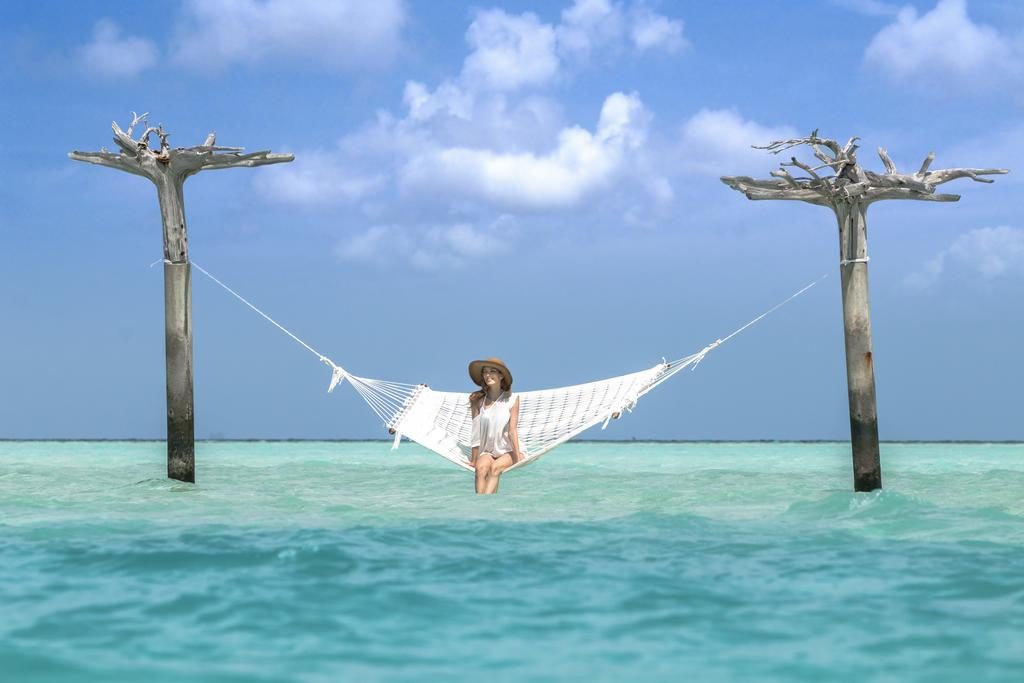 Maldives transfer
In the Maldives, you can get to your island resort by one of the following ways:
Speed boats
Modern and powerful boats with a capacity of 16-22 people. Basically, such a transfer is provided by hotels that are located near the Airport (North Male Atoll and South Male Atoll) – Bandos Maldives, Meeru Maldives, Sun Siyam Olhuveli, Saii Lagoon, etc.
The main advantage of such transfer is the cost. It starts from 70-80 USD/person, round trip. There are usually no baggage restrictions. For babies, 0-2 y.o transfer is FOC, children 2-12 years old – 50% discount. Boats also operate at night, unlike seaplanes.
How is this transfer provided? Your guide will meet you at the airport. Collects guests from other flights and put you all together on a boat to the hotel.
Please note – this is not a private boat just for you. However, the hotel can arrange it as well.
Seaplanes
The Maldives has the largest seaplane fleet in the world! It is operated by three companies: TMA (Trans Maldivian Aero), Maldivian and Manta Air.
The total number of aircraft at the moment is 70+. The dominant position is occupied by TMA, which has 57 aircraft.
Therefore, for regular flights, hotels use the services of these companies. The aircraft capacity is 16-19 people. At the same time, on the way to your hotel, it can make several stops at other island resorts
The main disadvantages of Maldives seaplanes:
– Price. It starts from 350 USD round trip per person for a 15-minute flight. The maximum cost is 1200 USD. At the same time, reservations can ONLY be made through the hotel. Directly from the carrier company is not possible.
– Availability. Flights are operated only during the daytime from 7:00 to 16:00. Many island hotels can only be reached by seaplane.
– Baggage restrictions. The total weight of your luggage can't exceed 20 + 5 kg per person. Above this limit – for an additional fee. At the same time, the luggage itself can be delivered to you only in the evening.
The main advantages of Maldives seaplanes:
– Speed. The average flight time is only 15 – 45 minutes. But you will have to wait for your departure 1-2 hours.
– Stunning views. From a bird's eye view, a stunning view of the Maldives opens up. This is the only way to admire all the beauties of the atolls from the air.
– Unique experience. There are not many countries in the world where you can try this type of transfer.
Domestic flights + speedboat
There are 11 airports on local islands (some of them also have international status), besides Velana International Airport. Some hotels can only be reached by such transfer (eg Pullman Maldives Maamutaa, Hideaway).
Some hotels like The Sun Siyam Iru Fushi, Reethi Faru Resort offer both seaplanes and combined local airline + speedboat transfer.
The most important advantage of this transfer is accessibility. There are 2-6 flights per day to most airports from Male. Upon arrival, you will be met by hotel staff and escorted to the boat to your island. Domestic flights have a baggage limit of 25+5 kg.
Domestic flights can ONLY be booked through a hotel reservation. You can also book on the airline's website, but you still need a speedboat to the resort from the local island.
NOTE: There are no public transfers (ferries or scheduled speedboats) to/from island resorts in the Maldives. Some private companies provide private speedboat transfers, but in most cases, it will be more expensive than booking directly with the hotel.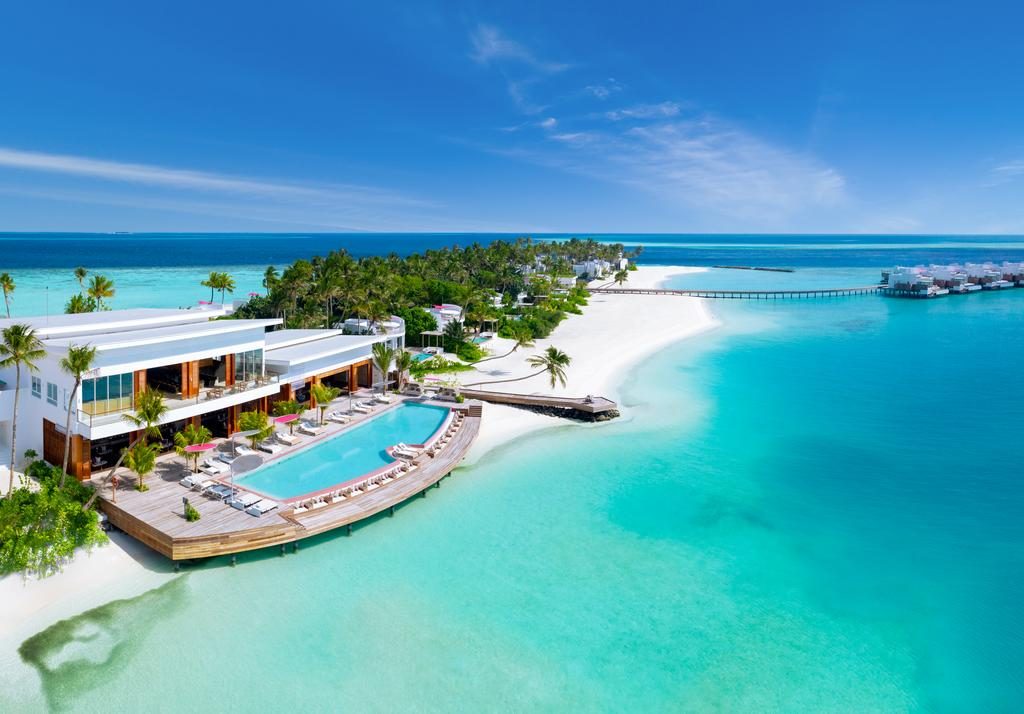 Things to do in Maldives hotels
If your vacation goal in the Maldives is not only the beaches but also rich underwater life, you should choose a hotel with an excellent house reef. A complete list of these hotels can be found here.
Most of the hotels are located on small islands. So not all of them offer good entertainment programs.
In the daytime, you can go on safari snorkeling, swim with dolphins, try different water sports (kayak, windsurf, sail catamaran), scuba dive, play tennis or beach volleyball, work out in the fitness center, relax in the spa, relax in the pool.
Some hotels offer unique services,
– Lunch/dinner at an underwater restaurant (Conrad Maldives, Hurawalhi, You & Me Maldives)
– Therapy in the underwater spa (Huvafen Fushi);
– A night on a desert island (Iti Maafushivaru),
– Dinner on a desert island
– Cruise on a private yacht
In the evening, you can watch stingray feeding or crab racing.
After dinner, a DJ plays in the main bar or restaurant or a Maldives show with drums called Boduberu.
What is the size of the Maldives island resort?
Most of the hotels are located on very tiny islands (Gangehi, Nika Island, Constance Halaveli). Others stretch for several kilometers (Kuramathi, Hideaway, Sun Island, Six Senses Laamu). Therefore, if you plan to stay on the island for more than 4 nights, you should take consideration to keep this in mind.
In the past few years, hotels have increasingly been built on artificial islands. Such hotels have almost no palms, bushes, or jungles. Check drone photos/videos before going to the Maldives to avoid such misunderstandings.
Another thing is stone blocks that protect the island from waves and erosion. Such blocks can be seen on Google Maps and compared with the location of your villa on the island.
Adults only and family hotels in the Maldives
Most hotels in the Maldives are family-friendly. For children, 1-11 y.o, Kid's Club services are provided, where you can leave the child with a nanny. In addition, children's activities are organized. There is a playground and an animator. In most cases, the hotel has special offers for families with children (free meals, transfers, etc.).
Some family-friendly hotels: Dhigali Maldives, Anantara Kihavah, Ayada, Fushifaru
Other hotels like Hurawalhi, You & Me Maldives, and Centara Ras Fushi only accept guests over 12 – 18 years old. Such hotels may have special offers for honeymooners who come to rest without children.
Where to book a hotel in the Maldives
Let's consider the main ways to book hotels in the Maldives:
— Online Travel Agencies (OTA) (booking com, agoda com, etc.)
— Tour operators;
— Travel agencies;
— Hotel website;
Booking hotels OTA
That's included Booking, Agoda, Expedia, etc.
Main advantages:
– They have 99% of all hotels in the Maldives;
— Many reviews in different languages;
– Easy to book;
– Flexible cancellation and payment policy;
Main disadvantages:
– The cost can be significantly higher compared to tour operators/travel agencies. For 5* and 5+* hotels, the difference is up to 25% depending on dates, villa type, and meal plan;
– Limited customization/irrelevant search filters. Such aggregators do not take into account the specifics of the Maldives (type of transfer, type of villa, location, etc.). Therefore, it becomes difficult to find a hotel when considering such criteria.
– Websites features. Such aggregators are interested in the cost of the hotel because their commission depends on it. Therefore, they offer options that are better for them, and not to you.
— Taxes and additional fees. Some websites have already started to show the cost with taxes and fees, but the transfer to/from the island is paid separately. Therefore, the cost of the transfer must also be added to the final cost.
– Limited choice of villa types. Not all villa types are presented on the websites.
– Limited choice of meal plans. You can choose breakfast; breakfast and dinner; breakfast, lunch, and dinner; all-inclusive. But very often the hotels offer additional meal plans with drinks or premium all-inclusive plans.
Tour operators
Your local tour operators often work with Maldivian tour operators, or directly with the hotel. The tour, in addition to accommodation, meals, and transfer to/from the island, also includes a flight to/from the Maldives.
The main advantages of tour operators:
– You can book a tour with a flight.
– Assistance in the tour based on your requests (type of villa, meal plan, etc.).
– Special offers. Many hotels provide special offers for guests from certain countries only.
– Reputation, you can find a lot of reviews.
The main disadvantages of tour operators:
— There are cases when booking hotel and airfares are cheaper than the whole tour
– Full payment has to be made before arrival to the Maldives.
– Less flexible cancellation policy compared to OTA
Travel agencies
Most travel agencies work either through a local tour operator or through the Maldivian one. It is more profitable for hotels to work with large tour operators than with small travel agencies.
The main advantages of travel agencies:
– Assistance in the tour based on your requests (type of villa, meal plan, etc.).
– Updated special offers and discounts from hotels
– Personal approach. Many agents have personally inspected the hotels they offer. Therefore, you need to choose the agency that specializes in the Maldives
– Price. It can be significantly lower than on OTA.
– Flexibility. You can independently book a plane ticket on more favorable terms for you
– Not only hotels. An agency specialized in the Maldives offers not only island hotels, but also guesthouses, diving safari yachts, and private yachts. Therefore, they can make a comprehensive tour.
The main disadvantages of travel agencies:
– Basically, they work with island resorts through tour operators, so communication can take a lot of time.
– Reputation. Small agencies don't have many reviews. But you can always request information on their contract with the hotel / tour operator.
– Exclusivity. Some hotels cannot be booked by guests from certain countries. In other words, you need to contact the tour operator who has an exclusive contract with the hotel for its reservation.
– Full payment has to be made before arrival to Maldives.
– Less flexible cancellation policy compared to OTA
Contact us for a personal tour to the Maldives!
Booking through the hotel website
You can always book directly on the hotel website, bypassing tour operators or agencies
Main advantages:
– Direct communication with the hotel
— Latest special offers and discounts are available
– Payment upon check-in (not in all hotels)
– Flexible cancellation policy
Main disadvantages:
– Communication can take a very long time because often, they are not very responsible
– Price. It may be lower than on OTA, but higher than tour operators or travel agencies.
– Payment Methods. Some hotels do not allow online payment by card, only bank transfer
How to book a hotel in the Maldives
Let's say you still decide to contact an agent or tour operator for help with a hotel booking. What you need to remember when making a PERSONAL tour to the Maldives:
1. Provide as much information about the hotel as possible: villa type, meal plan, distance to Male, etc.
2. Type of hotel: regular, family, adults only
3. Size of the island (if it matters)
4. House reef quality (if it matters)
5. Estimated budget. This is an important point because there are 130+ island resorts in the Maldives with different price categories
6. Your residency/passport-issued countries. For different countries may be applied different discounts.
7. Time of departure/arrival (if the plane tickets have already been purchased)
The minimum required information for th personal tour: budget, villa type, meal plan, residence.
Maldives hotels reviews
The most obvious choice to get verified reviews is Booking, Agoda, and Tripadvisor. Try to read reviews in different languages (using Google Translate for example). This will help you understand what potential problems might be.
But don't forget about YouTube – that's where you can find out what kind of view you will have from the villa, where it is located, it's interior and much more.
Read also:
Top 10 budget resorts in Maldives
Top 10 budget beach villas with pool in Maldives
Top 10 luxury resorts in Maldives
Top 10 resorts for snorkeling in Maldives
Top 10 honeymoon resorts in Maldives
Top 10 budget water villas in Maldives
Top 10 family resorts in Maldives