2022-05-02 08:30:23
Haa Alif Atoll is referred to as Thiladhunmathi Uthuruburi (Northern Thiladhunmathi Atoll) is the northernmost administrative division of the Maldive. Within this atoll, the island of Utheemu is historically significant since it is the birthplace of Sultan Mohamed Thakurufaanu and is famous for fighting against the Portuguese in the 16th century.
The North and West areas of the atoll are fantastic for beginner divers. The dive sites here are more sheltered and the rays like to hang out in the channels. There are a lot of overhangs in the channels where lobsters, lionfish and manta rays can be seen pretty regularly. The overhangs have lots of pufferfish, and there is almost always something to see!
The best dive sites in Haa Alif Atoll
Maadhoo (Filladhoo) Wreck
Current: medium
Marine life: great variety
Depth: up to 20m
Visibility: up to 30m
Experience diving the Maadhoo Wreck, an 18m depth dive site near Filadhoo Island. With walls covered in corals, marine life playing around the ship, and many fishes around, you should be ready to enjoy this dive!
Just above the wreck, you can find small corals, sponges, starfish, and sand-eels. Clams and octopuses can be seen in the sandy areas surrounding the wreck. Nurse sharks inhabit the underside of the metal beams, while moray eels are often spotted around the first propeller area.
Mathi Faru
Current: can be strong
Marine life: great variety
Depth: up to 20m
Visibility: up to 30m
The top reef is a healthy table reef with overhangs and small caves that house morays, eels, crabs, shrimps and rays. Further down, there are large coral heads on the wall with green, brown, and red soft corals creating a contrast with the blue water. Large stonefish can be found hiding inside the corals and sometimes stingrays at the bottom. Caves going into the rocks offer possibilities for exploration by more advanced divers.
One of the best dive site in Haa Alif Atoll.
Alidhoo Caves
Current: can be strong
Marine life: great variety
Depth: up to 20m
Visibility: up to 18m
With its stunning white coral sand and clear blue water, Alidhoo is an excellent open-water diving location, but the real attraction is what lies beneath. The drop-off to the North of Alidhoo drops down to a maximum depth of 20 m. and leads onto a beautiful wall that forms its top reef. Here divers can see some sites of interest around the reef including eagle rays, sharks, Napoleon fish and barracuda; sometimes batfish are coming as well.
Finey Thila
Current: can be strong
Marine life: great variety
Depth: up to 30m
Visibility: up to 30m
Finey Thila is a dive site located 250 meters south of Finey island in Haa Dhaalu Atoll, Maldives. The main block on the east side starting at 12m and the smaller western block are both made of two blocks, that host soft corals and many species such as soldierfish, squirrelfish, stingrays, nudibranchs, trevallies to name a few. From big pelagics like tunas, sharks and fusiliers to small reef fish colored in yellow, blue, and white. Hundreds of shoaling fishes are also common in this area of the Maldives.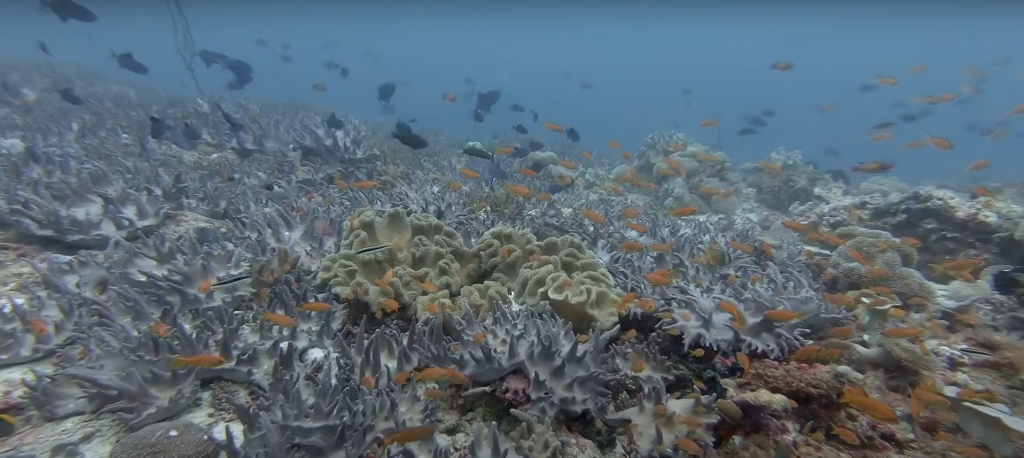 Muraidhoo Corner
Current: can be strong
Marine life: great variety
Depth: up to 30m
Visibility: up to 30m
For divers, Muraidhoo Corner is the place to be. The reef starts in shallow waters and goes slowly down to 20 to 30m in places, but if you can find a way to swim over the rocks of the point along the sea, you get a much better picture of what this dive site has to offer. It is composed of a series of gullies and canyons, with small overhangs and a large 'aquarium' section covered in colorful soft coral.
Divers can also observe many different sea creatures from jacks, fusiliers, sharks, turtles to schools of snapper and eagle rays.
Where to stay in Haa Alif Atoll
Hideaway Beach Resort & Spa is an exclusive luxury resort in the northern Maldives surrounded by untouched natural beauty. With only 5% of the island under construction, the remainder of the island is tropical, natural and private. The resort provides private villas with personal butlers or opt for a spacious beachfront room. From here you can discover snorkeling, diving, or windsurfing at your own pace. A range of dining options will satisfy a wide range of culinary taste buds and guests can take advantage of a 24-hour equipped gym, yoga, spinning, and tennis academies. The marina has a range of boats for hire and a speedboat to take you to nearby Hanimaadhoo Airport from which domestic flights to Velana International Airport depart 4 times per day.
Read also:
Top 10 Dive Sites in the Maldives
Top 10 things to do in Maldives