Diving safari by Azalea Cruise
2022-04-30 10:50:56
In March 2019, I managed to visit a six-day safari trip around the central atolls of Maldives by Azalea Cruise. How it was? Read below.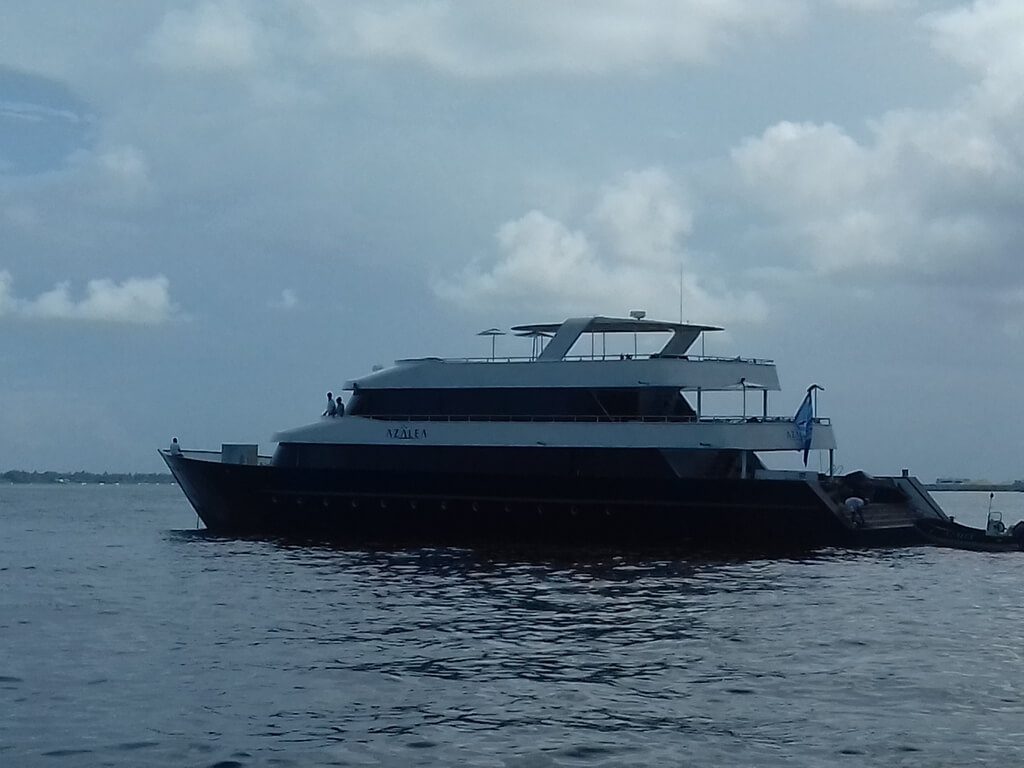 What is diving safari boat?
It's usually called diving "liveaboard" . But in reality, it's quite a large boat for diving and relaxing with 5-12 cabins. There's a "dhoni" boat that delivers divers to the dive points. The cabin can accommodate 2 guests. At the same time there are all necessary amenities, including air conditioning, locker, the private bathroom you need
In other words "liveaboard" means kind of a floating hotel with its kitchen, dining area, sundeck area, wardroom and bar. The selling of alcohol is allowed on the boats in Maldives. Meals, accommodation, Wi-Fi, an excursion to an uninhabited/inhabited island, water sports activities and all taxes are included to the price.
The meal is a full board buffet style, but the food is really varied. We had the opportunity to choose from fish, chicken, beef, sashimi, shrimps, vegetables and fruits. We have to give chef his due (he's local by the way), everything was delicious.
Other services such as alcohol or dive equipment renting are for extra price. What concerns Azalea, they also make a night barbecue trip to the most distant sandbank of Vaavu Atoll (the closest inhabited island is about 20 km away)
Most of the boats are suitable not only as a place to get some sleep between the diving sessions but also as a place to have a sustainable relaxation. Usually, a part of a deck (or even the whole deck) is redesigned for this purpose.
Azalea Cruise
The boat is one of the newest on Maldives. This is noticeable for its interior design.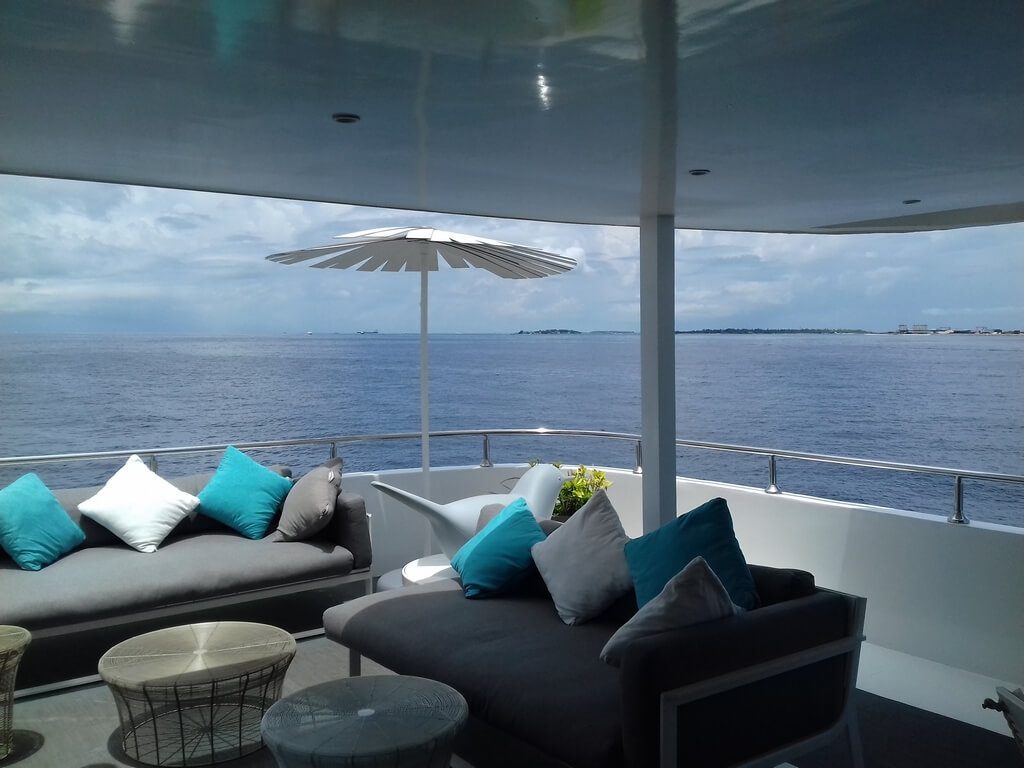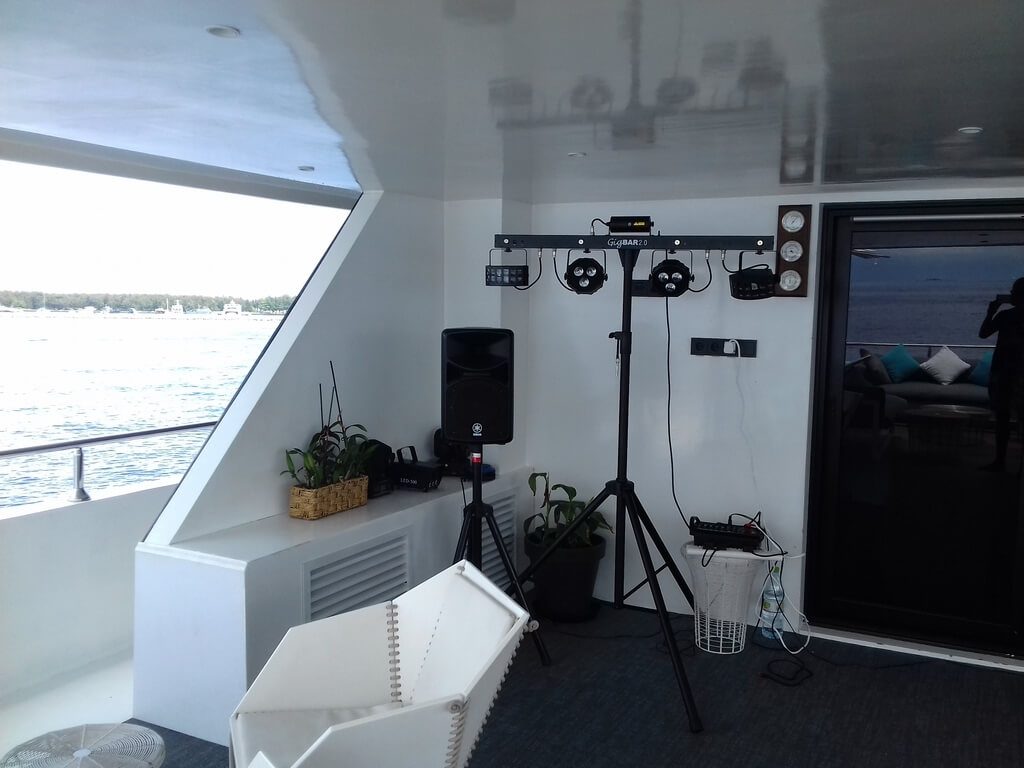 The boat could be divided into 3 decks and plus a sun deck.
There are 6 Standard cabins, a few stockrooms and a crew cabin on the ground deck. They are small, but comfortable.
On the main deck there are two Junior Suite cabins and one large and the most expensive – Master Suite. There is a dining area on that deck as well. Breakfast and lunch are served inside and the dinner is outside.
There's an entertaining area with comfortable sofas, bar, music and TV on the upper deck.
And on the very top you can find a sun deck where you can sunbathe or chill out in a jacuzzi.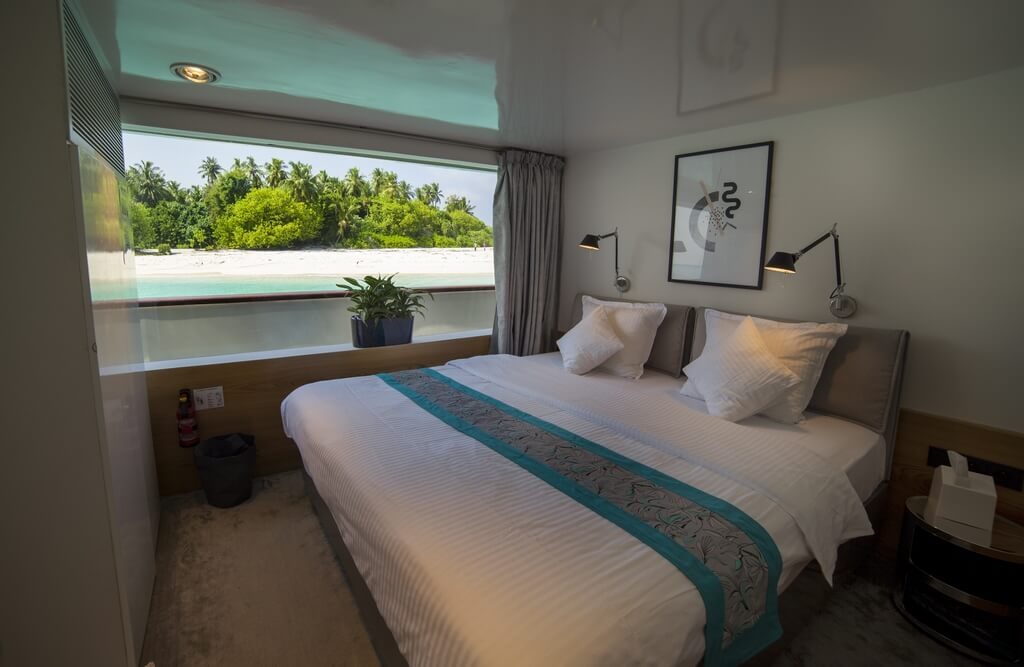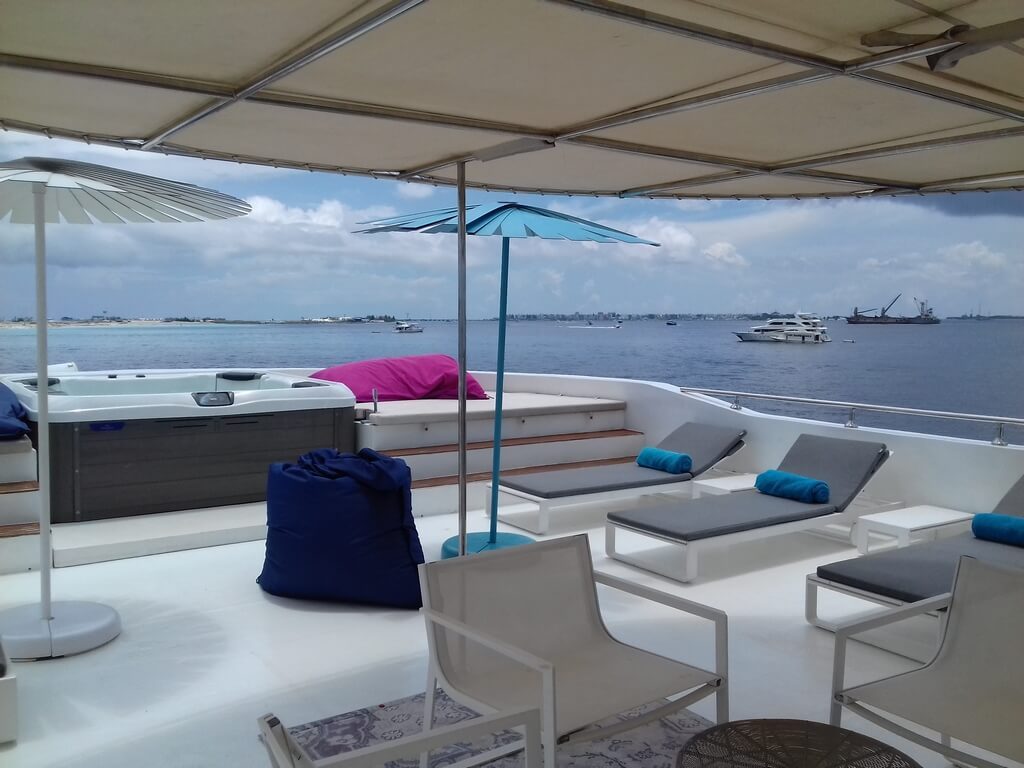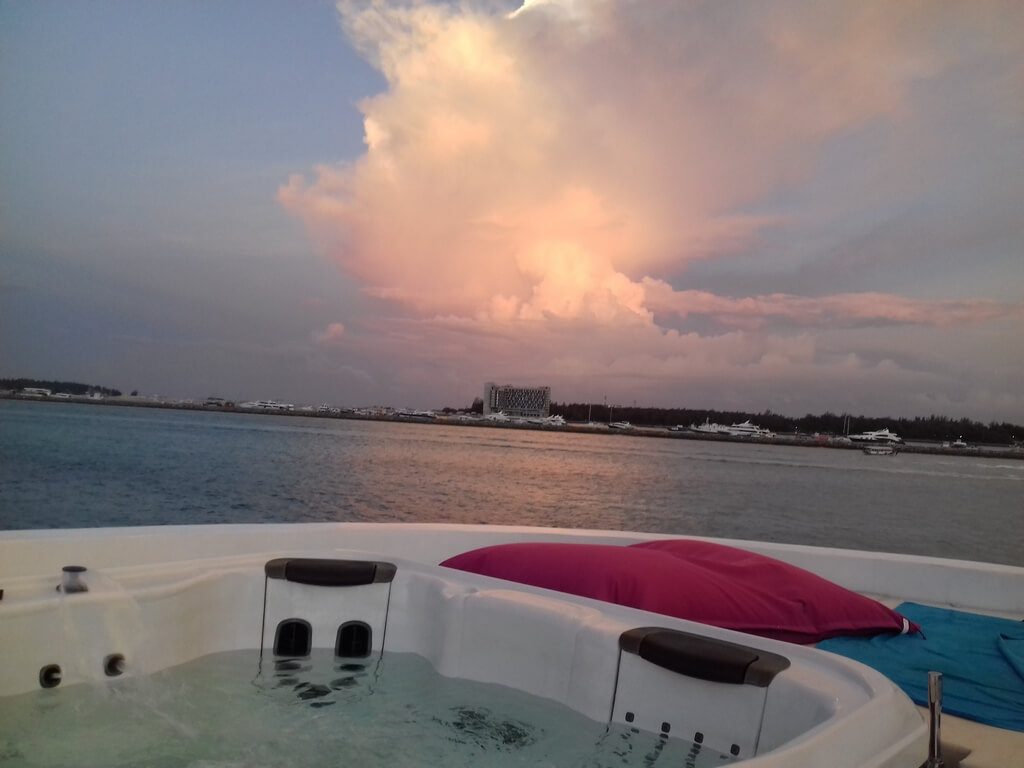 Azalea Cruise itinerary
The cruise usually lasts for 7 nights and 8 days visiting up to 3-5 Atolls. There are about 15-18 dives including 2 night dives in total. But in my case the trip was shortened for one day.
Day 1
The group was met at the airport and accompanied to the dhoni boat which usually anchors near Hulhumalé. Then we checked in and had a lunch. Later, there was a check dive to check your weight required and refresh your skills. In other words it's not a real dive but it allows you to check your equipment. It is strongly recommended to get through this dive check especially for beginners and those who didn't dive for about 7 months.
Later the dinner was provided. There's no fixed time for breakfast, dinner or supper. It depends on the diving schedule which is made by dive instructor.
Day 2
From the early morning, before a breakfast, there was a first dive. The dives are for high experienced people. That's why:
— During the dive there's almost nobody watching you. It means nobody tracks your air. The main goal of an instructor is to hold a briefing before diving and to lead the group under the water. In this way the sense of responsibility for you and your life is being developed. PADI teaches that you should always be with your buddy under the water. In reality you shouldn't lose your group and have a buoy and a hook with you.
— In general the instructor does not always give you a command to ascend. It usually happens when you reach 45 mins of the diving. Moreover many divers have their own buoy so that they really don't need this command from the instructor.
What does it mean?
So it's better to go with a liveaboard when you've already have at least 30 logged dives.
It's good idea to have at least a half of equipment: gloves, hook, dive computer, buoy, mask / fins, wetsuit.
After the first day of diving we headed to the South Malé Atoll. All the moves are made during the day and last for about 1-3 hours.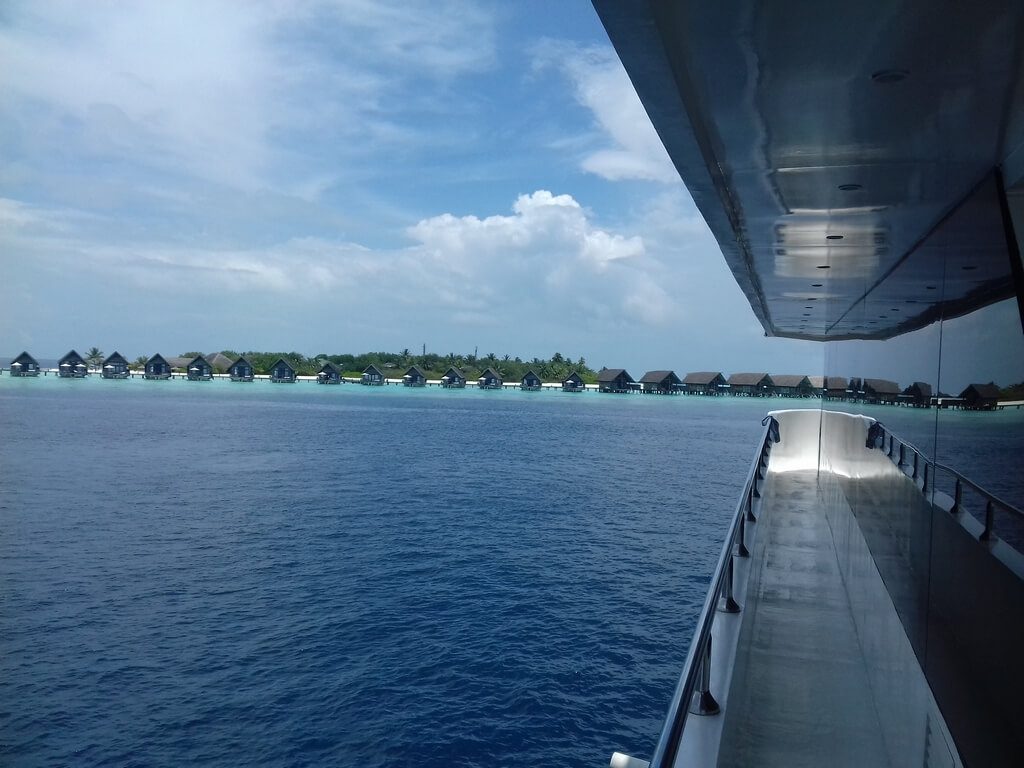 The second dive was near Como Cocoa Resort. Apart from the beautiful and colorful corals there's nothing interesting out there.
Then we moved to the Vaavu Atoll near Alimatha Resort for night dive. This one is famous for its nurse sharks.
There was a feeling that there were even more people that night. On that day the current was not so strong and most of the sharks were not on the bottom (the average diving depth is about 15 meters) but close to the surface where it was harder to dive because there was nothing to hold on (the current really shifts you). So it's great if we've met at least 10-15 sharks.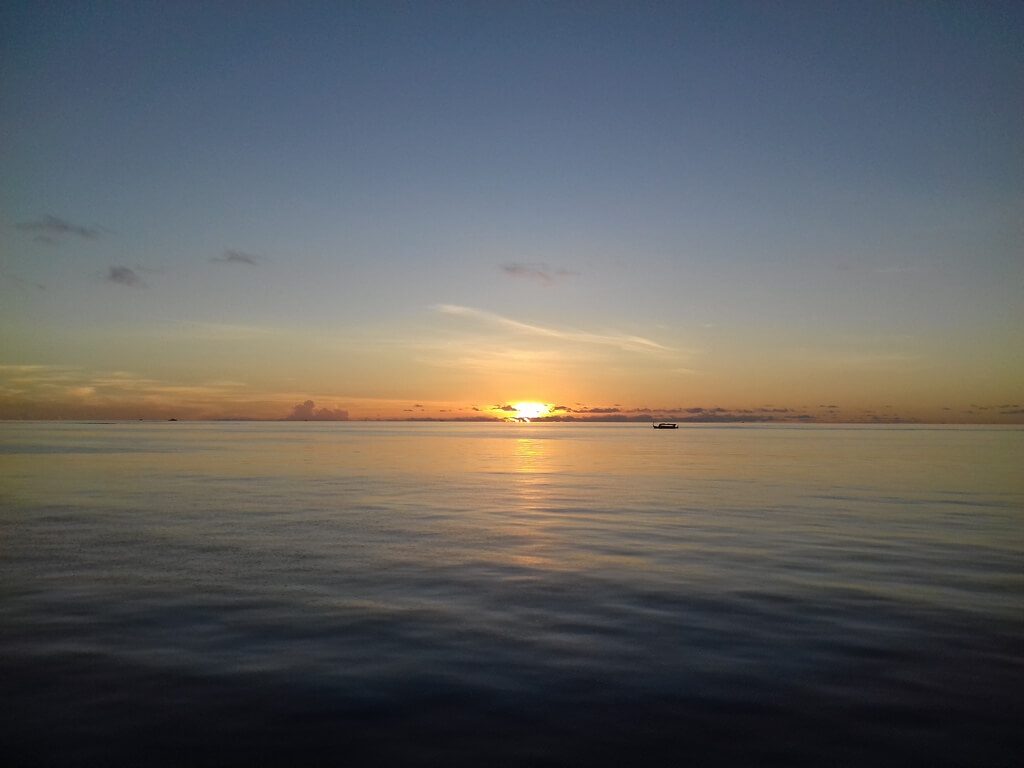 Day 3
From the very morning the weather started to change and we did another dive near the same resort. The most dives we did in the channels with a strong current. There are usually many school of fish and a lot of sharks, so it was really exciting. This time we were lucky to meet white tips sharks, a few eagle rays , turtles and a huge number of small fish.
After the dive we headed to the Thinadhoo. There's a nice spot near it which is called Golden Wall. It's got the name because of the of yellow color corals which grow there. Besides we've met a sсhool of grey barracuda.
The last dive was near the most eastern part of the Maldives – Fotteo. Here we had to make 3 dives (it's easy to imagine how much is intriguing under this water).
In the evening we were pleased by a surprise – the barbecue on a sandbank in the middle of the Indian Ocean! However the weather became worse, the wind got stronger and ocean got rough as well. It was time to come back to the boat.
Day 4
In the morning, under the strong rain and wind, we returned to the same spot and did another dive. It was one of the most awesome dive during our safari. Plenty of sharks, schools of fish, colorful corals which I've never seen before, wonderful grottoes and small caves – that's why this dive is memorable for.
As weather didn't become better, we have to go back.
The next dive was near Alimatha Resort (It should be noted that there are plenty of great diving spots near this resort).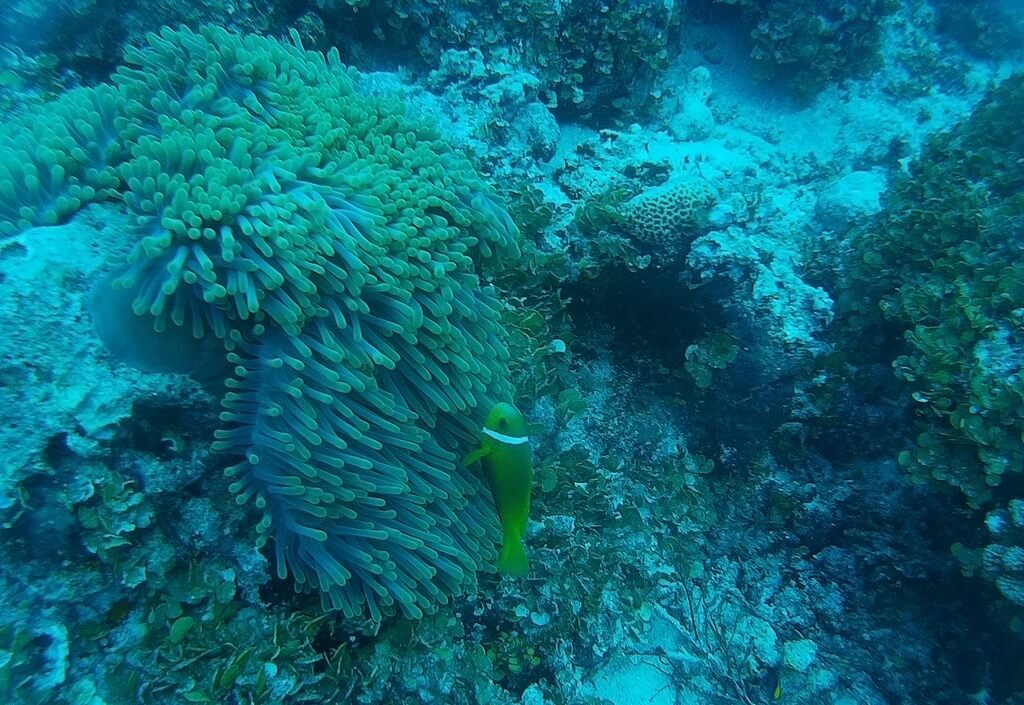 And the last dive was in another spot near the resort. Here we've met a very curious turtle who found my camera really interesting. But it's probably because she wanted to taste it
After the dive the yacht moved to the Guraidhoo local island and Holiday Inn Kandooma.
Day 5
The morning dive was amazing for the huge amount of turtles we've met – 5 or 6! I've never seen so many of them in one place before! But that was actually the only cool thing about this spot.
Then we've moved several times around North Male Atoll and finally, we stopped somewhere in between One&Only Reethi Rah and Coco Bodu Hithi Resorts. Here we were to have a night dive but not in a channel so there was almost no current.
Here we've seen plenty of corals that flourish only at night, an octopus and a sea turtle sleeping under the rock. They say it's very unusual. So we were lucky!
Day 6
On our last day, we finally met manta rays! It's really spectacular!
That was a perfect ending for our diving safari around the Maldives!