Himmafushi island is a part of Kaafu Atoll. It is located just 17 km to the north of Male. Huraa and Thulusdhoo are situated a bit farther. The size of the island is 900 m x 750 m, and just 850 people live there. Not that many. It is a typical local island, which can be walked around in 40 minutes even if you walk at a snail's pace.
The island was extended almost double in size, but a new area hasn't been developed yet.
Things to do in Himmafushi
Bikini beach and house reef
Bikini beach is on the island's northern tip near some guest houses. A short strip of sand with fringed coconut trees has not yet received the official status of a tourist beach, but this is the only place on the island where you can sunbathe and swim in a bikini.
There is no house reef near Himmafushi, so you have to take a snorkeling safari trip to do this activity.
Check: Budget tours to local islands
The best time to go depends on your goal.
Surf season – March to October
Peak surf season – June to August
High Season for other activities – January to April
Surfing in Himmafushi
Himmafushi is a famous surfing destination in Maldives. Check below the most favorite surf points.
Jailbreak
Himmafushi home break Jailbreak is just a five-minute walk away, free to paddle out any time of day. It's named after the fact it's right in front of jail and until recently it was actually illegal to surf there (as the entrance was on private property), but now it's opened! It's a perfect right-hander with three sections. Jailbreak offers waves from intermediate surfers to advanced surfers. On a good swell, you can ride along walls and tube sections.
Sultans
Across the channel from jail this spot is for those who want something a bit bigger and challenging this is the spot and it's certainly not one for beginners or low-end intermediates. Sultans is a fast (right-hander) wave creating two sections, the first peak mellow leading to the second. Both are perfect barrels giving a ride of around 200 m. Although usually crowded, it's quite deep and this makes it more of a competitive surf.
Honkys
Honkys is a left-hand point break opposite of Sultans. The first peak is pretty mellow but jacks up into the second section with a height almost double the first giving a long perfect ride.
Ninjas
A slightly more mellow break (also referred to as Piddlers) Ninjas is one of the more beginner-friendly and longboard friendly waves in the area and is best surfed at 1 m and under and breaks much slower than most of the waves in the area. The break is named Ninjas because of the many Japanese surfers who like to surf it. It is accessible 20-25 minutes from Himmafushi by boat.
Cockes
One of the most famous surf breaks in the Maldives this right-hander is very similar to Jailbreaks actually, although slightly faster on the right swell. The wave's name is due to the Coca-Cola factory nearby on the island of Thulusdhoo. So you have to hire a private speedboat to go there.  Works best with winds from south and north-east.
Chickens
This wave holds swell size from 1m to well over 3m and provides rides up to 500m long. This is a long left-hand wave with 2 sections where you can easily get barrels on the last section of the wave. The name of this wave is due to the poultry farm that exists on the island, and not due to surfers' reaction to high swells! It's a 30 min ride by speedboat, near Thulusdhoo local island.
Pasta Point and Lohis
These are private surf points that are available for guests staying on Cinnamon Dhonveli and Adaaran Hudhuranfushi only.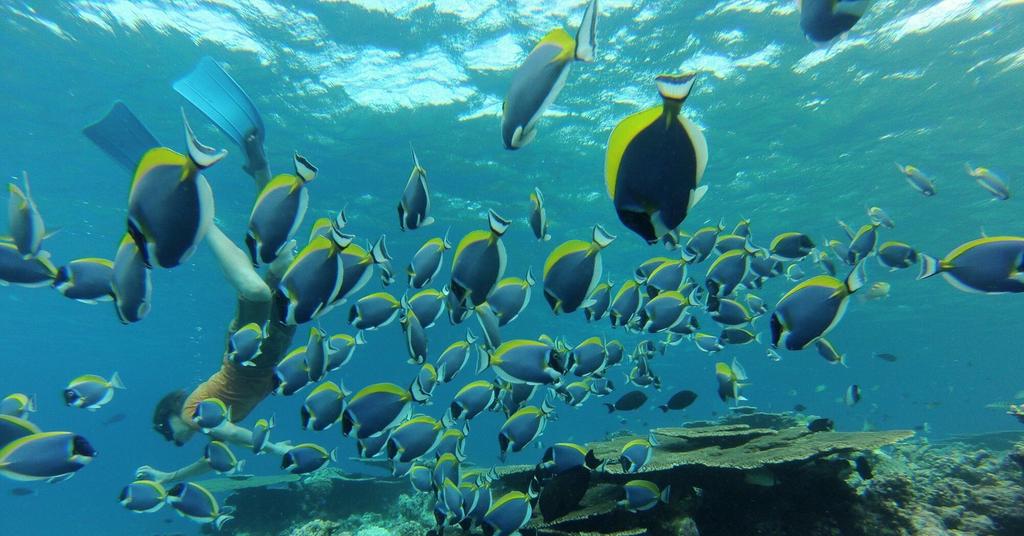 Snorkeling safari near Himmafushi
Clear, warm water and diverse marine life make snorkeling in the Maldives one of the best places in the world. The countless reefs throughout the atolls each offer a unique experience. Some lagoons are even so close to shore that a few kicks and strokes and you're swimming amidst the friendly fish, harmless sharks and shy rays. The reefs all over the Maldives are inhabited by various kinds of aquatic flora and fauna and are great for a relaxing day watching fish on the reef.
Night fishing
The surrounding reefs of Himmafushi are abundant with game fishes like trevallies, snappers, and groupers. But you can try line fishing and check your luck trying to catch some fish for dinner. Lulling waves and the amazing starscape of the night sky accompany you on a memorable night fishing trip. You can ask your hotel to cook it on a grill.
Scuba diving
Although scuba diving around Himmafushi isn't as great as diving on Rasdhoo, Dhangethi, or Fulidhoo. But there are still plenty of dive sites to explore in the area and the island has a couple of well-established PADI dive centers (such as Feena Dive) that will show you the underwater world.
Other activities on Himmafushi
Dolphin cruise. The Indian Ocean around the Maldives is home to hundreds of dolphins and the local spinner dolphins are always keen for an awesome show of aerial acrobatics! But it's not 100% guaranteed to see them it's still a fun day cruising around the islands and perfect for those who don't wang to get wet.
Resort day visit. It's possible to arrange a day trip to Cinnamon Dhonveli, Paradise Island, or Adaaran Hudhuranfushi with lunch and drinks.
Sandbank trip. A unique opportunity to stay on a small piece of land in the middle of nowhere!
In fact, if you don't want to do surfing, it's better to go to Dhiffushi.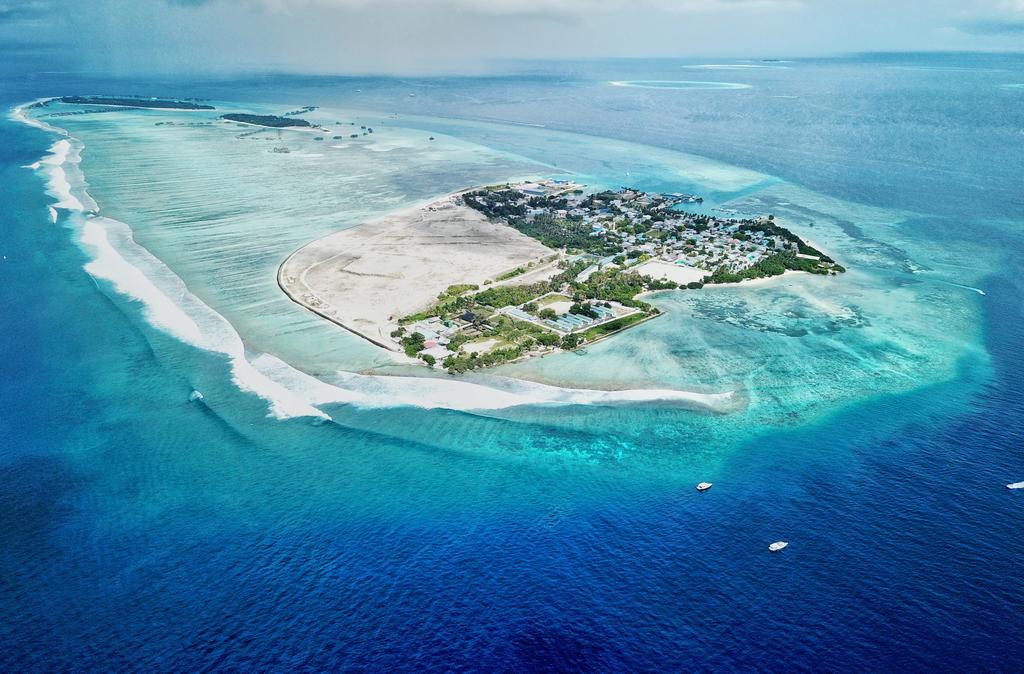 Himmafushi Infrastructure
There are no ATMs on the island, so make sure that you have got cash (ruffiyaas or USD). Credit cards are accepted at guest houses, but they charge a 4% fee for processing.
There are several groceries (for example, a large bottle of water costs just $1, fruit and vegetables – $0,1-$2), and gift shops available on the island. You can have a meal at two small restaurants; there you can try dishes of local cuisine.
Here are some prices on dishes at restaurants:
a large bottle of water – $1,5;
drinks – $1,5;
Lavazza coffee – $2 (coffee there is not of the best quality);
a burger/sandwich – $2,5;
noodles – $2,5 – $4;
rice & fish – $3 – $10.
You can also buy fish from the locals and ask to cook it at a guest house. The prices are ok, but they want to charge more from tourists rather than from locals, that's why you should ask a menu with all the prices listed.
Where to eat on Himmafushi
Outside the guest houses, in the village there are some restaurants, if you want to know the real tastes of Maldivian cuisine, especially some of the post-dinner snacks cooked deep-fried, known as 'khedika'.
Oevaru. Tuna, pasta with seafood, curry everything was tasty. Serves both western foods (sandwiches, burgers). Good price for good food. Could not complain very modest and friendly!
Anmadey Cafe'. Very local style cafe in Himmafushi. Good tuna fish rice. Big serving and satisfying…go for the local Maldivian dishes. Skip the western stuff. The fish and chips, and grilled tuna look rather pitiful
Sea Breeze Cafe. Another local-style cafe with Maldivian food and snacks. Management is friendly and really kind. If the place is full it's possible that serving time gets longer.
Bun Me. The best to get a quick sandwich with all meat you need for your day
Where to stay on Himmafushi
There are a lot of places to stay, but I advise Bito's Guest House, and that's why.
– One of the first guest house in Himmafushi;
– Super friendly staff;
– Amazing in-house restaurant with a great variety of local and continental cuisine;
– Unlimited coffee and tea;
– No.1 guest house based on booking com reviews and no.2 based on Tripadvisor;
– Own 8 pax capacity speedboat for surf trips;
– Affordable prices
– Free Airport meet and greet service;
Transfer To Himmafushi
Scheduled Speedboat
The cost is $10, the traveling time is 20 minutes.
Male-Himmafushi: 11:45, 15:00, 16:45, 22:00
Himmafushi-Male: 8:00, 12:45, 16:00, 18:15
Local ferry
The Himmafushi ferry departs from Vilingili ferry terminal:
Male– Himmafushi:
Every day at 14:30, except Friday.
Himmafushi– Male:
Every day at 08:00, except Friday.
Guest houses representatives usually meet you at the airport and escort you to Himmafushi, but you'd better ask managers for more information.
Contact us to get a personal tour to the Maldives!
Read also:
Top 16 things to do in Maldives
How to book Maldives on a budget?