2022-12-06 08:10:03
Fulidhoo Island is in the Vaavu Atoll, just 57km (or 1,5 hrs by speedboat) from Male Airport. At only 700m x 200m and with only 300 permanent residents.
It is famous for Maldivian cultural events like Langiri, a traditional dance with drums and Thaara. The island has a large lagoon, which is used as a natural harbor.
The island's north side is covered by lush trees and bushes and in the northwest overhanging trees form a natural tunnel.
Check: Budget tours to Maldives
What to do on Fulidhoo
Bikini beach and house reef on Fulidhoo
You can chill out at the dedicated bikini beach and swim in the clear waters of the lagoon. The high season is from December to April, so it's the best time to visit for swimming and doing excursions.
Fulidhoo has two tourist beaches that are on the western (sunset beach) and eastern parts of the island, with fine sand and clear warm water. There are shady places and a few sunbeds on the beach.
The house reef is on the north side of Fulidhoo and quite far from the beach. Moreover, due to low tide, there is no chance to the entrance because of dead corals.
Scuba diving on Fulidhoo
Scuba diving is the main thing to do in Fulidhoo. Situated at the heart of channel diving territory, Vaavu atoll is well known for being home to many large pelagic creatures; tens of grey reef sharks, nurse sharks, manta rays, eagle rays and vast schools of big eye trevallies and barracuda, color soft and hard corals.
There is only one dive center Fulidhoo Dive.
Top dive sites in Vaavu Atoll.
Alimathaa Night Dive
Depth: 20-40m
Current: Medium, but can be very strong
Visibility: 10-20m
What to see: nurse sharks, eagle rays, octopuses
Alimatha is an island resort in Vaavu Atoll. Night dive in Alimatha Jetty is a jewel of Vaavu Atoll. Here divers can meet hundreds of nurse sharks. It's one of the world's largest known schools of nurse sharks! The current is mostly moderate to extremely strong bringing in white tip reef sharks, giant trevally, tuna, huge schools of snappers, unicornfish and masses of fusiliers. But you have to go here to see tens of nurse sharks coming every night. This is a night dive that attracts divers not only from nearby local islands but liveaboards as well.
Miyaru Kandu
Depth: 10-40m
Current: Medium, but can be very strong
Visibility: 15-30m
What to see: sharks, eagle rays, tuna and Napoleon
Miyaru Kandu is a fascinating channel dive in the Maldives that features many small caves on both sides of the channel and numerous overhangs. The entire channel has been declared a protected marine area. A variety of marine life, including tuna, large schools of grey reef sharks, white tip reef sharks, and Napoleon wrasse can be seen here, as well as many colorful reef fish.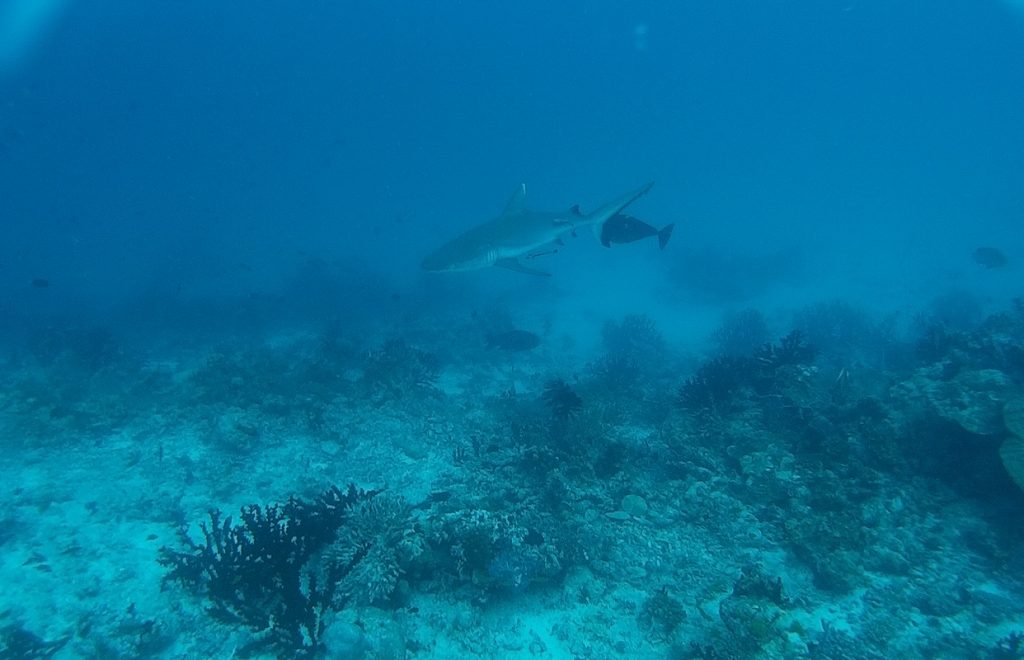 Faru Kolhu
Depth: 20m
Current: Medium, Strong
Visibility: 20-30m
What to see: big fish, abundant fish life
A channel dive, possibility to see a lot of pelagic and schooling fish, shallow drit.
Kunaavashi Kandu
Depth: 10-40m
Current: Can be strong
Visibility: 30m
What to see: Rich diversity
Channel dive with a lot of grey reef sharks, eagle rays, soft coral
Fulidhoo Caves
Depth: 10-30m
Current: Can be strong
Visibility: 30m
What to see: macro
Deep dive with macro. The best time to visit is evening.
Another local island with diving opportunities is Thinadhoo.
Other activities on Fulidhoo
Fishing. The Maldives has long been dependent on the sea. As such, fishing is the heart of the economy. It's possible to arrange many types of fishing trips such as Big Game Fishing and night fishing.
Snorkeling Trip. If you're not scuba diving go for a snorkel trip instead and check out the stunning coral gardens, huge school of fish around the area.
Water sports. From the water sports center, you can do jet skiing, kayaking in the lagoon, windsurfing.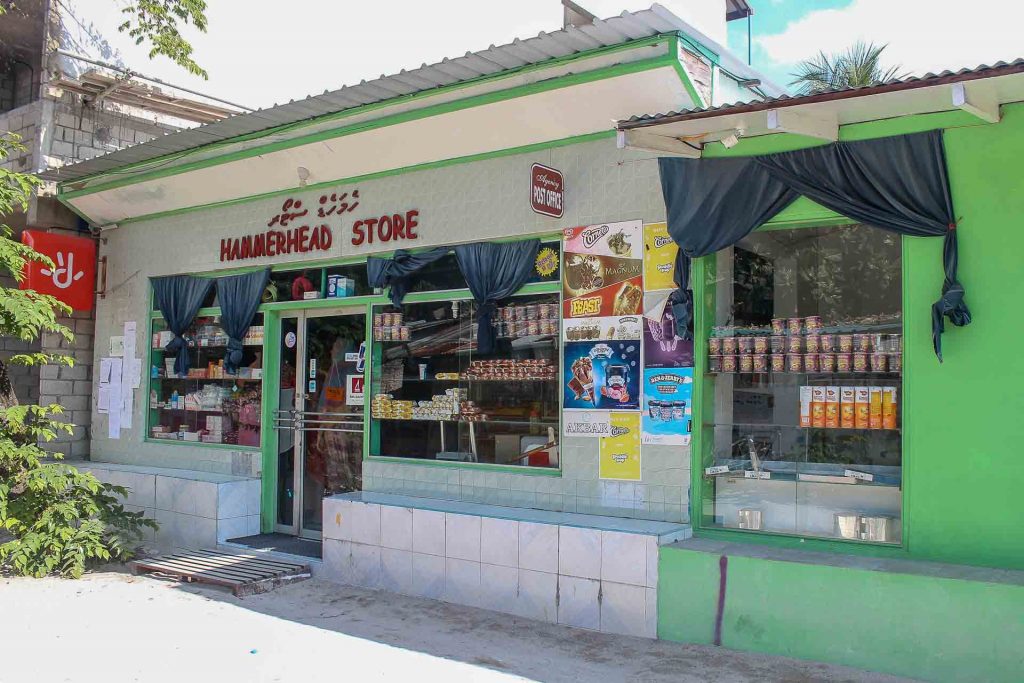 Fulidhoo Infrastructure
Note, there is no ATM in Fulidhoo, so you need to withdraw cash in Male or bring cash in USD as it's widely accepted in Maldives.
You'll find a medical clinic with a doctor and nurse, a pharmacy, several shops selling souvenirs and groceries, two local cafés, a community center, and a mosque.
In the local shops, you can buy ice creams, local fruit (bananas, papaya, watermelon, apples, oranges), biscuits, bottled water, crisps, soft drinks, nuts and nice chocolate.
Where to eat on Fulidhoo
Most of the guests eat the majority of their meals in their guesthouse. The hotels offer a mix of local, Asian, and European dishes. Like local curries, fresh fish steak and BBQ alongside pasta, chicken, and vegetable dishes. Food variety is limited but it's tasty!
Places to eat outside:
Dream Hut Fulidhoo. Very nice Restaurant with reasonable rates. But you have to order at least 45 min before you want to eat. The food is freshly cooked. They have very tasty samosas and some other Maldivian snacks. Nice ocean view atmosphere.
Cafe De Orzo. Very local place with cheap prices for meal.
Where to stay on Fulidhoo
There are 8 guest houses to stay in, but I advise Thundi Guest House, and that's why.
– Super friendly staff with experience working in resorts. So high-quality service is guaranteed;
– Amazing in-house restaurant with a great variety of local and continental cuisine;
– Unlimited coffee and tea;
– Seaview rooms;
– Affordable room price;
– No.1 place hotel on Fulidhoo based on Tripadvisor reviews;
– Free Airport meet and greet service;
Fulidhoo Holiday Package
Accommodation at Thundi Guest House, breakfast and dinner, shark point snorkeling, sand bank visiting, transfer by scheduled speedboat Airport-Fulidhoo and Fulidhoo-Airport, all taxes and charges. Total (for 2 adults):
| Nights | May – Nov | Dec – Feb | Mar – Apr |
| --- | --- | --- | --- |
| 4 Nights | 840 USD | 1,080 USD | 880 USD |
| 5 Nights | 945 USD | 1,245 USD | 995 USD |
| 6 Nights | 1,050 USD | 1,410 USD | 1,110 USD |
| 7 Nights | 1,200 USD | 1,575 USD | 1,225 USD |
SEND REQUEST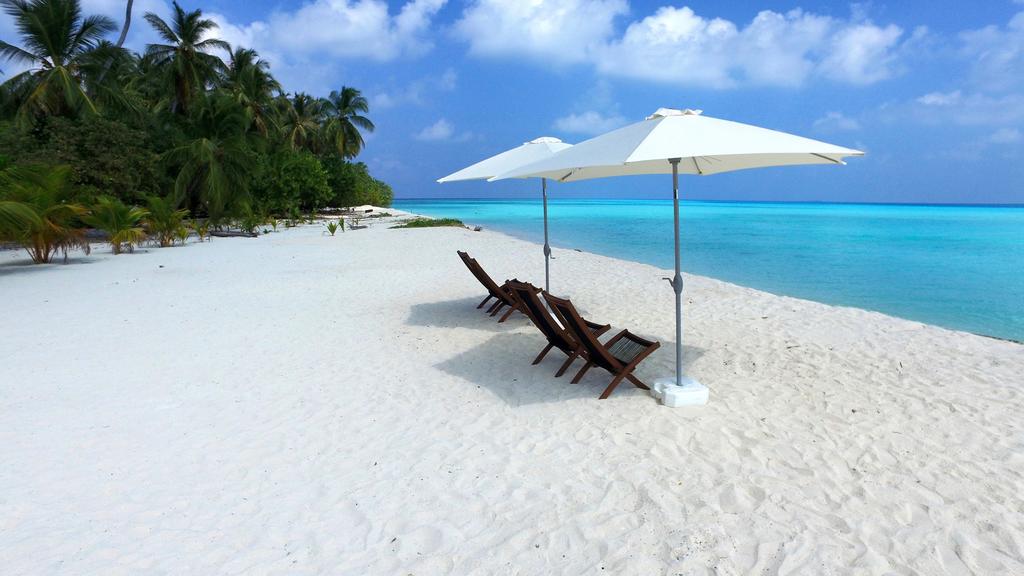 Transfer to Fulidhoo
Scheduled speedboat
Price is 45 USD per way per person
Male-Fulidhoo, daily except Friday at 11:00, 15:00
Fulidhoo-Male, daily including Friday at 8:45, 14:10 (on Friday at 16:00)
Duration 1,5 hrs.
Contact us to get a personal tour to the Maldives!
Read also:
Top 16 things to do in Maldives