Thinadhoo is one of the five inhabited islands of the atoll Vaavu. It is located 78 km south of Male. Next to the island are Felidhoo and Keyodhoo. Do not mess up this island with another Thinadhoo located in the atoll Gaafu Dhaalu – in the south (ie, further south) of the Maldives.
Things to do in Thinadhoo
Beach and house reef
Despite its rather small size, Thinadhoo can boast one of the best bikini beaches in Maldives. The beach is really nice: no dead corrals on the beachside where you enter the ocean. The house reef surrounding the island is gorgeous which makes Thinadhoo one of the prettiest places in the Maldives.
Check: Budget tours to Maldives
You can easily find shade under the palms and relax on one of the sunbeds. Thick vegetation creates plenty of private and enclosed places where you can enjoy your privacy.
The house reef of Thinadhoo is nice but full of dead corals. There is plenty of fish and some colorful corals. You won't get enough of it even if you've been snorkeling for several days. The most interesting part of the reef, as usual, is on the edge. The easiest way to explore the reef is while drifting along with the current without any movement.
Snorkeling safaris
Sea turtles, clownfish, scorpionfish, and a great variety of colorful tropical fish can be easily spotted by snorkeling, both starting from Thinadhoo beach, being the reef easily accessible from the shore.
If you're tired of snorkeling around the island you can visit one of the closest outside reefs. Not to say that night snorkeling with sharks is definitely a must! That point is near Alimatha Resort you can enjoy the company of nurse sharks which are completely safe and friendly for humans. There you can meet around 20-30 sharks! Isn't that impressive?
The diving should be described in particular. In the "shark" place mentioned above, it's possible to do dive as well. The only problem is the number of divers – there were a lot of them! So it's better to wait until the very end when all of the divers ascended. Because in a while dozens of sharks were appeared from nowhere all the way around so that was really unforgettable experience.
Uninhabited islands and sandbanks
Ambara Island. About one hour trip from Thinadhoo there is uninhabited Ambara Island, with a beautiful coral reef, a low seabed, it has a vast variety of marine life.
Bodumohara island. Deserted island for those who love to relax in crystal clear waters with a beautiful and low seabed. After the marvelous snorkeling, there will be a lunch on a table dug directly in the sand.
Sandbanks. This beautiful sandbank is perfect to admire the colors that you have hardly seen before. It is surrounded by very low waters for several kilometers, it is always deserted and it guarantees absolute privacy. During clear days the seawater offers incredible shades of blue.
Other things to do include water sports, dolphin watching, and night fishing.
Scuba diving near Thinadhoo
Vaavu Atoll is a true geographical wonder. It is a boot-shaped atoll and the 'toe', Fotteyo Muli is the easternmost point of the Maldives archipelago.
Vaavu Atoll boasts Fotteyo Falhu – the largest unbroken barrier reef in the Maldives. The reef is 50 km long and the easternmost point of the Maldives archipelago. One of the features of this diving area is the deep channels known as Kandus that bring in fast-flowing currents full of nutrients.
Alimathaa Night Dive
Depth: 20-40m
Current: Medium, but can be very strong
Visibility: 10-20m
What to see: nurse sharks, eagle rays, octopuses
Alimatha is an island resort in Vaavu Atoll.  The current is mostly moderate to extremely strong bringing in white tip reef sharks, giant trevally, tuna, huge schools of snappers, unicornfish, and masses of fusiliers. But you have to go here to see tens of nurse sharks coming every night. This is a night dive that attracts divers not only from nearby local islands but liveaboards as well.
Miyaru Kandu
Depth: 10-40m
Current: Medium, but can be very strong
Visibility: 15-30m
What to see: sharks, eagle rays, tuna, and Napoleon
Miyaru Kandu is a fascinating channel dive in the Maldives that features many small caves on both sides of the channel and numerous overhangs. The entire channel has been declared a protected marine area. A variety of marine life, including tuna, large schools of grey reef sharks, white tip reef sharks, and Napoleon wrasse can be seen here, as well as many colorful reef fish.
Golden Wall
Depth: 10-25m
Current: Medium
Visibility: 10-20m
What to see: soft corrals
Golden Wall features several vertical walls, caves, and overhangs. Along the exterior of the reef, the wall is covered with yellow sponges and is teeming with colorful reef fish. Caves and overhangs full of pink, green, yellow soft corals hang to make it so easy to just get lost in the beauty of the dive.
Fotteyo Kandu
Depth: 10-30m
Current: Medium to strong
Visibility: 10-20m
What to see: reach diversity
A vast array of marine life that can be found here, as well as a wide variety of colorful soft and hard corals, make this dive unforgettable. If diving early in the morning, divers have a chance to see eagle rays triggerfish, potato groupers, grey reef sharks, schools of white trevally, tuna, barracuda, surgeonfish, swordfish, as well as turtles and some other creatures. The site is so big that you have to do at least 3 dives!
There are only two dive centers on the island. One of them is owned by Plumeria Boutique Hotel and the other — Blue Horizon.
Thinadhoo Infrastructure
The island is divided into two parts: a village in which 120 people are officially registered. And in fact, only about 40 people are living. There are very few local islands where you can see a situation like that. Between the village and the bikini beach stretches the jungle. And almost no rubbish. It's clean and well maintained. The road to the beach takes 5-7 minutes of walking.
Only a couple of shops, two dive centers, and a café you can find on the island. Surprisingly, there are 6 guest houses (mostly for Italians) and a hotel Plumeria Maldives where Eastern Europeans usually spend their holidays. There's no school, stadium, or hospital on the island.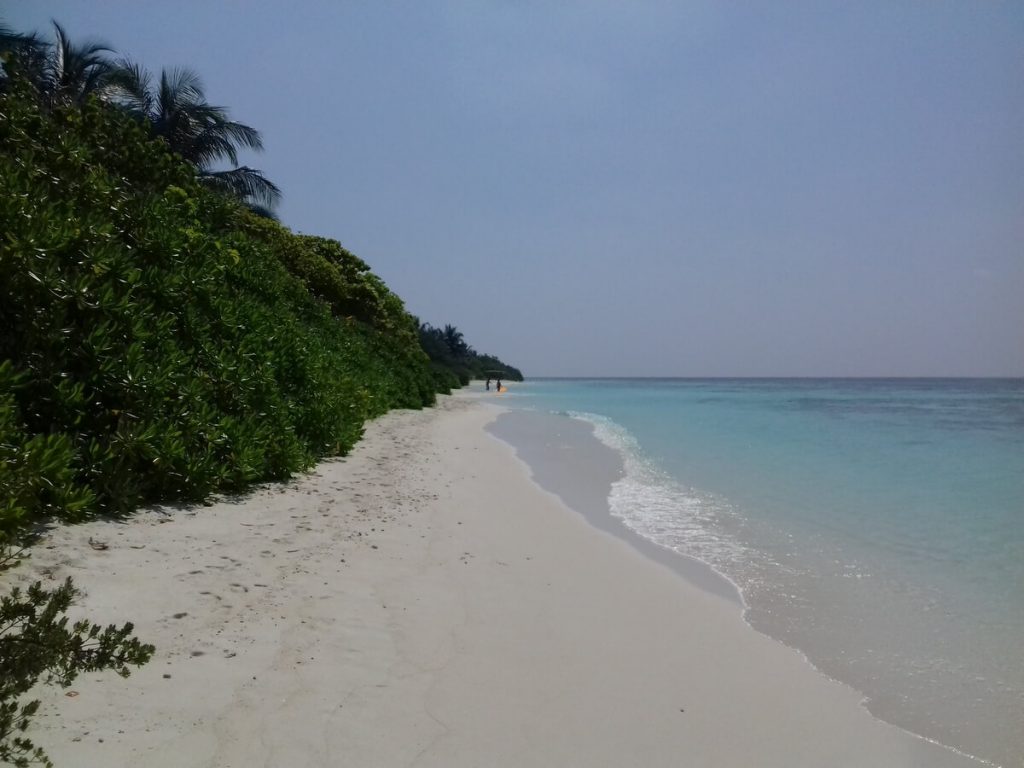 Where to eat on Thinadhoo
Most of the guests staying in Thinadhoo are having their meals in hotels as there is only one place to eat outside.
Le Bois Cherry. The only restaurant on Thinadhoo. Cute and cozy, the chef is very good, the food is tasty and you have a lot of options like Maldivian, Indian, Italian etc.
Where to stay in Thinadhoo
There is only one hotel and 6 guest houses (mostly for Italians). I was staying in that hotel before.
Why Plumeria Maldives is the best option for you?
– High-quality staff;
– Seaview rooms;
– Restaurant with great food from Srilankian chief;
– The pool;
– The fitness center;
– SPA (very rare facility on the local island);
– In-house water sport and dive center;
– Own speedboats;
– They provide 2 times per day speedboat transfer to/from the hotel;
Transfer to Thinadhoo
By a public ferry:
— price: $5 per person one way;
— time: 5 hours 20 minutes (there 2 stops at Maafushi and Fulidhoo)
Male — Thinadhoo, Vaavu Atoll: 10:00 on Sundays, Tuesdays, and Thursdays.
Thinadhoo, Vaavu Atoll — Male: 9:00 on Saturdays, Mondays, And Wednesdays
By scheduled speedboat:
— time: 1,5 hour;
— the departure from Male to Thinadhoo: 10:00 and 16:00;
— the departure from Thinadhoo to Male: 7:00 and 14:00
Please, note, this is a Plumeria speedboat
By a private speedboat:
You can get a private transfer by speedboat from the airport to Thinadhoo, Vaavu Atoll every day at request (time of travel 1,5 hour). This type of transportation is recommended for a group of 6 people. The price is $750 for a trip.
By seaplane:
Transfer by seaplane to Thinadhoo, Vaavu Atoll takes about 20 minutes and costs $420 per person on both sides. This trip should be booked in advance (not less than 5 days before arrival).
Seaplanes fly only during the daytime from 6:00 till 16:00.
Contact us to get a personal tour to the Maldives!
Read also:
Top 16 things to do in Maldives
How to choose a local island in Maldives?