Full list of things to do in Maldives. The islands abound in astonishing places and memorable activities. This post is dedicated to the top ten that are an absolute must.
Check: Budget packages to local islands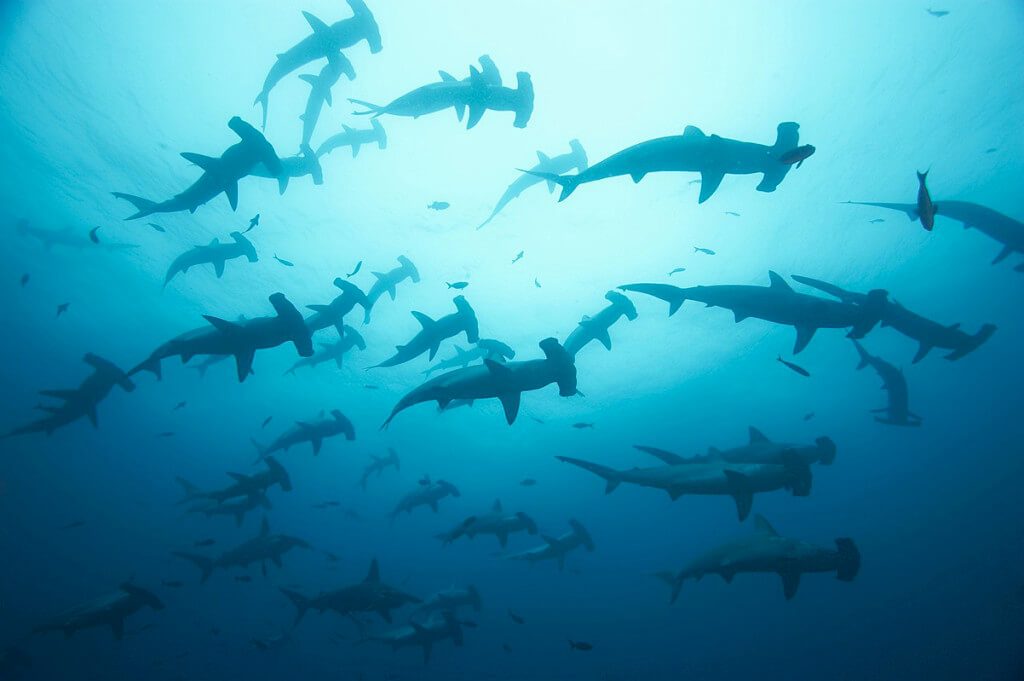 1. Diving with hammerhead sharks
Description
You'll find only a few spots on Maldives where you can meet hammerhead sharks: Rasdhoo, Addu Atoll. Other popular spots will be — Miyaru Kandu, Kudi boli kandu, Dhiggiri kandu dive, Fungo Dive.
Where?
Vaavu Atoll
The local islands of Thinadhoo and Felidhoo. Alimatha Resort Aquatic resort. But you'll find the dive center only on Thinadhoo.
How to get there?
To Thinadhoo
By public ferry:
Male – Thinadhoo, every Sunday, Tuesday, Thursday at 10:00 from Male. The price is $8 per person. The ferry sets off in Male from Vilingili terminal. It takes up to 5 hours.
Thinadhoo – Male, every Saturday, Monday, Wednesday at 9:15
By speed boat:
Male – Thinadhoo, daily at 10:00 and 16:00, takes 2 hours, $65 per person one way
Thinadhoo – Male, daily at 7:00 and 13:00
To resort:
Transfer to resort only.
How much does it cost?
Depends on the transfer, hotel, and the price of your dive.
When to go?
During a low season – from May to November
2. Wreck diving
You won't find much information about wrecks on the web although wreck diving is quite popular in the Maldives. The instructors of dive centers or liveaboard know the locations. Find below the list of the 7 most popular and easy to go wrecks.
Kuda Giri
Description
This trawler was artificially sunk in South Male Atoll 10 years ago. It's lying on the depth of 30 m.
It can be found close to Anantara Dhigu Resort, not far from Maafushi and Gulhi , South Male Atoll
How to get there?
To Maafushi
By ferry:
Malé – Maafushi: daily, except Fridays, at 10:00 (every Sunday, Tuesday, Thursday at 15:00) from Vilingili terminal. It takes 2 hours.
Maasfushi – Male: daily, except Friday, at 7:30 (every Saturday, Tuesday, Wednesday at 12:45)
By a speedboat:
Malé – Maafushi: daily at 09:00, 13:30, 19:00. It's a half an hour drive that costs $39 per person.
Maasfushi – Male: daily at 8:00, 12:00 and 17:00.
To resort
By resort transportation only.
When to go?
Any time of the year.
2. Halaveli Wreck
Description
This is another artificial wreck lying on about 20-30 m depth since 1991.
It is only a few km far from Constance Halaveli Maldives, North Male Atoll. Ellaidhoo Maldives by Cinnamon, Kandolhu Maldives, Bathala Island Resort are relatively nearby. There no local islands close to it.
How to get there?
By a resort transportation only.
How much does it cost?
Depends on the resort you chose.
When to go?
Any time of the year.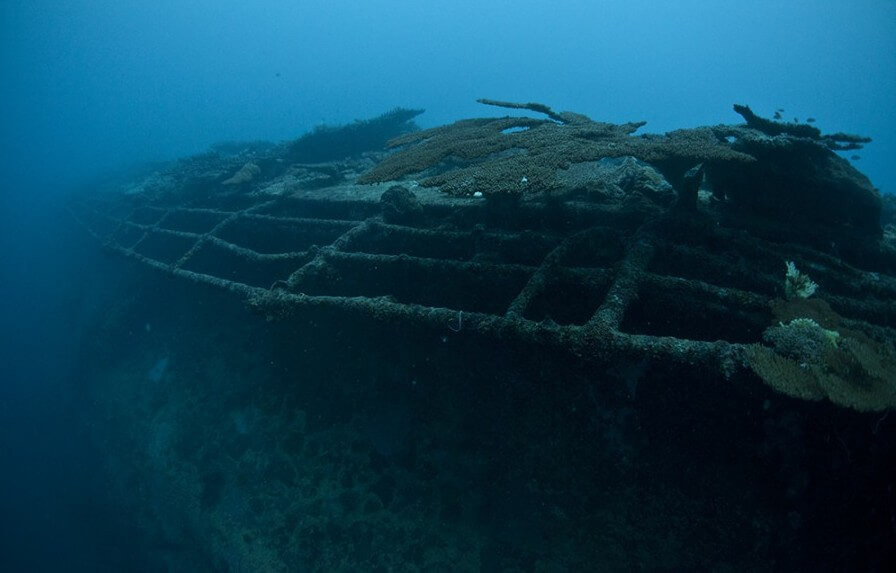 3. Fesdu wreck
Description
This trawler is also an artificial wreck which is located near Halaweli Wreck, North Male Atoll.
Where's it situated?
It is close to W Maldives Resort. The nearest local islands are Maalhos and Feridhoo.
How to get there?
You'll find neither a dive center nor a guest house on Malhos as well as on Feridhoo.
To Feridhoo
By a ferry:
Malé – Feridhoo: on Sunday, Tuesday, Thursday at 9:00 from Male. It takes 8 hours and the price is $5.
Feridhoo – Male: every Saturday, Monday, Wednesday at 7:00
By a speedboat:
Daily, except Friday, it takes about 2 hours and costs $65 one way.
Malé – Feridhoo at 15:00
Feridhoo – Male at 6:00
Where to go?
Any time of the year.
4. British loyalty
Description
This wreck 140 meters long has a much more captivating story. During the time of WWII this cargo ship was bombarded by a Japanese submarine near the shores of Addu City. It is a merit for the divers fascinated by history.
Addu Atoll City, close to Hithadhoo.
How to get there?
You may get there by domestic airlines only. Here is the schedule. But it's better to book your transfer at a guest house or a resort rather than by your own. It comes up much cheaper.
When to go?
Any time of the year.
5. The Liffey and The Utheemu
Description
The Liffey ran aground and later sank in 1879. At that time it was one of the last warships of its class in the British Empire. The other ship Utheemu sank in 1960 and that's all that you can learn about it.
Where are they situated?
It is located in Dhaalu Atoll near Kudahuvadhoo. Niyama Resort is nearby
How to get there?
To Kudahuvadhoo
By a speedboat:
Every Saturday and Thursday, it takes about 3 hours at a price of $68 each way.
Male – Kudahuvadhoo at 15:00
Kudahuvadhoo – Male at 6:00
By a seaplane:
It costs $252 one way. You arrive at Niyama Resort and then take a private speedboat to the island.
Any time of the year.
6. Khuda Maa
Description
This Japanese cargo ship 52 meters long is a joy for divers. It was intentionally sunken in 1999.
Where is it situated?
It is located in South Ari Atoll near Centara Grand Island Resort & Spa Maldives Resort.
How to get there?
By resort transportation only.
Any time of the year.
7. Maldives Victory
Description
This is one of the most popular and the biggest shipwrecks. It is currently unavailable because of the bridge construction between the islands of Male and Hulhumale (as of October 2016).
Where is it situated?
It's located in between Male and Hulhumale.
How to get there?
Currently, it's closed.
3. Visit an uninhabited island and stay there overnight
The Maldives is a chain of about 1100 islands scattered on both sides of the equator. The local people inhabit only about 100 of them. Resorts and private islands occupy another 130-180 islands. And the rest are wild uninhabited islands of all possible shapes and sizes: from 20 meters to 1-2 km long!
Located not so far from resorts they are easy to reach. The locals usually call them picnic islands. Some of them remain private.
You can still find some atolls that are not as crowded with tourists. Among these are Gaafu Alifu Atoll, Laamu Atoll, Lhaviyani Atoll, Raa Atoll, and Baa Atoll.
The nearest local islands are Rasdhoo, Mathiveri, Ukulhas, and Thinadhoo . Not so many resorts can boast their private picnic islands. First of all, these are the resorts in Baa Atoll: Reethi Beach resort, Kihaad Maldives, Soneva Furshi, Four Seasons Resort Maldives at Landaa Giraavaru, Coco Palm Dhuni Kolhu.
And the resorts in Lhaviyani Atoll: Palm Beach Resort & Spa, Kanuhura Maldives, Kuredu Island Resort and Spa.
Some of the guesthouses on the local resort islands offer you to spend a night on these picnic islands. As you'll not find any dangerous animals in Maldives that's when you can feel yourself a real Robinson Crusoe!
The overnight staying can be provided by Omadhoo Inn.
Sandbank
Compared to an island covered with greenery and lush vegetation – a sandbank is just a piece of land without any plants. The average length is from 6 to 100-120 m in length. Some of the sandbanks are allocated near the local islands and some could be found just in the middle of the ocean!
However, this is an incredible opportunity to sneak away from civilization and enjoy the scenery of the Indian Ocean.
4. Visit an underwater restaurant
Underwater restaurants are a unique side of Maldives. Currently, you can dine in 5 of them. Another one in You & Me by Cocoon will be available very soon. So let's take a closer look.
Anantara Kihavah
The restaurant easily fits 8 tables. Its main feature is a wine-cellar – the only of its kind on Maldives. The variety of wine is absolutely amazing!
The resort itself is located in between Baa and Raa Atolls which is rather far from Male. If you don't have in mind visiting any of these resorts, the most preferable is to book a speedboat from Dharavandhoo .
The lunch will cost you $225 per person plus taxes. The menu is fixed and it's either Lobster Treasures or Asian Delights.
The dinner will cost you – $370 per person + taxes. It includes 3 course-dinner a-la-carte (wine included).
The lunch for the couple will cost you $800-1000 including the transfer from Dharavandhoo. The dinner will be a bit more expensive – $1200$-1400.
Conrad Maldives Rangali Island
This is probably the most famous one for its walls which are completely made of glass. However, it fits only 6 tables and many people consider it rather overestimated. Still, it's very beautiful!
The resort is located in North Alif Atoll. And the nearest islands are Maamigili, Dhigurah, and Dhangethi. It's easy to reach because it owns an airport.
Dining will cost you $320 per person + 22,5% tax. It includes 7 dishes.
The full price including the transfer from Maamigili is estimated at about $1300.
Ozen By Atmosphere
This resort was opened on July 15, 2016. The capacity of this restaurant allows placing 10 tables surrounded by comfortable armchairs. In this way it expects you to relax enjoying a glass of champagne
OZEN is located very close to Male, not far from Guraidhoo, with neighboring Fun Island Resort and Olhuveli Resort & Spa.
You can choose to dine out of 3 menus when each includes 7 various dishes.
The price is $360 per person with taxes and a transfer included.
Niyama
Subsix is more of a bar/club. It was completely reconstructed in 2015. This place has a very specific and interesting interior so you can choose to sit either at the bar or at standard tables.
The resort is located rather far, near Kudahuvadhoo. You can get there by speedboat or seaplane.
You'll find a wide variety of cocktails at a rather considerable price although you cannot refer to appetizers in the same vein.
It should be mentioned that only guests are allowed to dine at the restaurant.
Hurawalhi
The restaurant 5,8m was opened in November 2016. It resembles pretty much the restaurant at Conrad resort (mentioned above). The only difference is its size which is considerably larger. Although you can see 10 tables in the photo it is said to have 8 tables.
Hurawalhi is located in Lhaviany Atoll so you can reach it by seaplane.
Compared with the other undersea restaurants this one serves breakfast.
You can choose from two menus with 4 dishes each. The price is $150 per person. Taxes are included.
The dinner consists of 7 courses with no possibility to choose. Alcohol beverages are not included in the price which is $280 per person.
5. Swimming with mantas in Hanifaru Bay
Hanifaru Bay is a sea (marine) reserve in Baa Atoll under the protection of UNESCO. This is the only place where you can see up to 200 manta rays!
At the moment you can only do snorkeling. Diving is prohibited from 2012. And it does make sense because crowds of tourists come from the nearest islands. It happens that about 50 tourists may gather at one spot. It's located near the inhabited island Dharavandhoo.
The best time to visit is from May to November. It's better to pick the days when it's high tide and full moon. Then you'll be impressed with the number of mantas.
The excursion itself is around 40-50 minutes because it's not allowed to stay more at the reserve. Each group of 2-5 people is followed by a guide. You're not allowed to touch mantas.
The price of a trip ranges from $70 to $120 per person. The entrance fee, transfer and equipment are included.
6. Swimming with Whale Sharks
The whale shark is the biggest fish in the world. Its size ranges from 12-14 to 18 or even 20 meters! The average size of this fish on Maldives varies from 6 to 10 meters. These sharks move very slowly so that you can easily swim as close as you want. Don't worry these sharks are absolutely safe because they eat plankton.
It's prohibited to catch this fish since 1993.
These sharks mostly gather around the local islands of Dhigura and Maamigili or Sun Island and Holiday Island Resorts. There is a small chance but still, you may come across whale sharks in Addu City Atoll and Hanifaru Bay.
In most cases, they offer snorkeling trips instead of diving. That's because whale sharks are really hard to find. You might sail for hours before you'll be able to meet them. And the lucky ones would only meet like 2 or even 3 sharks! But that's the way it goes so you'll never know.
The price for a direct trip depends on your hotel. It's usually cheaper at hotels and guest houses and varies from $60 to $120 per person.
The best time when you can meet whale sharks as well as manta rays begins in May and ends in November.
7. Visit the resort and stay overnight in a water villa or visit a local island
Resort Visiting
About 140 resorts are opened for new guests (as of 2019). Most of them are located near the local islands where you can stay at a budget guest house or a hotel. It is true that not everyone can afford to spend even a night at a resort.
This trip includes transfer and entrance expenses. And in some cases, even lunch is included. Moreover, you're allowed to use everything they have on the island: restaurants, spa, swimming pools, a dive center, etc.
Usually, you're allowed to stay on the island from 10:00 till 15:00. When the resort is fully staffed you're not allowed to visit. Keep that in mind.
Local Island Visiting
An excursion to a local island is a true way to experience the everyday life of the native people of Maldives.
As usual, the resorts offer such trips to the local islands. Walking around the island don't forget to drop at a gift shop where you may buy a handmade staff of the local craftsmen.
Several islands like Thoddoo offer an opportunity to visit farms and to try freshly grown fruits and vegetables.
It should be mentioned that it's much cleaner on the local islands with the guesthouses than on those without. Budget tourism improves the imagery of the island.
8. Participate in Bodu Beru show
Boduberu is a traditional Maldivian dance accompanied by the drums. It's supposed that it was brought with the sailors in XI AC. Similar dances are received in this region but the Maldivians consider Bodu Beru as their native. The "Bodu Berdu" originates from the so-called drums— Bodu Berdu.
This is the only non-Muslim tradition preserved to this day.
Boduberu is performed in groups of 6-12. At least four of them are drummers and the others are dancers. Boduberu is a solely male dance. As usual, accompaniment includes: romance, heroic epic, and satire.
The musicians are mostly dressed in white shirts and traditional Maldivian maxi skirts.
This day they perform usually on Fridays on resorts as well as on local islands. As a rule, the performance lasts for several hours and the musicians always offer guests to join.
Another African feature of this performance is that rhythmic drumroll puts you in a state of a trance. That makes you feel laid back and relaxed that you easily lose the sense of time. They used to apply different herbs to reinforce the effect. Nowadays you can still come across this practice on some local islands.
9. See Glowing Plankton
This is rather a rare but fascinating phenomenon which you can observe in the moonlight which provokes the plankton to move.
On the web, you may find plenty of pictures and videos 2-5 years old. But since that time it's so hard to forecast where and when is the time to see the plankton. The temperature of the ocean is constantly changing and the plankton is very sensitive in relation to it.
However, there is a list of the resorts where this phenomenon was observed during various time of the year.
Kuredu Island Resort & Spa – 2 times in November and once in July and January.
Reethi Beach Resort – 3 times in October.
Fihalhohi – August/September
Vilamendhoo Island Resort & Spa – the end of September- the beginning of October.
Komandhoo Maldives Island Resort – July-October, February.
Kandolhu Maldives – January.
Adaaran Vaadhoo  – from November till March.
Filitheyo Island Resort – March.
Park Hayatt Maldives – May/June
Kuramathi – April.
Diamonds Athuruga Beach & Water Villas – September-October.
Adaaran Select Meedhupparu – January.
Angaga Island Resort – April.
Actually, you may see the glowing plankton at any month of the year, so good luck!
10. Try Surfing
Although the Maldives is not really so popular among surfers there are several spots where even a beginner may try to catch a wave.
The most approachable spots can be found near the local islands of Himmafushi, Huraa, and Thulusdhoo. These islands are very close to Male so you can get there by public ferry which runs every day.
The best time for surfing is the monsoon period which starts in May and continues till November. The waves are 1-3 meters high (depending on the spot).
Another surfing spots are located near the Guraidhoo (South Male Atoll).
The problem is that these spots are really crowded by surfers during the season. That's why some surfers head for unpopular Thaa or Laamu Atoll where you can enjoy the same quality surfing.
Despite the fact that Addu City Atoll is so far it's a unique place in the Maldives. You may see whale sharks and manta rays as well as you may do wreck diving and surf or visit one of the biggest resorts in Maldives. At the same time, all these attractions are located next to each other.
How much does everything cost?
What is the minimum budget required to visit each of these places? Let's make some approximate calculations. Providing that you live in a guest house and you would use a speedboat or public transportation.
1. Diving with hammerhead sharks. Accommodation on Thinadhoo 1 night + 2 dives + round trip transfer by speedboat. In total: $340-400, for two – $600-$700.
2. Wreck diving. Accommodation on Maafushi 1 night + 2 dives + round trip transfer the island by speedboat. In total: $170-220, $290-350 for two.
3. Visit to an uninhabited island. Accommodation on Rasdu 1 night + excursion to the uninhabited island + round trip transfer by speedboat. In total: $180-220, $230-300 for two.
4. Dinner at the underwater restaurant. The nearest to Male – OZEN by Atmosphere. Transfer + dinner will cost $720 for two.
5. Swim with manta rays in Hanifaru Bay. Accommodation in the guesthouse on Dharavandhoo 1 night + excursion to Hanifaru Bay + transfer by domestic flight In total: $360-400, for two – $660-700
6. Swim with whale sharks. Accommodation in the guest house on the island of Dhigurah 1 night + excursion + transfer by and speedboat to the island. In total: $440-500, for two $840-900.
7. Visit a local island /resort. A visit to the local island with bikini beach (Huraa) will cost you $5 by ferry (you can return only next morning) + 1 night stay on the island. In total: $80, for two – $90-100
8. Take part in Bodu Beru show. Accommodation in the guesthouse on Thodhoo 1 night + transfer by speedboat + show tickets. In total: $220-240, for two -$380-420.
9. See the glowing plankton. 1 night on the resort + transfer. In total: $700-2000 for two.
10. Try surfing. Accommodation in the guest house on Thulusdhoo + transfer by ferry + surf lesson. In total: $160-200, $240-300 for two.
So you need at least 14 days and about $ 5200 for two people.
Contact us to get a personal tour to the Maldives!
Read also:
Top 10 budget beach villas with pool in Maldives