The Water Villa with Pool in Maldives will leave you breathless. Enter the water through your own overwater staircase portal, taste the freedom of the sea and let your underwater chill-out area revitalize you. Leave the water through an air-conditioned private corridor leading to the villa. Discover the lavish interior, individual chrome-lit alcoves, outside shower, and swim into your own lagoon pool.
Here's a list of the most budget water villas with pool in the Maldives. Their locations, amenities, and prices vary, so do your homework to make sure you get what you're looking for.
Check Special Deals to Maldives 2022
Published rates for water villas with pool are WITHOUT available discounts. Each resort has its own discount system.
Please, note, the transfer is paid separately and is not included in the villa cost. Therefore, the total cost will increase. Also, given rates include the default meal plan, if you want to upgrade, the extra supplement will be added.
Price Range: $US 570 – $US 850 /night/villa with breakfast
Transfer: 40 minutes by seaplane
Discover a Garden of Eden at The Westin Maldives Miriandhoo Resort, an internationally award-winning resort set upon the UNESCO Biosphere Reserve in Baa Atoll. Your overwater journey begins as you board the seaplane or speedboat, and arrive at your ocean oasis.
A tropical landscape of The Westin Maldives with lush flora and crystal clear views surrounds you, whether in the romantic overwater villas or suites. Indulge in the highest level of service from the world-class staff, who will make your stay feel like paradise.
Each of these Water Villa with Pool villas offers a private plunge pool with unparalleled views of the Indian Ocean, a lounging area, a ceiling-mounted DVD player, and an iPod docking station. With steps from your bedroom and bathroom leading onto the terrace and sun deck, you'll never have to leave this luxurious retreat.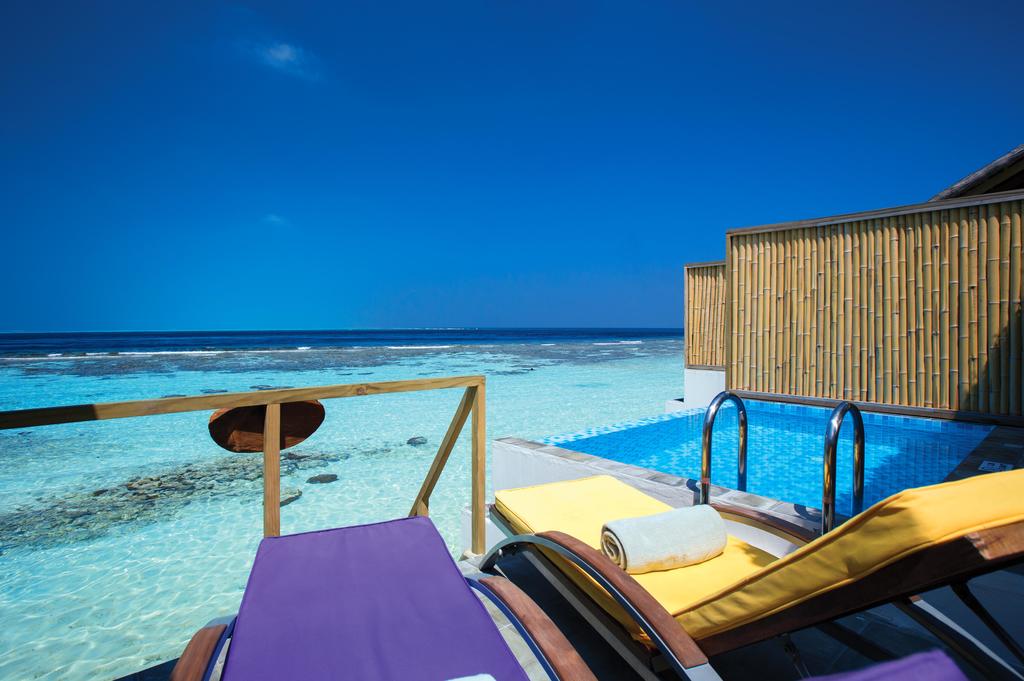 Price Range: $US 650 – $US 780 /night/villa on Island Plan Privileges (All-Inclusive)
Transfer: 40 minutes by speedboat
Helengeli Island is one of few islands in North Male Atoll with live coral reefs. This means that the house reef is not only spectacular, it also provides an ideal platform for scuba diving. The house reef is just 40m from the beach and there are a number of dive sites around the island, which are good for all skill levels.
This luxurious Oblu Nature Helengeli features an Island Plan™ that allows you to enjoy meals at all of the dining venues as well as beverages, snacks, and island wine. Enjoy unlimited use of the kayaks, stand-up paddleboards, snorkeling equipment, and a fully-equipped gym.
The Water Villas with Pool located over the lagoon offering spectacular sunset views are built half on land and the deck opens into the pure lagoon. Relax in your private terrace on your sun loungers as you soak in the serene views of the horizon.
Price Range: $US 560 – $US 670 /night/villa with breakfast
Transfer: 30 minutes by seaplane
The private island of The Standard, Maldives is a place where time moves at its own pace, and luxury comes in the form of uninhibited relaxation. The tropical island resort is an exotic patchwork of sand beaches and turquoise lagoons. It's also a sanctuary for sea turtles, dolphins and tropical fish. Here, there's ample opportunity to explore its pristine waters by jet-ski or kayak or dive with sharks.
Pamper yourself with resort spa treatments: choose from four different body rituals or experience a massage or facial by one of the in-house therapists. The all-day dining spot, Kula, features a wood fire pizza oven, lively bar, and Mediterranean cuisine. To enjoy "al fresco," dine with us at Guduguda and indulge in authentic Maldivian dishes over the turquoise lagoon on The Standard, Maldives.
The Water Villa with Pool has 110 square meters of living space with a king-size bed, one daybed, private pool and direct water access for swimming. Guests can enjoy stunning views from the private deck, where a plunge pool can be found for ultimate luxury.
Price Range: $US 680 – $US 850 /night/villa with breakfast
Transfer: 45 minutes by seaplane
Furaveri Maldives is a picture-perfect tropical island, with white sand beaches and clear, turquoise water. Located near the UNESCO biosphere reserve of Hanifaru Bay, this all-natural and un-reclaimed island is home to Furaveri Resort.
Spend your vacation right in the heart of nature, with immaculate beaches and swaying palm trees of Furaveri Maldives. This is an unspoiled paradise, surrounded by multiple activities and a fabulous underwater world. Live like a local at the Furaveri Spa and Wellness Village where you can exercise, relax or rejuvenate. At Furaveri you will experience the true beauty of harmony created by man and nature.
The private, secluded, and intimate Water Villa with Pool offer a sensational place to relax and unwind with your special someone in Furaveri Maldives. Complete with an open-air bathtub, hammock, and private pool suspended over the Indian Ocean, thevillas are where romance is found. Just imagine draped in warm sunlight, sipping a fresh cup of coffee as you watch the sunrise over an ocean that sparkles like thousands of diamonds.
Price Range: $US 930 – $US 1500 /night/villa with breakfast
Transfer: 20 minutes by speedboat
Grand Park Kodhipparu, Park Hotel Group's first Maldives luxury resort and your exclusive address in the islands of the Indian Ocean, is set to create an impression with its distinctive design, flawless service and sleek experience.
Venture and unwind at Grand Park Kodhipparu, Maldives, an island retreat of a resort. Perfect for both couples and families looking for the ultimate holiday in luxury, this one-island-one-resort destination offers over-water beach villas and suites, as well as water villas and stand-alone beach villas. A variety of dining venues are also at your disposal to give you a taste of exotic Maldivian cuisine.
Shut off the world and enjoy the ultimate luxury at these Maldives Water Villa with Pool, where contemporary bright interior hues integrated with woven textures mirror the enchanting beauty of the Maldivian culture. Enjoy the privacy and comfort of space, the perfect escape from the busy world outside.
Price Range: $US 650 – $US 920 /night/villa with breakfast
Transfer: 90 minutes by Domestic Flight + Speed boat
Mövenpick Resort Kuredhivaru Maldives, a tranquil haven of lush gardens and shimmering waters, is the premier Maldives resort. From the beach villa and ocean view accommodation to the exceptional Spa with deep tissue massage, you'll be pampered with luxury, service, and style at this secluded island paradise.
Let your senses guide you through the white-sand beaches and crystal clear blue waters, whilst the scents of tropical flowers and the sound of waves lull you into a state of peacefulness. Enjoy the beauty of the Indian Ocean from any of the tropical beaches or discover the abundance of marine life under its surface; snorkel with colorful fishes or dive with sharks and rays – it's up to you.
The Overwater Pool Villa is a little piece of heaven, set in the crown of island heaven. It offers spectacular lagoon views out of its own private plunge pool and glass-bottom floor. From here you can see tropical marine life swim below you as you relax in your private spa area. These villas offer a living space of 140 sqms and are ideal for those who wish to make the most of their island retreat.
Price Range: $US 640 – $US 820 /night/villa with All Inclusive
Transfer: 50 minutes by Domestic Flight + Speed boat
Kudafushi Resort & Spa offers the most serene, picture-perfect location in the Maldives. Located on its own private island of Kuda Huraa, this luxury resort is located in an infinite ocean of life – an underwater world where the color green meets the crystal clear water and white coral beach.
Kudafushi Resort and Spa is an island hideaway in the Maldives, where you can relax amidst pristine waters teeming with colorful tropical fish, sandy beaches abundant with crabs, or spot endangered sea turtles. While on a stay at Kudafushi you can choose from hundreds of vacation activities, indulge in an array of diverse and tantalizing cuisines fit only for the best, or feast on exotic drinks while listening to soft music overlooking the vast Indian Ocean in a harmonious atmosphere.
Indulge in the ultimate lagoon-style paradise of Kudafushi Resort and Spa with a Water Pool Villa. The best of both worlds, it offers your own private pool and unobstructed views of the lagoon beneath your overwater terrace.
Price Range: $US 800 – $US 1,200 /night/villa with breakfast
Transfer: 20 minutes by Speed boat
Step into paradise with amazing Maldives holidays. The powdery white sand and the glistening azure lagoon combine with elegant water villas to create an exclusive beach escape. Couples looking for an oasis of romance, or seeking their dream honeymoon can indulge in treatments at the island's signature spa, Vela Spa.
Velassaru Maldives restaurants offer undeniably breathtaking views of the ocean – day or night. Live cooking stations allow guests to enjoy a gourmet dining experience with a choice of Indian, Japanese and Western cuisines. Instead of one long lunch buffet line, you'll find several individual stations, each serving tantalizing gourmet fare for you to savor.
Velassaru Maldives is a collection of Water Villa with Pool in the South Male atolls. These are 80m2 Maldivian-style overwater bungalows floating in the tropical waters of a coral lagoon, featuring modern interiors with natural tones and panoramic views, private saltwater pools, living areas, and contemporary bathrooms.
Price Range: $US 810 – $US 1,150 /night/villa with All Inclusive
Transfer: 90 minutes by Domestic Flight + Speed boat
Hotel Riu Palace Maldivas is one of the best resorts in the Maldives. The hotel is located on a private island, making it a rather exclusive and private location. In the all-inclusive Hotel Riu Palace Maldivas, you will find restaurants with different cuisines and buffets, bars, and lounges where you can drink cocktails and liqueurs.
Riu Atoll Maldives serves buffet breakfast, lunch and dinner in the main restaurant with live cooking stations. The Japanese and fusion restaurants serve delicious à la carte dishes for dinner. You can also try the Italian restaurant and the steakhouse at Hotel Riu Atoll if you want to try something different. The various menus offer plenty of choices, so there is no need to stray from your favorite dish, or to fret about whether there will be anything on offer that you like.
Crystal clear views of the Indian Ocean await you in Water Villa with Pool. These private havens are equipped with all the comforts of home, including a refrigerator, minibar and air conditioning, giving you everything you need to rest easy while enjoying breathtaking views of the Indian Ocean.
Price Range: $US 790 – $US 1,875 /night/villa with Breakfast
Transfer: 30 minutes by Seaplane
Welcome to LUX South Ari, where the guest villas are on stilts in the sea, and the luxury is abundant. Encompassed by the dazzling beauty of the Indian Ocean, this once-in-a-lifetime resort offers a truly unforgettable island experience.
LUX South Ari* provides guests with the ultimate luxurious experience and service, which has seen us scoop up a whole host of awards. The culinary team have created a range of delicious vegan dishes for you to indulge in during your stay. From fine dining to a casual meal, each dish is served with the finest ingredients and prepared by master chefs from around the world.
Soak up the romance of the Indian Ocean at the Romantic Pool Water Villa. An outdoor deck with a hanging bird's nest swing brings you even closer to the water, and a flight of steps leads you from your private pool down to the turquoise lagoon. If you're looking for romance in its most extravagant form, this is it.
Read also:
Top budget beach villas with pool in Maldives
The best  budget water villas in Maldives
The list of all-inclusive resorts in Maldives
Top 10 luxury resorts in Maldives
How to choose a resort in Maldives?