2022-12-05 11:17:36
Thulusdhoo Island is located just 28 km north of Male. It is the capital of Kaafu Atoll. Approximately 1400 people live on the island. The size of Thulusdhoo is 700 x 400 meters.
The industrial sector on the island is quite diverse, it includes factories for drying tuna and sea cucumber (looks like black sausage) and workshops for the construction of boats. But the main attraction of the island is built in the 80s the only plant in the world of the Coca-Cola company, which uses desalinated seawater. Because of this, the island is sometimes called Coke's Island. In addition, the name of soda migrated to the nearest surf spot, which is called Coke's.
Quite a lot of islands have been expanding in this way in recent years due to rising sea levels. In addition, breakwaters and barrier blocks are built near the coast. Not quite aesthetically pleasing, but prevents the erosion of the coastal zone.
Check: Budget packages to local islands
Things to do in Thulusdhoo
Beach and house reef
The island has its own bikini beach, reserved specifically for tourists. The beach is small and fenced from the ocean with blocks of stones. In addition, the area of the island was extended by an artificial embankment on the east side, which is not yet built up.
There's actually a pretty decent reef just outside the boat entrance, and there's heaps of fish and beautiful coral.  If you're lucky, you might even be surrounded by dolphins who swim nearby the island.
Outside Thingiri snorkeling point is definitely for you. There you'll surely see sharks and manta rays and other bright and spectacular underwater flora and fauna.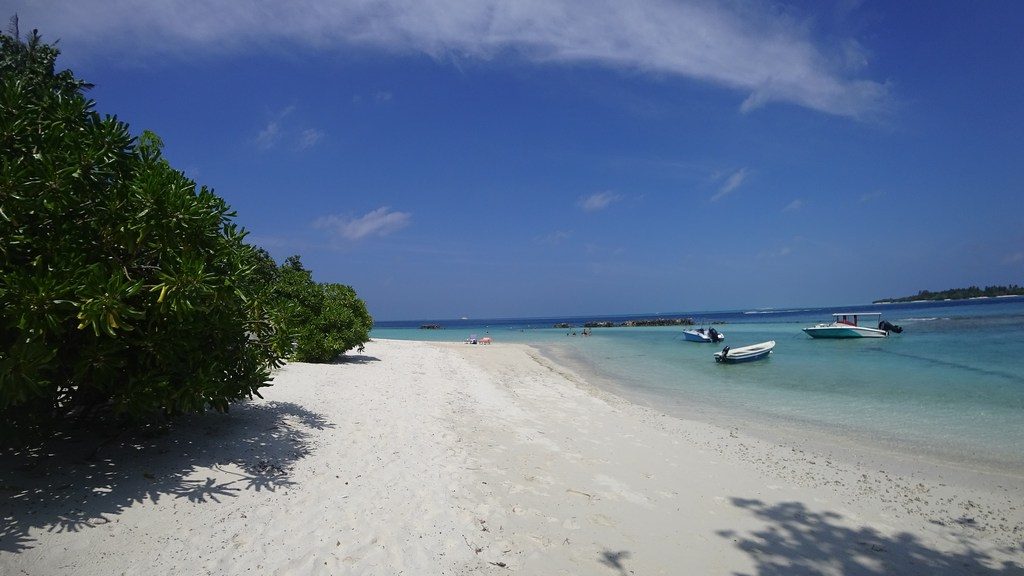 Local sports
The Maldivians are a very active nation; various sports events are often held there. Football and cricket are the most popular sports there. But I'd like to describe local games that are also in favor there.
Bashi is an entertaining game only for women (that's a Muslim country, but still). You're expected to kick a tennis ball with a racquet as hard as you can to the other side of the pitch, while your opponent is to catch it. Limb injures and hitting on ahead with a ball are the most widespread injures in this game, which shows how fearless the Maldivian women are.
When tournaments are held, such a dance is traditionally performed before a game.
Baibalaa is men's sports, presupposing tough contact, when one team's player is trying to get into a circle, to touch an opponent, and to leave the circle before he is caught and probably injured by his opponents. The tourists' participation in evening sports events is always welcomed and it provides you with an opportunity to have a good time with the locals.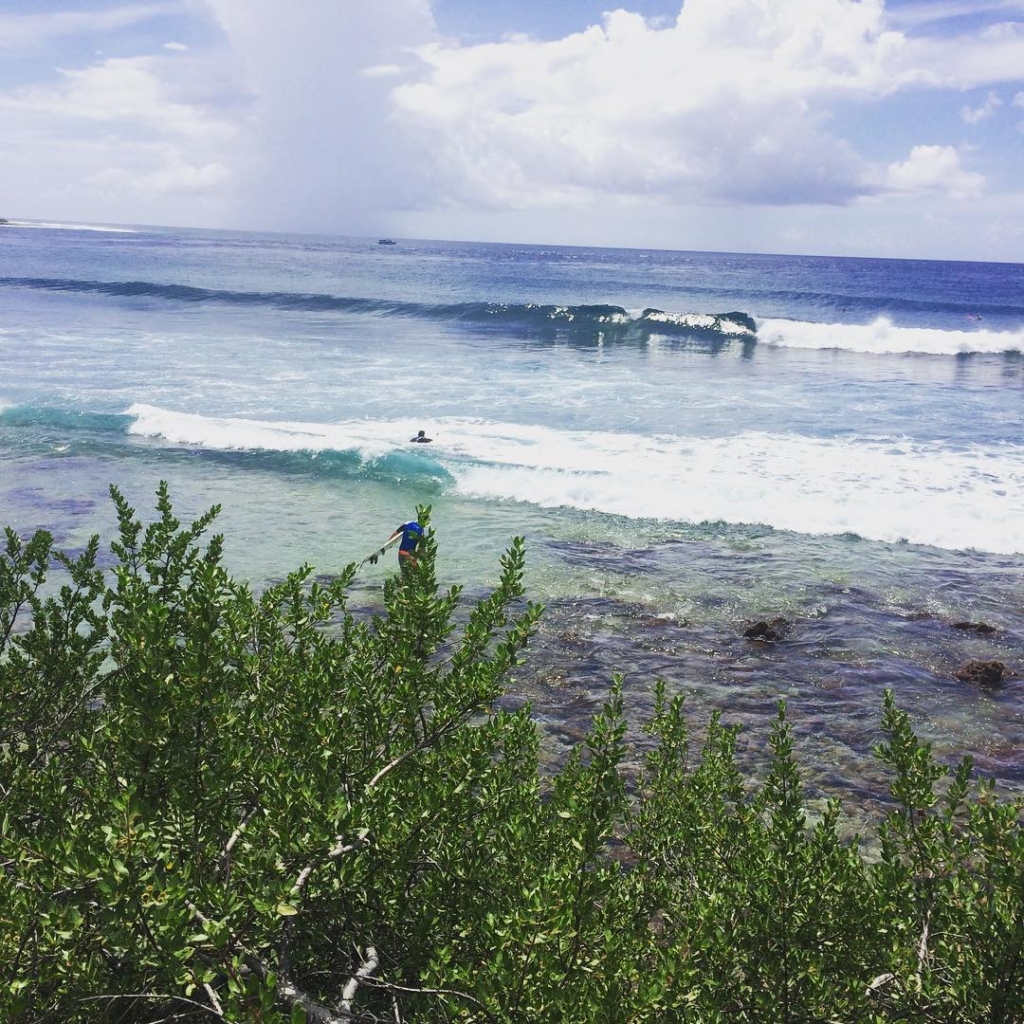 Surfing
When everyone thinks about the Maldives they usually imagine blue calm lagoons and sea – which in general is true – but the Maldives is also home to some coolest world-class surf too! Thulusdhoo Island is considered one of the best local island surfing spots in the Maldives.
And it's not for nothing. It was surfers who lay the foundations of local tourism on the island in the 70s.
Chicken's
Wave located in Villingilimathi Huraa uninhabited island, next to Thulusdhoo Island (on the other side of the channel). This wave holds swell size from 3ft to well over 10ft and provides rides up to 500m long. This is a long left-hand wave with 2 sections where you can easily get barrels on the last section of the wave. There used to be a chicken farm. It doesn't exist now, but the Chickens' name got stuck to it forever.
Coke's
Also close to the Island of Thulusdhoo, this is a right-handed wave recommended for intermediate surfers or experienced especially when the swell is big. The wave It is a hollow and tubular right-hander that. breaks over a shallow reef and is known as one of the best waves in the Maldives. The wave's name is due to the Coca-Cola factory nearby on the island of Thulusdhoo. Works best with winds from south and north-east.
Ninja's
Slow right-hander, good for beginners and long-boarders. Presumably named because it's one of the favorite waves of the Japanese surfers. Best conditions on W-NW winds with a moderate S swell. However, swells larger than 1m ruin it.
Sultan's
For those who want something a bit bigger and challenging this is the spot and it's certainly not one for beginners or low-end intermediates! Handling some solid size get prepared for some awesome tube rides. Breaking anywhere from 1.2 m up it really starts to come into its own at 3m+, however with this sizeable perfection often come the crowds and it's a favorite with surf charter boats in the area too.
Honky's
Located near Thaburudhoo island (near the same island as Sultans), some consider it the best wave of the Maldives, but maybe not as popular as Cokes and Chickens. When the conditions are met, it is a true World Class, that's for sure! It is a super long, left-hand wave that can double in the second section. It is a fast left at 1-2m and needs the right swell direction. Worth checking out if Sultans is crowded. It is an ideal spot for winter on North-East wind.
Sandbank visiting
You'll experience different sandbanks with fine white sand and crystal clear turquoise water. They look so beautiful that they seem to be unreal.
Asdu Sand Bank.  Stretch of sand that is 30 minutes from Thulusdhoo. It is also a kind of excursion that satisfies everyone as it allows you to stay on the white sand beach, bathe on a sandy bottom, and especially if you leave a few meters away you will find a coral reef that will take your breath.
Chikana Sand Bank. Another piece of sand to 20 minutes from the island. And' a fleeting paradise because you can only find with the highest peak of low tide. Here there is plenty of reefs to explore
Infinity Sand Bank. The last nearby sandbank to Thulusdhoo. With very striking colors and so-called because with the low tide overlooking the impression of being endless for its long narrow shape.
Snorkeling safari
There are a lot of nearby spots for snorkeling to let you see amazing coral gardens, pristine underwater life with colorful fishes, sharks, turtles, and rays.
Coral garden. The right place for snorkelers. Here you will have the opportunity to swim with the turtles and the nemo-fish. Coral Garden a coral garden in the open sea where the seafloor drops to 2 m deep and will give you the chance to see all kinds of fish and swim in the company of turtles.
Shark point. It is about 30-minute boat ride from our island is a point where you can swim and watch closely only with masks and fins the shark safely.
Night fishing
The fishing trip on a Dhoni (local fishing boat) with experienced local fishermen from the island is the most authentic way to join this experience.
You will be fascinated by the colorful sunrise, the wide ocean, the daily work of the fisherman and you will be enthusiastic to discover how they catch big sailfish.
You can ask to cook catch fish as well.
Strict rules against poaching helped these atolls to preserve the abundance of sea life. On Thulusdhoo there are boats, which are constructed for catching not only large marlines, sailfish, and yellowfin tuna, but also for smaller species, such as crevalles, barracudas, and runners.
Other activities
Dolphin cruise. From the beach, you can watch the dolphins passing by in front of the island. But it is even more fascinating to see them closer.
Scuba diving. For beginners and for experienced divers, Thulusdhoo gives you the possibility to enjoy amazing diving. There is only one dive center in Thulusdhoo.
Resort day visit. Wanna compare island resorts and local islands? Join a day trip to nearby Club Med Kaani or Cinnamon Dhonveli and feel true luxury. The cost of visiting the first one is $120 per person (8.00 – 17.00), the second one – $130. What is included? The tourists are offered a wide range of dishes, unlimited access to alcohol bars, shows, and cultural events.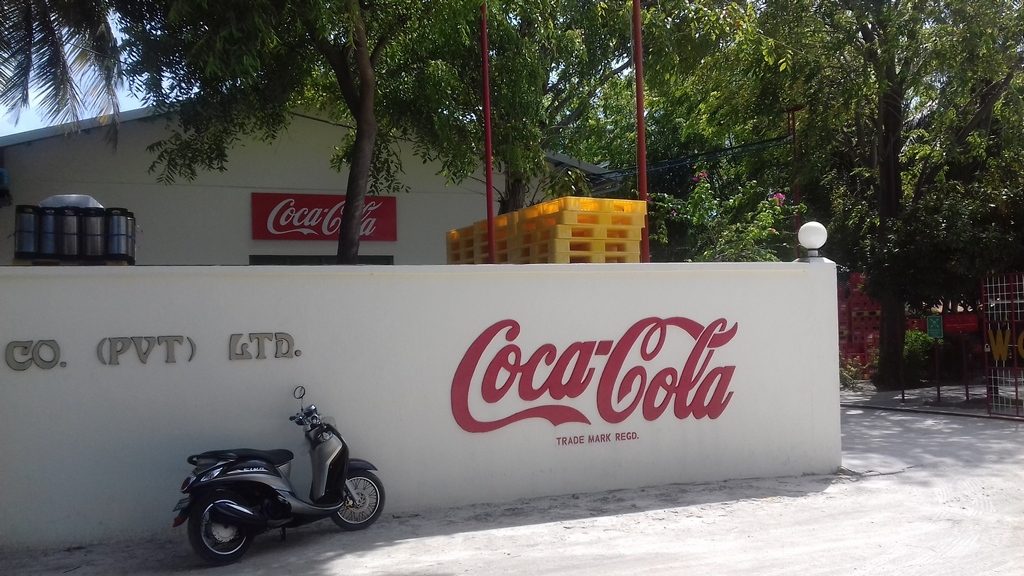 Thulusdhoo Infrastructure
There are around 20 guest houses and hotels on the island, and each of them is eager to do everything possible to make your holiday unforgettable. There are several grocery and hardware stores, where you can buy not only fresh fruit or dried tuna but also beach gear.
Check out the industry including fish drying factories, boat-building yards, sea cucumber processing, the Maldives sole Coca-Cola factory, and the agricultural section. You can visit the school, the powerhouse, and learn about the island's history.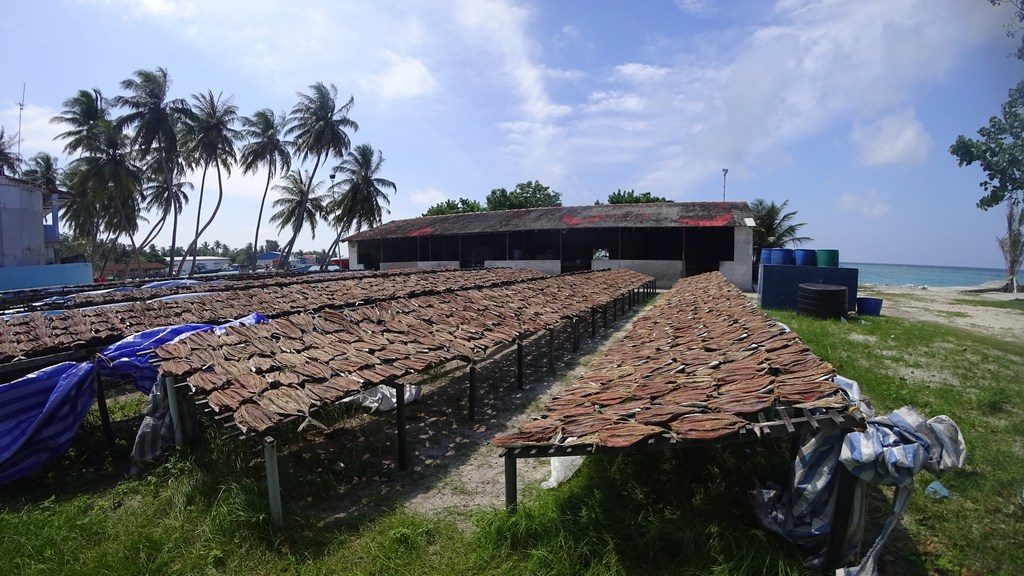 Where to eat
The food is represented by four small but cozy restaurants.  Nevertheless, still, try everything and decide for yourself where it is better. An average bill is approximately $10-18 per two persons.
Local restaurants short overview:
Short Break Cafe. Amazing food, no matter what you order. The service was not as slow as it should be, but the food was so yummy, with good portions and fresh.
Byyoni. A very local place with Maldivian food. Plenty to choose from the menu, however, the curry is rather watery to my liking. Great value for money
Contagious Pizza Cafe' Five. Very basic pizza, but it is better than in other places on the island where they make it from semi-finished products.
Santa Rosa Restaurant. The place looks nice for Thulusdhoo standards. The menu has good variety, and the prices are reasonable. Orders are taken quite quickly, but the waiting time is too much.
Transfer
Scheduled speedboat
Speedboat transfer from the airport to Thulusdhoo takes only 25 minutes. Price is 25$ per way per person.
Runs daily except Friday
Male-Thulusdhoo: 11:00, 17:00, 22:00 (on Friday 9:00, 17:00, 22:00)
Thulusdhoo-Male: 8:00, 14:30, 18:00 (on Friday 7:30, 14:30, 18:00)
Local ferry
Transfer by local ferry to Thulusdhoo
From Vilingili terminal at 14:30
From Thulusdhoo at 7:30
Daily except for Friday
Contact us to get a personal tour to the Maldives!
Read also: