Hangnaameedhoo is located 72 km western from Male in Alif Dhaal Atoll. The island size is 980x230m and the population is only 500 people. Hangnaameedhoo is a tiny charming island where you can experience the real Maldives life. Being on an island you'll are lucky to get a chance to see Maldivians' true culture and traditions by yourself.
Check our Budget packages to local islands
Things to do in Hangnaameedhoo
Bikini beach and house reef
The bikini beach is just 5 minutes walking distance from a hotel. The beach is equipped with chairs, loungers, and hammocks to relax which is really nice. Here you can swim, sunbathe and snorkel in a bikini. The area is fenced, but you can go outside without any problem. In general, the beach size is almost the same as in Omadhoo – another inhabited island in this area.
The house reef is long and you can snorkel either in the west reef or in the east reef. The rich diversity of corals, fish, sharks, and rays can be found out there.
Sandbank visiting
Whenever you feel like getting away from it all and having a relaxing time on your own, hop on our boat and let us take you to the private sandbank the experience is yours for a two-four hours slot. This bare sandy bank with just a few bushes is a famous spot among the tourist staying in luxury resorts. Don't forget your snorkeling equipment to see an amazing underworld! Sun umbrellas, towels, and water are included.
Picnic island trip
Spend your day with your loved ones on an uninhabited small island. These islands are away from the local islands thus preserving its natural beauty. This is a half or full-day excursion, so lunch, water, and towel are included. There is a long reef nearby to explore as well.
Dream Island
This is one of the most beautiful uninhabited islands in this area. Travel time is around 30 mins. The uninhabited island where, for a day, you may feel like Robinson Crusoe. The house reef is full of colorful fishes, rays, and sharks.
What to choose: Picnic island trip, Sandbank, or Dream Island. The price for these trips varies from $US 60 to 85 per person. As for me, I'd like to check each of them without spending too much. So the only option is the full-day trip that includes all these three islands.
Safari Snorkeling
Take a small boat trip to snorkel in one of the most beautiful reefs around the region. Swim with the fishes of so many different kinds. The excursion takes about an hour and a half. And you will visit at least 2 reefs.
Manta ray snorkeling. Manta Rays are inquisitive by nature and if you can control your excitement and remain still and not splash around, the rays will swim around you with tremendous elegance. The spot is rather far from Hangnaameedhoo, so the trip costs $US 150 per person. If you want to see mantas, you should go to Ukulhas, Dhangethi or Dharavandhoo.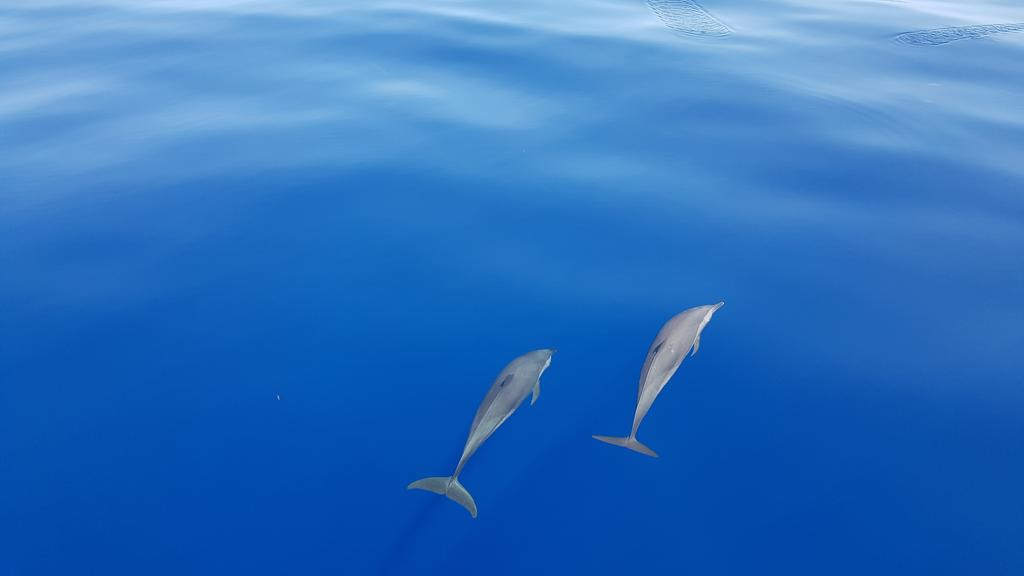 Dolphin Cruise
Can there be a more fascinating and beautiful experience during your tropical holiday than watching dozens of playful dolphins in the light of the setting Sun? Take a great shot of those graceful creatures while they are spinning or doing other acrobatics. This activity is not cheap as well – $US 100 per person. It's because you have to take a 30-40 min trip to a possible spot location (possible because they are wild animals and swim wherever they like).
Sunset fishing
A line and some bait are all you need to participate in the sunset fishing experience. Catch one if you can, and the hotel chef will be delighted to prepare it to your liking. The excursion takes about two hours by dhoni. Even if you are not lucky to catch a fish, the hotel chef will cook some they have.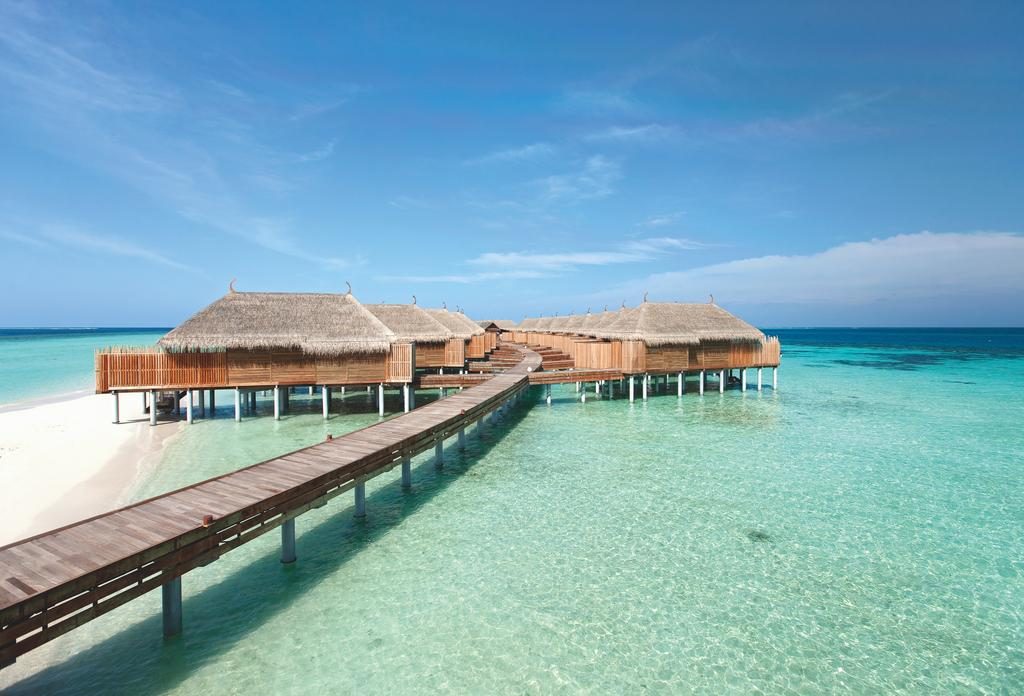 Other activities
Whale shark trip. Swimming alongside the largest fish in the sea is one of the ultimate bucket-list experiences. But the spot is near Sun Island Resort and inhabited island Dhigurah. So the trip will take a full day and cost $US 170 per person (in Dhigurah it's $US 75 per person).
Resort day visit. A few nearby resorts are open for a day visit. Package includes transfer, lunch, and resort facilities (pool, towel, entrance to bars). Price starts from $US 120 per person.
Hangnaameedhoo Infrastructure
There are two schools, a Magistrate court, a health center 24/7, a pharmacy, a dockyard, a playground, shops & groceries, souvenir shops, cafes, police, a mosque, and a football field on the island. Walking on the island you will find local shops to buy some stuff and local craft shops to buy genuine "Made in the Maldives" wood carving and lacquer works. One dive center is located on Hangnaameedhoo.
Where to eat
Continental breakfast (sausages, eggs, toast, butter, cheese, jam, chocolate spread, national Maldivian dish – Mas Huni Roshi is fresh roses with tuna, coconut, and onion stuffing, very tasty, some fruit, water and drink.
For lunch and dinner, you will be offered local curry, pasta, rice with vegetables.
If you'd like to try local restaurants, check the below list.
Pilot whale cafe'. Various types of food are available here. take some time to make your order, so have to wait with a little bit of patience.
Cafe El Clasico. A very local style place. Good price and tasty food, but it takes some time to prepare.
Two Leaf Garden Restaurant. Really delicious food and quick service.
Food Place. Tea/coffee place with local snacks.
To be honest, I don't know why reviews for cafes on this island are so bad. From my experience the vast majority of local restaurants serve nice food, but with slow service. I assume, guests expect high-quality service like on a luxury resort, but it's a local island. Don't expect high standards, just enjoy your meal and the local atmosphere.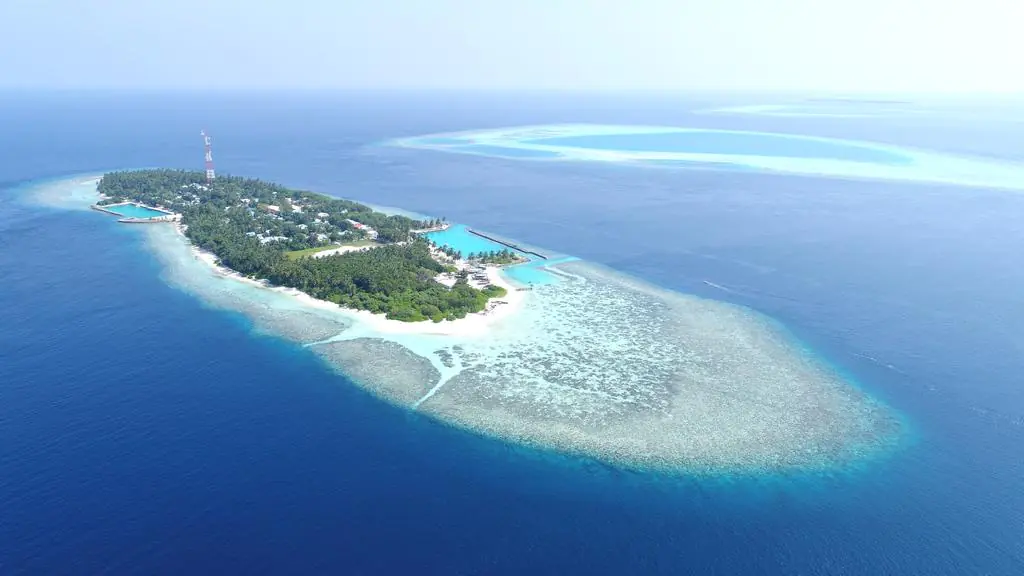 Transfer to Hangnaameedhoo
Scheduled speedboat
Male – Hangnaameedhoo. Sunday to Saturday at 15:00 or 16:00h. Friday at 9:00 am. Thursday at 11:00, 16:00
Hangnaameedhoo – Male. Sunday to Friday at 07:00 am, Thursday & Saturday at 10:40 am
Price is $US 35 per way per person.
Duration is 1 hr 20 mins
Public Ferry
Male' – Hangnaameedhoo. Saturday, Monday, Wednesday at 09:00 am
Hangnaameedhoo – Male. Sunday, Tuesday, Thursday at 09:00 am
Duration is 5 hrs. Subjected to weather condition and depend on schedule speed boat transfer timing
Price is $US 10 per way per person
Contact us to get a personal tour to the Maldives!
Read also:
Top 16 things to do in Maldives