2023-01-01 15:58:48
The island of Fulhadhoo is administratively a part of Baa Atoll, but geographically separated from it. The distance to Male is around 100 km. Next to it are 2 more inhabited islands: Fehendhoo and Goidho. The remoteness of this place from the main tourist islands makes these places truly wild.
Things to do in Fulhadhoo
Beach and house reef
The beach is the pearl of the island. The length is nearly 1 km! For inhabited islands – this is truly unique! Depth increases slightly with distance from the beach. The edge of the house reef is far enough – about 800m.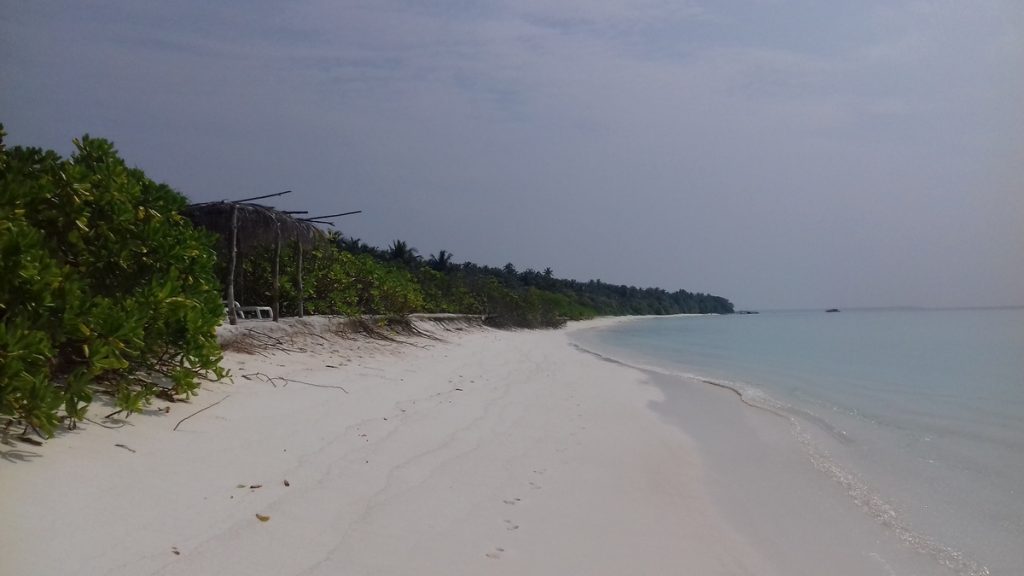 The beach is equipped with several places with sunbeds, where you can comfortably lay. Although they belong to guest houses, any tourist can use them regardless of the hotel he lives in.
In the western part of the island, there is a rather beautiful house reef, which is best explored during high tide. But do not forget about the current, which in this place can be quite strong. Behind the reef, 50m stretch one of its sandbanks, of which there are 5 in these places (plus a private uninhabited island, which can only be visited by obtaining permission and paying some fee).
Eastern beach is mostly for locals. Just around 50-60 years ago, locals were walking to Goidhoo to get a transfer to another atoll or Male as it was the only way.
Fulhadhoo is perfect for guests who are looking for a peaceful getaway and joy in nature. The island is also suitable for families with children, as one of its lagoons forms a tiny natural pool with shallow water, as warm as the Maldivian weather.
Sandbank visiting
There are a lot of easy-to-access sandbanks nearby. Local hotels provide full-day trip inclusive sandbank visiting, guided snorkeling, lunch, and water.
The other option is a picnic island visiting with lunch and snorkeling as well.
Safari snorkeling
Fulhadhoo is surrounded by the most amazing display of vibrant corals and fish in the area and the famous Coral reef garden will take your breath away.
You can take a manta trip and enjoy as some of nature's most elegant creatures glide around you in the water, twisting and turning with the currents, providing a truly fascinating display.
There are turtles and rays in the lagoon.
Night fishing
Renowned for being one of the best fishing destinations in the world, the Maldives is home to an abundance of pelagic fish such as tuna, dorado, wahoo, barracuda, and swordfish.
Other activities
Water sports. Available water sports: canoe, water skiing, fun tube rides, wakeboarding, jet ski tour, banana boat, kayaking, glass bottom boat, stand up paddle.
Dolphin cruise. Get a chance to witness one of the most beautiful and intelligent creatures in the ocean
Fulhadhoo Infrastructure
About 100-150 inhabitants live on the island. There is no harbor for speedboats and big boats, so if the locals need to go somewhere, they will go to a small dingy to Goidhoo, and there will take a speedboat to Male.
Some local shops, football ground, a mosque, two local cafes, a dive center.
At Fulhadhoo, only 4 guest houses are currently open, so even in high season there are very few tourists and there is enough space for everyone. That can't be said about Thoddoo or Rasdhoo, wherein a season it is really crowded.
If we talk about garbage, then it is, but a little, mostly in the jungle and on the eastern part of the island.
Thus, this island is perfect for white beach lowers, privacy and pristine beauty of the wild Maldives.
Hurry up, after just a couple of years everything will be changed.
There is only one local cafe where you can try local cousins. That's why the only option for having a meal is your hotel.
Fulhadhoo Vacation Package
Accommodation at Village Hideaways, breakfast and dinner, picnic island trip, manta ray snorkeling, transfer by scheduled speedboat Airport-Fuladhoo and Fuladhoo-Airport, all taxes and charges. Total (for 2 adults):
Garden View Room
| Nights | 1 Apr – 1 Dec | 2 Dec – 30 Mar |
| --- | --- | --- |
| 4 nights | 1,160 USD | 1,220 USD |
| 5 nights | 1,325 USD | 1,295 USD |
| 6 nights | 1,490 USD | 1,580 USD |
| 7 nights | 1,655 USD | 1,760 USD |
Seaview Room
| Nights | 1 Apr – 1 Dec | 2 Dec – 30 Mar |
| --- | --- | --- |
| 4 nights | 1,240 USD | 1,320 USD |
| 5 nights | 1,425 USD | 1,525 USD |
| 6 nights | 1,610 USD | 1,730 USD |
| 7 nights | 1,795 USD | 1,935 USD |
SEND REQUEST
Transfer
Speedboat runs daily except Friday to Goidho, from it by dingi to Fulhadoo.
Male-Fulhadhoo at 10:00
Fulhadhoo-Male at 13:30
Cost – $ 65 per person one way.
Another option is through Dharavandhoo, but only on a private boat, the cost is $ 200 + the flight ticket.
Contact us to get a personal tour to the Maldives!
Read also:
Top 16 things to do in Maldives
How to choose a local island in Maldives?