Fehendhoo is a local island in the Horsburgh atoll or Goifulhafehendhoo atoll with a population of 100 people only. The size is 2,3km x 200m. The distance to Male is around 100 km. The majority of island territory is occupated by jungles.
There are two other local islands are located nearby: Goidhoo and Fulhadhoo.
Check: Budget tours to local islands
Things-to-do on Fehendhoo
Bikini beach and house reef
The shore area with white sand in Fehendhoo is extremely long, but the bikini area is on the western part and you have to take a walk around 1,5 km from the village. But it will be a nice journey through wild Maldives jungles.
Sunbeds, hammocks, and umbrellas can be found on a beach.
Fehendhoo is a perfect island for those who are looking for a high level of privacy.
The house reef is on the opposite side of bikini beach. But current can be strong out there, so need to be careful. You can find colorful fish and corals, maybe even some rays and sharks.
Activities on Fehendhoo
Kayaking
The lagoon is perfect for a kayak as you can visit nearby sandbanks, picnic islands, inhabited islands. Sometimes, in the lagoon, you can see turtles and manta rays!
Snorkeling safari
There are a lot of spots for snorkeling inside and outside the lagoon. During the trip, you will able to visit turtle spots, manta ray spots, and others. Due to the low number of tourists in this area, you will be the only one in many places.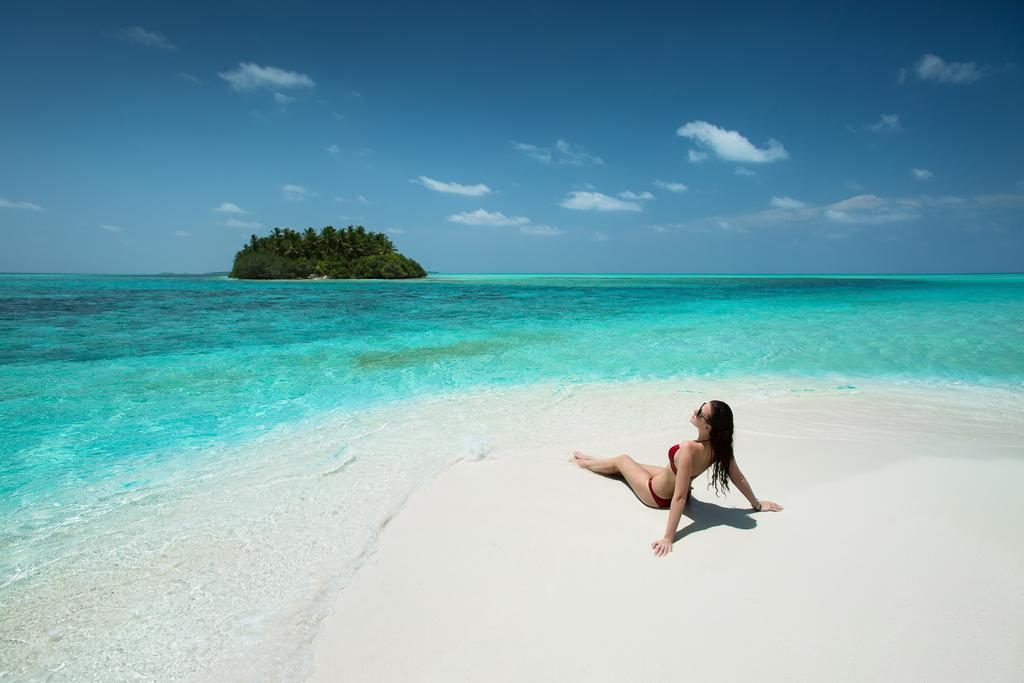 Night fishing
You can experience the most spectacular views in the morning and evening by the sunset while fishing Red Snapper and other types of fish. Your catch will be cooked at the hotel.
Water sports
The only dive and water sports center in Atoll Aqua Blue is located on Fehendhoo. They provide a wide range of water sports such as banana ride, jet ski, SUP, Kayak. Scuba diving is possible as well, but prices are high.
Fehendhoo Infrastructure
The village is very small and the island doesn't have a normal harbor like other local islands. Meanwhile, there are 5 guest houses, a football ground, some local shops, a mosque, two local restaurants. In these restaurants, the food is mainly for locals, including traditional snacks, so outside the hotel, it is difficult to find a place to eat.
Maaka Garden Cafe. Good location right in the center of the village, a short distance to the harbor. Beautiful restaurant with lots of tables and seating.
Great food, friendly staff, and owner.
Magic Paradise Garden. Great food and super friendly owner.
Where to stay on Fehendhoo
There are a lot of places to stay, but I advise Sama Garden, and that's why.
– One of the first hotels on Fehendhoo;
– Super friendly staff;
– #1 guest house in Fehendhoo based on Tripadvisor reviews;
– Amazing in-house chef that can cook a great variety of local and continental cuisine;
– Unlimited coffee and tea;
– Family-friendly rooms;
– Affordable room prices
– Free Airport meet and greet service;
Transfer to Fehendhoo
There is no direct transfer between Fehendhoo and Male, only through Goidhoo.
Scheduled speedboat
– Male-Fehendhoo, daily except Friday at 13:00.
– Fehendhoo-Male, daily except Friday at 8:30 am
Duration is 2 hrs. Price is 75 USD per way per person
Domestic flight + private speedboat
30-minute Domestic flight from Velana International Airport (MLE) to Dharavandhoo Airport (DRV) and connect to a 40-minute speedboat transfer to Fehendhoo.
The domestic flight operates 5-7 times per day, price is $US 100 per person per way
A private speedboat from $US 70 per person, min 2 pax is required.
Private speedboat
Private speedboat transfers directly from the Velana International Airport to Fehendhoo Rate – One Way Transfer USD 1000.00 per trip – 2 Hrs.
Contact us to get a personal tour to the Maldives!
Read also:
Top 16 things to do in Maldives