2022-12-02 09:36:25
Dhigurah is located 96 km southeast of Male in southern Ari Atoll. The length of the island is almost 4 km, the width (in the widest part) is 300 m. The island narrows in a southward direction and ends with a sandbank. You can go to the neighboring resort LUX * Maldives.
In the local language, Dhivehi, the name of the island can be directly translated into 'Long Island' and has consequently the longest beach of the atoll (and in one of the longest in Maldives). Its surrounding waters are known to be a famous whale shark area.
Check: Budget tours to local islands
A huge lagoon can be found protecting the west side of the island, which is one of the more reliable places to see manta rays in this area, particularly in the southwest monsoon.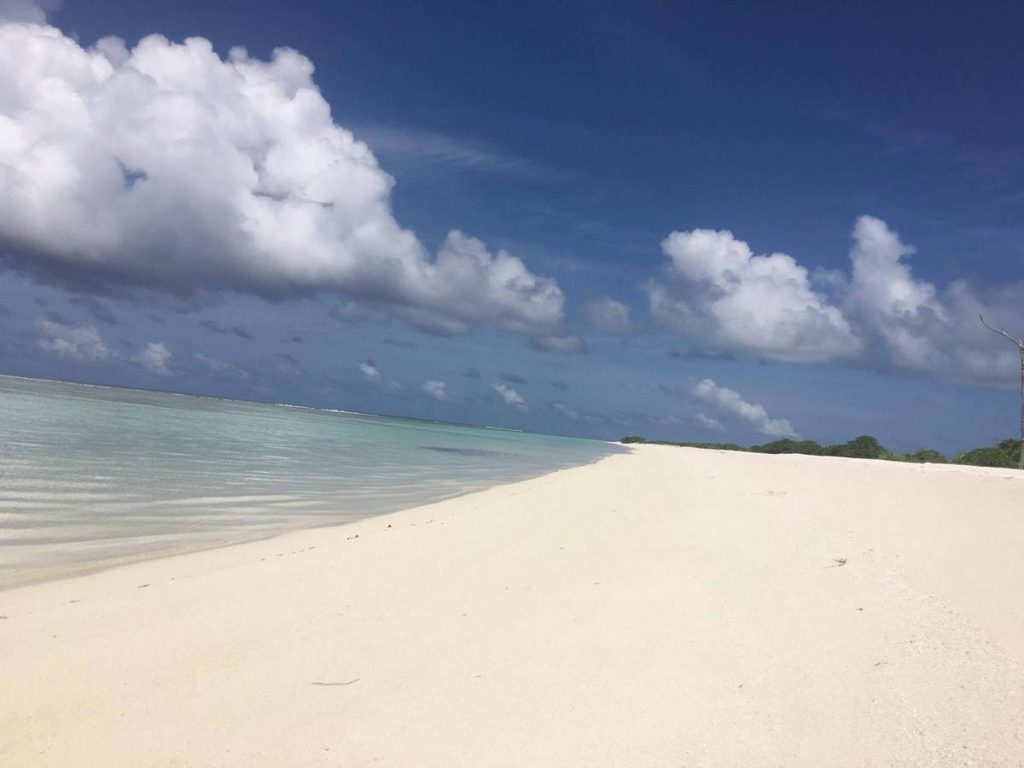 Things to do in Dhigurah
Beach and house reef
The entire western part of the island is occupied by the beach. However, the part of the beach opposite the hotels is full of dead coral on the shore. You can walk there for sure, but not barefoot. Therefore, you need to go much further.
The bottom along the beach is sandy and comfortable for swimming. Great for children. On the southern edge of the beach is a road that runs through the jungle. The whole way is about 3 km. If you wish, you can go along the beach, but at high tide, it will be not so easy. The island ends with a long sandbank that leads to the neighboring island of LUX South Ari. There you will find a sign warning you to ban visits to this resort.
The places there are very picturesque and very few people go there. The highest level of privacy will be provided!
House reef is located on the opposite side of the island. You should swim on the edge because there is a chance to see whale sharks and manta rays. However, due to safety reasons, it's better to do this in fins and not alone.
Whale Shark Safari near Dhigurah
If, however, you still could not see whale sharks on the house reef, then it is better to go to safari near Sun Island – the place where the chance to see this fish is much higher. Whale sharks in the Maldives, if we compare to Cebu in the Philippines, are not artificially fed to attract. Therefore, no one will give you a 100% guarantee that today you will see them. Usually, you can see 1-2 sharks during the safari, which usually lasts 2-3 hours. Since the place is very popular and, in fact, the only available, it attracts a lot of tourists from both neighboring resorts and other atolls.
Once somebody sees a shark, the boat on the radio station with each other and within 5-10 minutes everyone already knows where it was found. Therefore, you need to be ready and, if possible, immediately jump into the water because they swim quickly and can go to the bottom, where they will not be caught up.
Night fishing
For centuries, the Maldives was primarily a nation of fishermen. It is so entwined in the lives of Maldivians that there are celebrations when a good catch is caught and complaints when fish is scarce at your dinner tables.
To experience the satisfaction of catching and cooking your own fish, a night fishing trip (offered by the hotel) is the way to go. You leave before the sunset to find a good spot near a reef. The boat crew will show you how to use the lines, hooks, and sinkers. Later, you will be provided by BBQ dinner. Trip lasts 1,5-2 hrs.
Manta ray snorkeling near Dhigurah
The mantas that swim around Dhigurah are 'reef mantas'. Although smaller than the oceanic mantas, the reef mantas are still pretty big, growing to an average wingspan of 3-3.5 m. The season lasts from May till Nov.
Picnic on the Dhigurah sandbank
Escape the island and enjoy the serenity and solitude of a sandbank for a half or full-day. Day trips are arranged by the hotel with BBQ to the sandbank which has pleasant walking tracks and is well vegetated. The white sandy beaches are perfect, with a beautiful lagoon for a swim in the crystal clear water.
You can even walk to LUX South Ari Resort!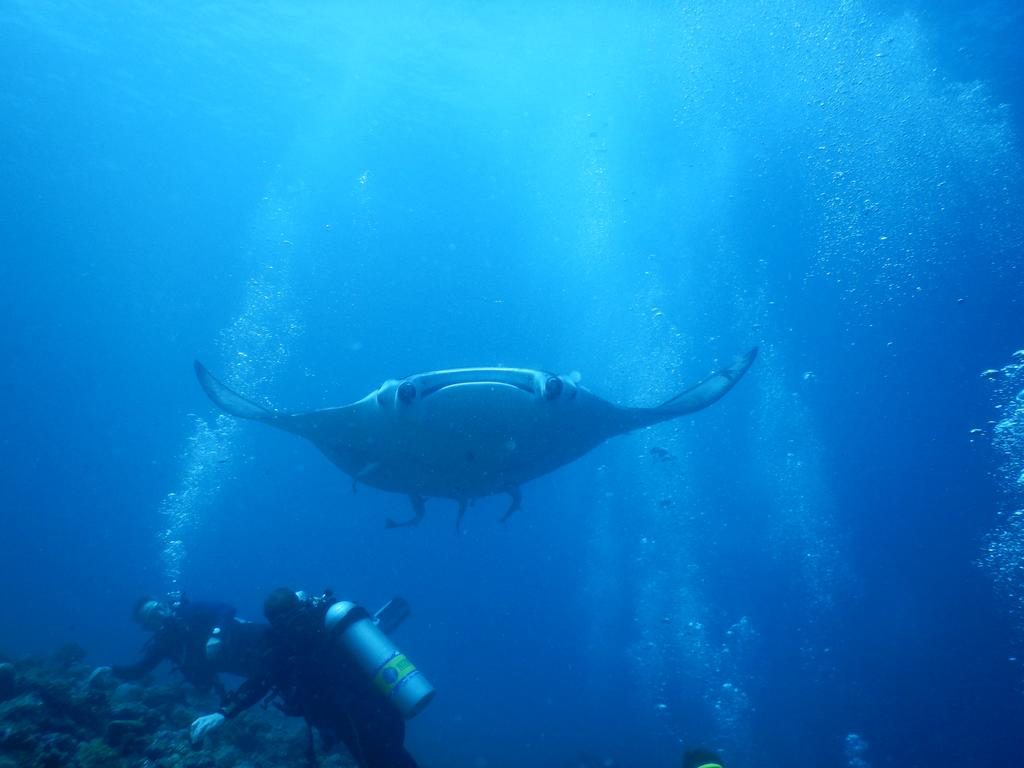 Scuba diving near Dhigurah
Dhigurah is one of the destinations that offer good diving conditions and opportunities for all levels.
The dive boat (or "Dhoni"), with a rooftop tanning deck, is fully equipped for a full day of diving. It is possible to hop on board to join for one, two or even three dives and the boat goes out every day!
There are over 30 dive sites that offer a great variety of corals, schools of fish, rays, turtles, coral formation and the largest fish on the planet – whale shark!
Kuda Rah Thila, Broken Rock, Manta Point and Maamigili Beru are among the most popular dive sites located close to Dhigurah.
Kuda Rah Thila
Current: Can be strong
Life: Rich diversity
Visibility: up to 30 m
Best dive period: December to April
It's a marine protected reef since 1995 and is one of the most famous reefs in Maldives. Only 10 mins from Dhigurah and a very exciting dive with thousands of blue stripe snappers often being hunted by sharks, tunas, giant trevallies, and jacks. Some very beautiful soft corals with a large swim thru at one end. Kudarah Thila is made of the main reef that has shallower tops on each side, and a tunnel crossing the deeper coral ridge on its western side. As the site is very famous, there might already be divers here when you arrive.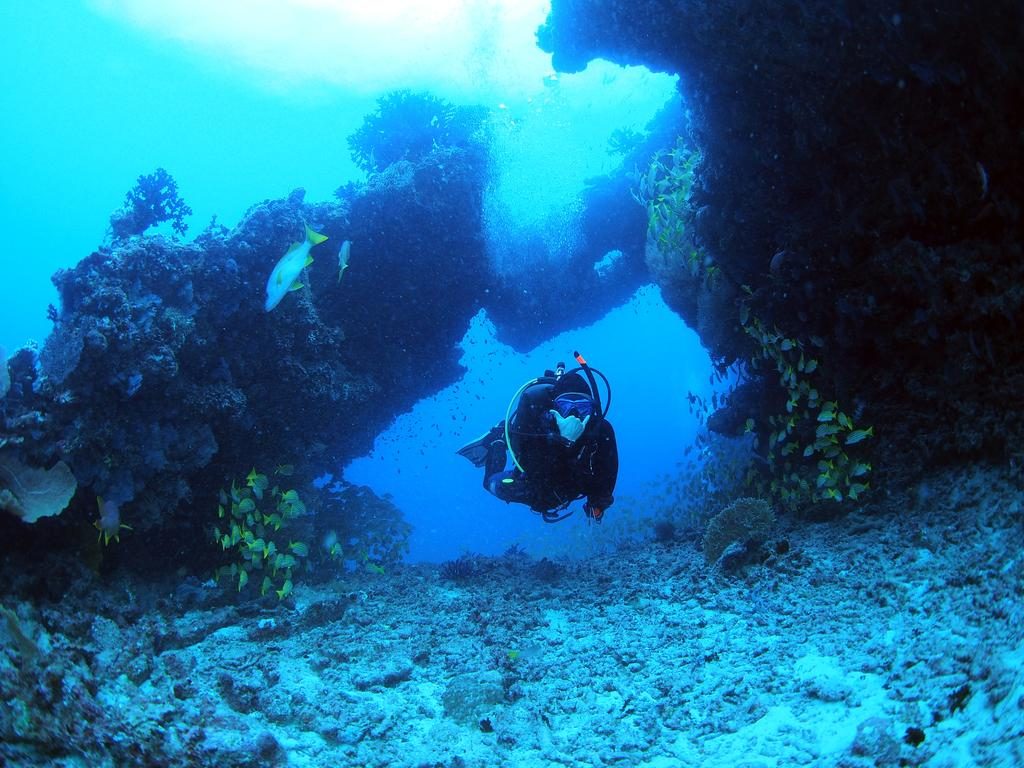 Broken Rock
Current: Can be strong
Life: Fan corals, napoleon wrasse, turtles, scorpionfish, moray eels, and soft coral
Visibility: up to 30 m
Best dive period: December to April
Broken Rock is one of the most well-known dive sites in the South Ari Atoll. It is a canyon in an oval-shaped coral reef 50m long and 2m wide. The reef was cracked in two areas by water streams and has a large crevice in the very center that formed a tunnel. The bottom of the reef is covered with predominantly soft corals, while two beautiful coral blocks are at 25-30m depth on the north side of the reef.
5 rocks
Current: Can be strong
Life: Fan corals, napoleon wrasse, turtles, scorpionfish, moray eels, and soft coral
Visibility: up to 30 m
Best dive period: December to April
It's also known as Reethi Thila is a great dive with five large blocks with canyons in between them. It is known for large barracudas, grey reef sharks, anemones, as well as eagle rays, and surgeonfish following you to the surface. Beautiful fan corals and soft corals form fields around the base of the thila can be found in the cracks and overhangs.
Maamigili Beru
Current: Can be strong
Life: Moray eels, lionfish and nudibranchs, eagle rays, Mobula mantas and whale sharks
Visibility: up to 25 m
Best dive period: December to April
Maamigili Beru is an outer reef of the local island Maamigili. The top reef starts at 7 m and is dominated by hard coral formations. You will see a great variety of moray eels, lionfish and nudibranchs. Eagle rays and mobula mantas are also common here. During some time of the year, whale sharks can also be seen cruising along the reef.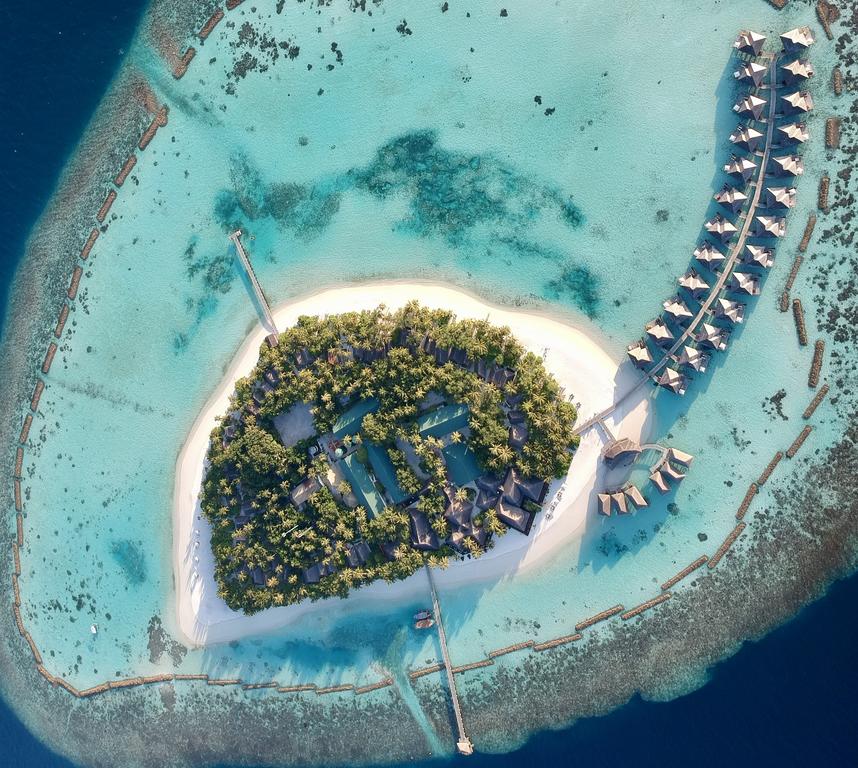 Other activities on Dhigurah
Resort day visit. The hotel on Dhigurah can arrange a day trip to Vakarufalhi Island Resort, Centara Grand Island Resort & Spa, Conrad Maldives, or Vilamendhoo Island Resort & Spa. Transfer, entrance fee, lunch, and resort facilities (pool, SPA, etc.) are in the package.
Dolphin watching. There are both Bottlenose and Spinner dolphins in Ari Atoll. They typically travel in small pods ranging from five to fifteen.
Water sports. You can go for a trip by jet ski, take classes of wakeboard or water skiing, or get around by kayak or SUP.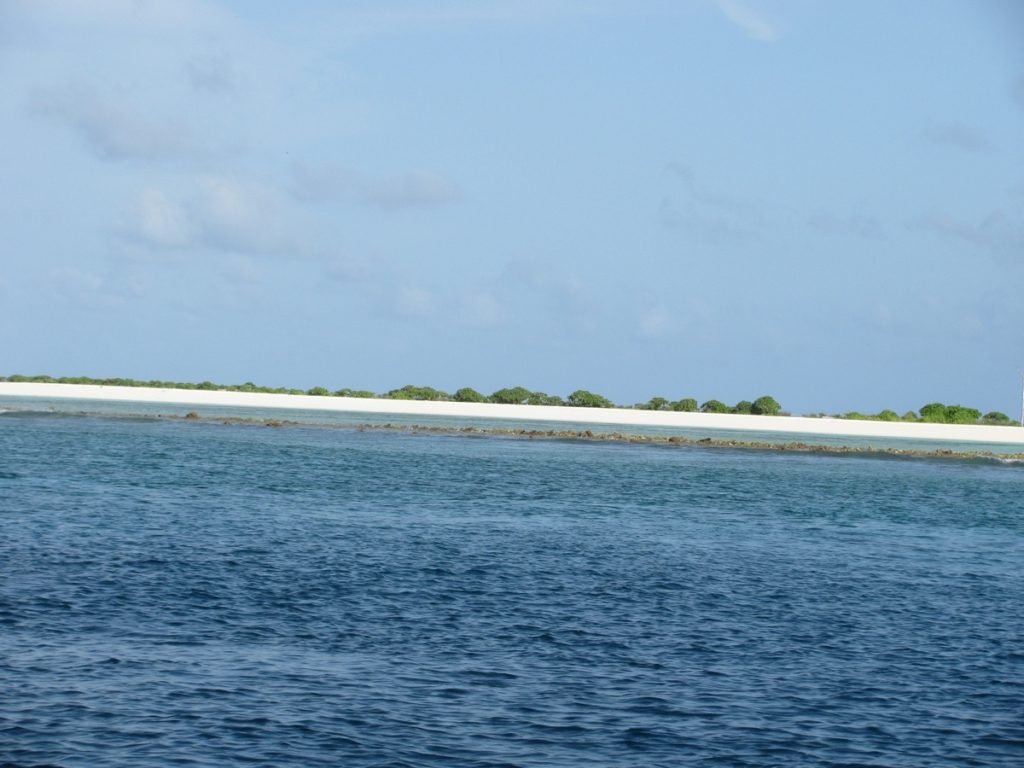 Dhigurah Infrastructure
Despite the development of tourism, there are only 1-2 cafes for tourists on the island (one of which belongs to the hotel). Very few grocery stores. There are several dive centers, but prices are higher than in neighboring Dhangethi.
More and more hotels are opening (not guest houses) that keep prices high. Although sometimes the price/quality ratio is not on the side of the hotel.
In general, the island is more suitable for divers, beach lovers, couples, and families.
With respect to the local religion, there is no alcohol available in Dhigurah, however, guests who would like a drink can visit a nearby resort only 10 minutes away.
Where to eat on Dhigurah
Hermits. They have a small menu so you know every item is fresh and crafted with passion and thought. The staff who works there are the best and very friendly and helpful. A very nice restaurant to enjoy a great lunch or dinner! The place is located at Bliss Dhigurah hotel
Absolute Thai. Thom Yam is really good. It's wow the service the location and the food itself enjoyed every day small tip portion for 2 is much bigger per person than portion per 4.
Malaveli restaurant. There is plenty of food to choose from and it had good quality for a good price. Very friendly and service-minded staff.
Where to stay in Dhigurah
There are 10 hotels and guest houses opened in Dhigurah.
Based on my personal experience, one of the best ones is White Sand Dhigurah, and that's why
– They have sea view rooms, rooms with balconies and spa baths;
– Super friendly staff with experience working in resorts. So high-quality service is guaranteed;
– Amazing in-house restaurant with a great variety of local and continental cuisine;
– Rooftop dining area with sea view;
– In-house dive center;
– Private dinner on a beach;
– Affordable prices;
– Low price for a trip to whale shark point, sandbank visiting and snorkeling at manta point
– Free Airport meet and greet service;
Dhigurah Vacation Package
Accommodation at White Sand Dhigurah, Budget room, breakfast and dinner, whale shark snorkeling, manta ray snorkeling, transfer by scheduled speedboat Airport-Dhigurah and Dhigurah-Airport. Total (for 2 adults):
| Nights | May – Oct | Nov – Apr |
| --- | --- | --- |
| 4 nights | 910 USD | 990 USD |
| 5 nights | 1,020 USD | 1,120 USD |
| 6 nights | 1,130 USD | 1,250 USD |
| 7 nights | 1,240 USD | 1,380 USD |
SEND REQUEST
Transfer to Dhigurah
Domestic flight
Flight to domestic is carried out by the local airline Fly.Me. Cost – $ 295 in both directions per person (including transfer to Maamigili). Flies 5-6 times a day.
Flight time – 20 minutes
Speedboat
Male – Dhigurah
Everyday. Departure is at 16:00, costs $ 45 per person one way. It takes about 2 hours.
Dhigura – Male
Everyday. The departure is at 6:40.
Ferry
Male – Dhigurah
Saturday, Monday, Wednesday. Departure at 8:30, cost $ 8 per person one way. On the way for about 7 hours.
Dhigura – Male
Resurrection, Tuesday, Thursday. Departure at 8:30, cost $ 8 per person one way. On the way about 7 hours.
Contact us to get a personal tour to the Maldives!
Read also:
Top 16 things to do in Maldives
How to choose a local island in Maldives?