Modest in size, but bright in beauty, the island of Dhangethi is located quite far from Male – 87 km. The island size is 925 x 350 m, which is the capital of the atoll Alif Daal (South Ari Atoll). About 1000 people inhabit this small island.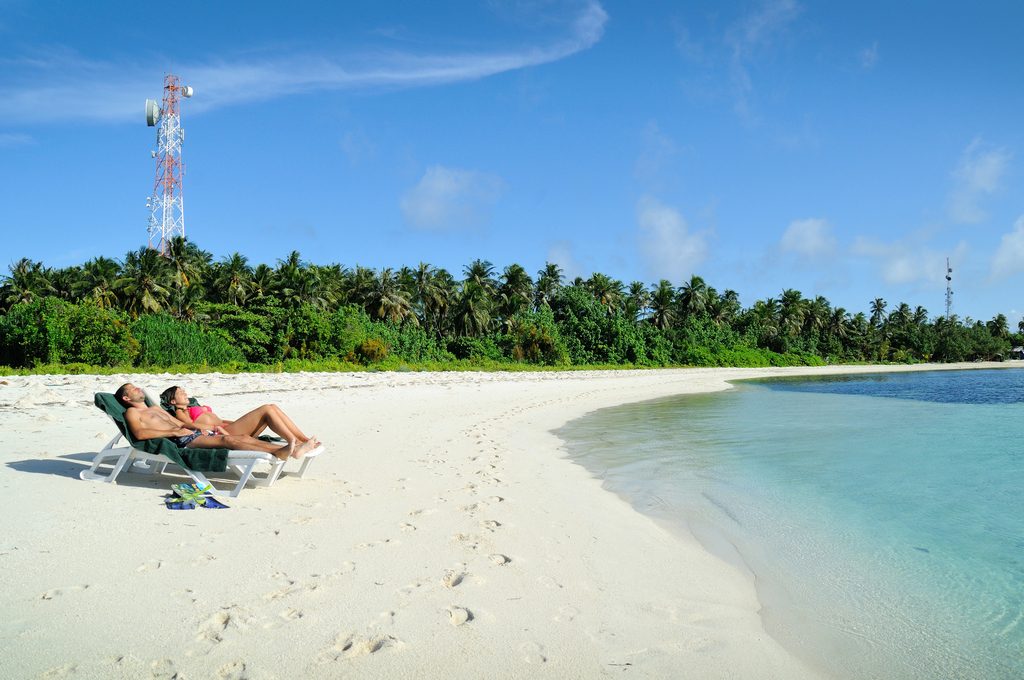 Things to do in Dhangethi
Bikini beach and house reef
An only a 2-minute walk from the village is a bikini beach with beautiful white sand. The beach is cleaned daily. It even has facilities like a shower and a toilet.
Check: Budget tours to local islands
From the beach, you can snorkel to a house reef, where you can see colorful fish, sharks, rays, and sometimes turtles. But it's better to explore the house reef the outside where the drop-off is. During the high tide, a current can be very strong. So it's better to not swim alone and get a buddy for safety reasons.
Sandbanks
The Maldives is the best barefoot luxury destination with sandy white beaches, clean water lagoons, blue skies, and hundreds of stunning private sandbanks. Also, people describe it as a dot of Sand in the middle of the Ocean.
Indulge on a romantic trip with your loved ones here. At your request, you will be transferred to one of the nearby sandbanks (including Dhigurah sandbank) within 5 to 10 minutes. There are three sandbanks where the nearest sandbank is just 5 minutes away. You can do many activities on the sandbank including lunch/dinner, wedding ceremony, snorkeling.
Kite surfing
Experience excellent kite conditions with flat water and small waves on Dhangethi local reef. Clean winds and a safe sandy reef are available throughout the windy season. The kite center offers on-beach services such as equipment rental, a fully IKO certified kite school, rescue, and storage.
Season. Kite season starts in May and ends of October. Kite service is active the entire season, but school is active September-October.
School. The training is built on individual lessons. They are 2h 20min each and adapted for your current level, allowing you to progress at your own pace. The price is US$ 190. Equipment renting for experienced kitesurfers is available as well.
Snorkeling safaris
Turtle snorkeling. Observing turtles in their natural habitat is a delightful experience. There are several turtle snorkeling points near Dhangethi and it offers incredible turtle sightings and 99% guaranteed you see them. Guests can reach the turtle snorkeling point by a traditional boat ride within 15 minutes. And a guide will be there through the journey.
Manta snorkeling. Snorkeling with manta rays is unforgettable and one must have experience in the Maldives. Dhangethi Island area is one of the best places where you can swim with manta rays. They are harmless to humans and very friendly. Manta snorkeling trip is a half-day activity starting from 8:00 am, but it depends on weather and current.
Water sports
Dhangethi truly allows you to have fun in the sun, offering a wide range of water sports in the Maldives for all family members. Maldives offers many exciting sports for those who have talent and love adventure. Simple or stimulating, sports in the Maldives are an excellent way to stay in shape having fun surrounded by the most beautiful landscapes around the world.
Available water sport activities: Jet Skiing, Double Dog, Roamer, High Roller, Hydra Pack, Poparazzi, Banana, Water skiing, Wake Board, Knee Board, Mono Ski, Paddle Board, Windsurfing.
Resort day visit
During your stay, if you'd like to compare local and luxury life in the Maldives, then resort day trips are just the things you need. Dhangethi is surrounded by 14 luxury resorts. But not all of them are open for day visits. You can book your day staying at Sun Island Resort, Centara Grand Resort, Conrad Maldives. The last one is famous for its underwater restaurant – the first of its kind in the Maldives. Guests can dine at this restaurant by appointment, which costs about 335USD per person + transfer to/from the resort.
During your stay at the resort, you can relax at a pool or the beaches of the resort, get lunch, and use other resort amenities. Spa treatments, drinks, and some other amenities (like water sports center) in the resort only with extra charges.
As of Feb 2022, resorts don't allow day visits.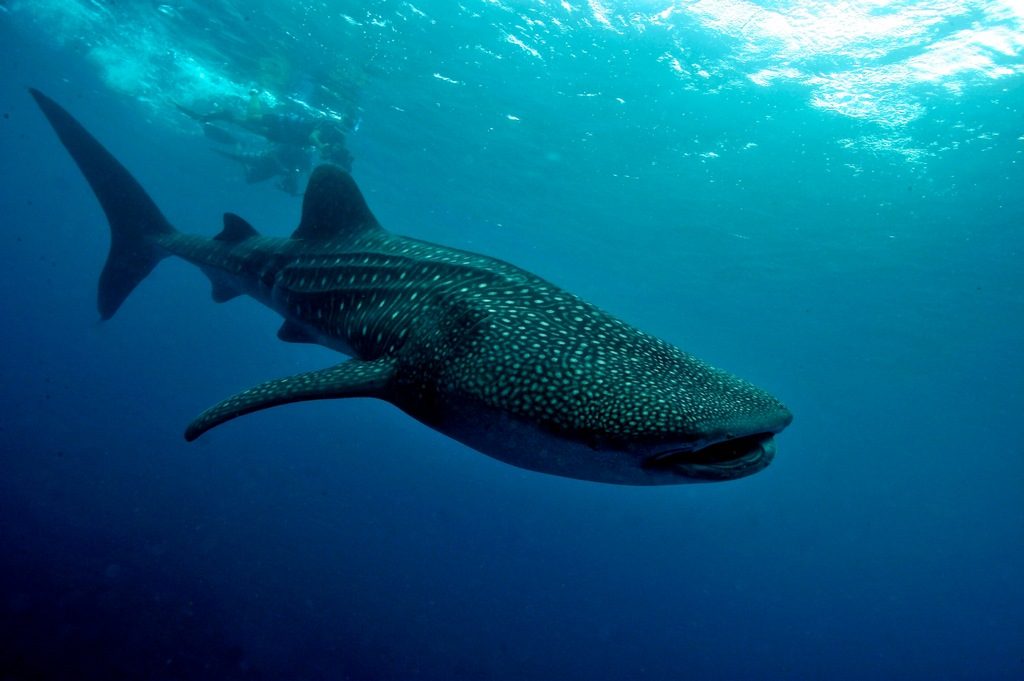 Whale shark snorkeling
Dhangethi is near Maldive's famous whale shark point which is one of the main reasons to visit Dhangethi. Ask anyone where the best place is to spot whale sharks and they'll tell you at the coral reef next to the Maamigili island. Enjoy the company of these harmless giants. Usually, whale sharks can be spotted all year round. Since they are the biggest fish species, they can grow up to 10 m in length (in Maldives the average size is 6-8 m).
Whale sharks are rather slow-moving creatures and are curious, but obedient. Whale sharks will eagerly come close to snorkelers, divers, and boats and will often stay close as long as they don't feel in danger.
It feeds on plankton including copepods, krill, fish eggs, and small nektonic life, such as small squid or fish. Feeding occurs either by ram filtration, in which the animal opens its mouth and swims forward, pushing water and food into the mouth or by active suction feeding, in which the animal opens and closes its mouth, sucking in volumes of water that are then expelled through the gills. In both cases, the filter pads serve to separate food from the water.
So whale sharks are absolutely harmless!
Guests can reach the famous whale shark point near Dhangethi within 30 minutes by a traditional boat ride.
Scuba diving in Dhangethi
With over 50 dive sites, Dhangethi is the perfect place for a diving holiday both for beginners and experienced divers. The South part of South Ari Atoll (near Maamigili, Sun Island Resort) is a protected Marine Area. Weekly full-day trips are offered to search for whale sharks in this area throughout the year.
The dive sites are between 10 minutes and 1 hour away from the island. These dive sites are reached by comfortable dive boats (dhonis). The unique diversity and variety of underwater life in the Maldives especially around Dhangethi have a lot of highlights to offer scuba divers.
The most famous dive sites near Dhangethi
Kudarah Thila
Current: Can be strong
Life: Rich diversity
Visibility: up to 25 m
Best dive period: Jan-Apr
The Thila is a part of Marine Protected Area and is often considered the most beautiful site of the South Ari atoll with exceptional diving conditions.
Kudhimaa Wreck
Current: Can be strong
Life: Lots of macro
Visibility: up to 25 m
Best dive period: Jun-Nov
50m long cargo ship lying on a sandy bottom at around 30 meters depth, right next to a Centara Grand Island Resort. It was sunk in 1998 and already offers good coral growth and a large variety of species living on it. Nurse sharks, batfish, stonefish, lionfish and moray eels are permanent residents and can be spotted around the wreck.
Maamigili Beyru
Current: Can be strong
Life: Mostly big fish
Visibility: up to 25 m
Best dive period: Aug-Nov
Located on the Southern part within the Marine Protected Area of South Ari atoll. Shallow and very easy dive, which might turn into a very exciting one, as it is known as the best location in the Maldives for spotting whale sharks (if you're lucky enough).
Broken Rock
Current: Can be strong
Life: Alive coral gardens
Visibility: up to 25 m
Best dive period: Jan-Apr
It's one of the most well-known dive sites in the South Ari Atoll due to its unique formation which has a canyon splitting the reef in two. While swimming you should keep an eye out for the large corals which stick out from the walls. Resident napoleon wrasse, turtles, scorpionfish, and a stunning variety of marine life including many species of moray eels and a great variety of soft coral.
Five Rocks
Current: Can be strong
Life: canines/macro
Visibility: up to 25 m
Best dive period: Jan-Apr
It's formed by a pinnacle that has been split into five pieces over the centuries. These "rocks" reach from 12 m to 40 m at the sandy bottom. Numerous overhangs and ocean-swept currents provide the perfect environment for vibrant corals, plenty of reef fish and white tip reef sharks. Five Rocks is a favorite among photographers for its unique underwater landscapes.
Vilamendhoo Thila
Current: Can be strong
Life: Rich diversity
Visibility: up to 25 m
Best dive period: Apr-Nov
The thila is a large, complex reef structure that begins in 10m of water and extends down to a sand bottom at 30m. Parts of the thila are sloping reef, others steep walls with overhangs. In the shallow water, large bommies are scattered about, with rich growths of hard corals. The fish life is especially dense, with schooling blue-striped snapper, oriental sweetlips, and sometimes whale sharks.
More dive sites near Dhangethi.
Dhangethi Infrastructure
The narrow streets of Dhangethi, with their unique and bright houses, create an amazing atmosphere of tranquility. Walking through them, you can feel what it means to be a real islander far from the mainland, in the middle of the Indian Ocean. Like on any other inhabited island, the streets of Dhangeti create a cunning interweaving. But they all somehow lead to the same place – the ocean.
There are 8 minimarts, 4 restaurants, and cafes, and 12 souvenir shops on the island. Also, you will find the hospital, school, cultural center, mosque, football field, and a mobile operator company office.
Where to eat on Dhangethi
Dhangethi guest houses are offering included breakfasts: fresh fruits, local tuna dish, toast and jam, pancakes and omelet made to you.
In-house restaurants are serving a great variety of Maldivian, Asian and Continental food.
But if you decide to eat outside, here are some places worth checking out.
Hawaee Foods. Probably the best food on the island. Great menu, everything well cooked, and reasonable prices. Excellent curry, kottu roshi, and milkshakes. Just be ready to wait a long time for your meal.
The Blue Moon Cafe. Basic Maldivian dishes like tuna fried rice/noodles served with a fried egg on top are very tasty. Fresh juices are also good. Excellent location on the seaside. Tuna kothu roshi is really good.
A.S Youth Cafe. A very basic Maldivian style cafe mostly for coffee and soft drinks.
Where to stay on Dhangehthi?
There are 8 guest houses located in Dhangethi, but I advise Ariston Inn Dhanethi and that's why.
– The first guest house in Dhangethi built-in 2014;
– Super friendly and professional staff with experience working in resorts;
– Amazing in-house restaurant with a great variety of local and continental cuisine (from 15 USD per person). The chef is from Sri-Lanka;
– Unlimited coffee and tea;
– Seaview rooms (from 70 USD/night with breakfast and all taxes);
– Private beach area only for hotel guests;
– In-house water sports (the only in Dhangethi) center and diving center;
– Affordable full-day trip to whale shark point with sandbank visiting and snorkeling at manta point
– Free Airport meet and greet service;
Transfer to Dhangethi
Domestic flight + speedboat
Around 250USD for round trip per person, there are 5 flights per day to Maamigili followed by speedboat to Dhangethi.
Scheduled Speedboat
Daily at 15:00-16:00 from Male jetty no.1 or no.6 and at 7:00 am from Dhangethi. Price is 35 USD per way per person. Duration is 1,5 hrs.
Private speedboat
Price is 700-800 USD per way per boat. Can be arranged at any time.
Public Ferry
Runs from Viligilli ferry Terminal, Malé:
Trip duration is a 6hrs one-way. Price – US$5.
Malé – Dhangethi, 09:00 am (on Monday, Wednesday, Saturday), one-stop and a ferry change in Mahibadhoo.
Dhangethi – Male', 09:00 am (on Sunday, Tuesday, Thursday), one-stop and a ferry change in Mahibadhoo.
Warning:
– Tickets are issued from the Vilingili terminal on the day of travel.
– The ticket price is $US 6 per person.
– It can be canceled due to weather conditions.
– Service may stop without prior notice.
Contact us to get a personal tour to the Maldives!
Read also:
Top 16 things to do in Maldives
How to choose a local island in Maldives